Slightly Lower Gas Prices Not Likely To Cause Driving Boom Over Memorial Weekend, Experts Say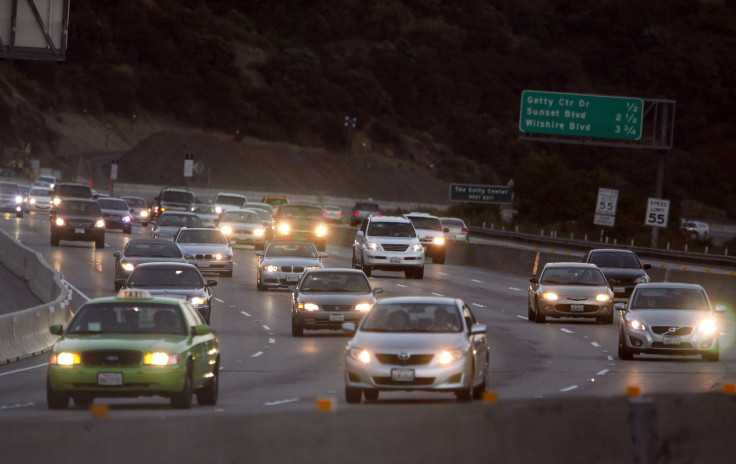 Memorial Day is the traditional kickoff to the nation's summer driving season, and travelers will be happy to know that gasoline prices this year are actually a bit lower from last year. Still, experts say that the relatively low gas prices compared to recent years aren't likely to drive a surge in road trips, though U.S. highways are seeing slightly more traffic.
"We went through about 60 years in which driving increased steadily and rapidly," Phineas Baxandall, senior policy analyst for U.S. Public Interest Research Group (PIRG), said. "Since 2004, that has not been happening."
That means American driving habits changed years before the economic recession, though economic factors like fewer people joining the labor force, which largely drives, have also played a role.
"For whatever reason, Americans seem to be less enamoured of driving," Baxwell said. "I don't see anything that's really turning back the clock to the old driving boom. Where [the number of miles driven] will land will depend on how high gas prices will be in the summer."
It's the ninth year in a row for such decreases in miles driven, "unprecedented" in modern U.S. history, according to Tony Dutzik, senior policy analyst at the environmental think tank Frontier Group.
The U.S. average price for regular gasoline is $3.67 heading into Memorial Day weekend, a fraction lower than this time last year and 4 cents below late April's high for the year, according to the U.S. Energy Information Administration (EIA).
The average gas price is a nickel per gallon less than the traditional start of summer driving season in 2012 and 21 cents per gallon less than in 2011, according to AAA's fuel gauge report.
Gas prices increased 42 cents per gallon from early February to late April but have fallen modestly in recent weeks as more refinery crude oil was processed and more imports added supplies to the market.
According to a March survey by AAA, high gas prices may no longer be fueling a decline in driving. Only about half of U.S. adults are basing their driving behavior on gas prices, 15 percent less than the same time last year, the survey found.
The trend of falling car mileage is the strongest among young people. The average 16 to 34-year old drove 23 percent fewer miles in 2009 than the average person in the same age group in 2001, according to a study authored in part by Dutzik and Baxandall. They found that young Americans are also increasingly foregoing a driver's license. From 2000 to 2010, the portion of 14 to 34-year-olds without a driver's license increased from 21 percent to 26 percent.
Instead, young people are riding public rail and buses. Between 2001 and 2009, 16 to 34-year-olds travelled 40 percent more miles on public transit, according to PIRG and Frontier.
"What we expect to happen is that driving may increase or decrease on a year to year level, but the average driving we expect to either level out or decline over time," Dutzik said.
A similar study published last summer by Michael Sivak of the University of Michigan Transportation Research Institute backed the conclusions of Frontier and PIRG.
"Recent studies have shown that—per person, per driver, and per household—we now have fewer light-duty vehicles, we drive each of them less, and we consume less fuel than in the past," Sivak wrote in a January 2014 update to his research. "These trends suggest that motorization in the U.S. might have reached a peak several years ago."
Prices are the highest in California, averaging $4.16 per gallon on Monday, and lowest on the Gulf Coast, averaging $3.44 per gallon on Monday. Strict regulations on gasoline in California push prices higher there, and the Gulf Coast's relatively small demand coupled with its huge refining capacity, about half the country's total, keeps prices lower in that region.
The national average is expected to remain below last year's peak price of $3.79 per gallon in late February, though prices may increase a bit from a rise in demand outpacing supply increases and reported increases in retail demand due to the warmer weather.
Last week, drivers in 35 states saw a modest discount at gas pumps. Iowa led with a 6-cent drop, followed by California (4 cents), and Nebraska, Florida, Maine and Alabama (3 cents). That trend didn't hit Alaska, Idaho and Utah, where prices increased by 14 cents, 22 cents and 26 cents, respectively.
Drivers in 30 states are paying significantly less per gallon compared to a year ago, especially those in the Midwest. Minnesotans saw a 78-cent decrease in prices from a year ago, followed by North Dakota (64-cent drop), Nebraska and Iowa (55-cent drop) and Oklahoma (50-cent drop). Refinery issues in the region last year caused price spikes.
The remaining 20 states and Washington, D.C. saw price increases, with the largest in Pennsylvania (29 cents), South Carolina and Alabama (22 cents) and North Carolina (20 cents).
In May, the EIA forecasted retail gas prices would average $3.61 per gallon over the April to September period, 3 cents higher than last year, but falling to $3.51 per gallon in September.
Gasoline demand increased 1.1 percent in 2013, the largest annual increase since 2006, according to EIA. In 2013, Americans drove about 0.6 percent more miles on U.S. highways compared to 2012, according to the Federal Highway Administration.
Mileage increases in the West and Southeast countered decreases in the Northeast and middle of the country.The growth is a bit slower than the 0.7 percent rate of population growth in the U.S. over the same time period, indicating Americans still are driving fewer miles per person.
FOR FREE to continue reading
✔️ Unlock the full content of International Business Times UK for free
offer available for a limited time only
✔️ Easily manage your Newsletters subscriptions and save your favourite articles
✔️ No payment method required
Already have an account? Log in
© Copyright IBTimes 2023. All rights reserved.