South African Economy, Global Metal Markets Could Take Months To Recover From Historic Mining Strike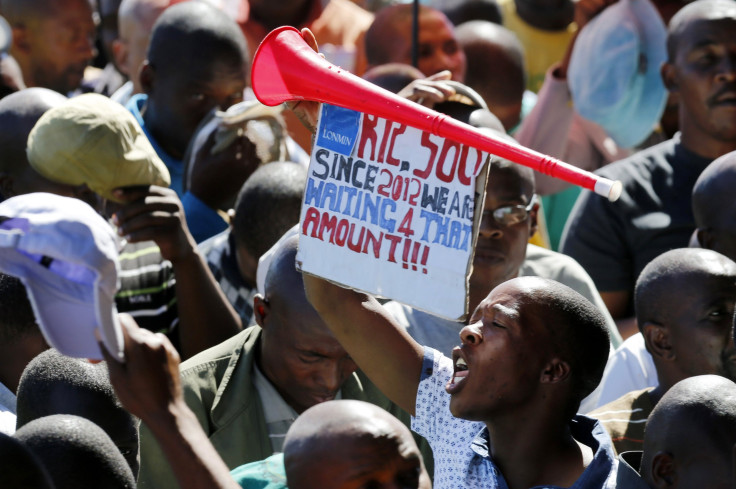 A historic mining strike has crippled the South African economy and is finally starting to affect global precious metal prices as producer stockpiles dwindle.
Workers at three companies responsible for about 40 percent of the world's supply of platinum have been striking for five months, the longest action of its kind.
When the South African courts first granted the union rights to strike, the platinum price fell to $1,380, but markets still haven't totally reacted to the high risk.
"Despite a growing, but far from consensus, belief amongst market participants that a breakthrough will occur imminently, the platinum price -- whilst trending lower and testing the 200 day moving average -- isn't fully pricing in that outcome yet," the UBC analysts wrote. Platinum has already fallen $70 since a $1,492 high on May 22.
Prices are down because producers have been drawing on massive stockpiles. However, this protection method is starting to wear thin as stores run low.
"We probably have another 6-8 weeks to go before producers run really low on material they've stockpiled," Standard Bank analyst Walter de Wet told Reuters.
For every day the strike continues, producers lose 10,000 ounces of platinum and 5,000 ounces of palladium every day. Even after strikers return it could take up to three months to restart production.
"If the strike ends, obviously on the day and day after, there will probably be some negative impact on the price," said BMA commodities analyst Jessica Fung to Forbes.
"But I think fundamentally, the market knows it will take a while for the producers to ramp up again," she added.
Despite optimistic statements from officials, analysts are still dubious about a speedy recovery. However, a newly appointed ambitious minister is a bright spot.
"The involvement of the South African mines minister is a key difference between current and previous attempts to find a solution," wrote UBS analysts in a June 4 note.
Ngoako Ramathodi, former deputy minister of Correctional Services, took on his new role last month. Within days, he had set up a task force to meet with key players in the dispute.
"We are hoping to have it (the strike) end by the end of this week," he told Reuters. "It's a work in progress, but so far so good."
Further meetings are scheduled for Thursday, but observers are still skeptical.
"Expectations are building for a resolution," the analysts wrote. "However, there's certainly hesitancy to those expectations given that a resolution did not follow through back in April when producers last upped their wage offer."
About 70,000 workers from Anglo American Platinum, Impala Platinum and Lonmin stopped working in January, halting roughly 40 percent of global production of the metals in the longest platinum/palladium strike in the country's history.
The Association of Mineworkers and Construction Union (AMCU) is demanding a $1,200 (12,500 rand) monthly wage in three to four years. The latest offer from management was a $75 monthly increase (800 rand) every year for five years for workers at the bottom of the pay scale. Under this agreement, worker wages wouldn't reach the desired rate until 2017.
It's been enough to cause a 0.6 percent contraction in South Africa's economy this quarter, left miners and their families starving without a livelihood after forfeiting nearly $900 million in lost wages and cost companies $1.9 billion (20.9 rand) in revenue, according to a report on mining.com.
© Copyright IBTimes 2023. All rights reserved.