South Carolina Probes Video Showing Officer Ben Fields Assaulting Black Student At Spring Valley High School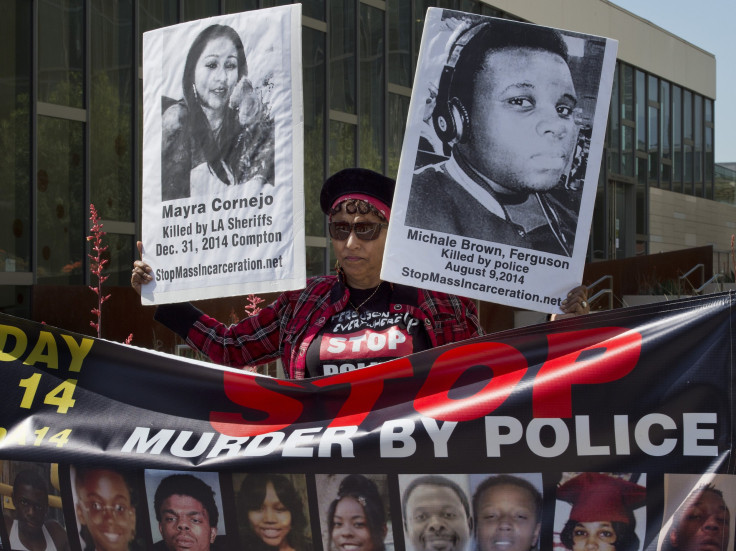 UPDATE: 7:53 a.m. EDT -- Sheriff Leon Lott of Richland County, South Carolina, has reportedly asked the FBI and the Department of Justice to investigate an incident where a school law enforcement officer was captured on video assaulting a black schoolgirl at Spring Valley High School in the state capital, Columbia, the USA Today reported.
Fields was put on an administrative leave following the incident, which occurred Monday.
Original story:
A video released Monday, showing a white school police officer grabbing an African-American student by the neck and slamming her to the ground, has led to authorities opening an investigation into the case amid widespread outrage against the incident on social media. The officer, identified by students as Ben Fields, was reportedly responding to reports of a disruptive student, who was refusing to leave the classroom, at the Spring Valley High School in Columbia, South Carolina.
The video uploaded on YouTube was shot by students in the classroom where the incident happened Monday, the New York Times reported. Fields was seen grabbing hold of the student by her neck, slamming and dragging her from the desk that she was seated at.
A second, longer video was also posted online, WISTV, a local news network, reported, citing Richland County Sheriff's Department spokesperson Lt. Curtis Wilson. The report added that two female students were arrested for disrupting the class. The girl in the video was later released to the custody of her parents. Fields was placed under administrative leave pending investigation by the sheriff's department.
"It's very disturbing what happened today. It's something I have to deal with and that's what we're going to be doing," Richland County Sheriff Leon Lott said late Monday, according to WLTX 19. Lott's agency is responsible for the resource program at the school, the report added.
Tony Robinson Jr., who shot the video, said, according to WLTX 19: "I've never seen anything so nasty looking, so sick to the point that you know, other students are turning away, don't know what to do, and are just scared for their lives," adding: "That's supposed to be somebody that's going to protect us. Not somebody that we need to be scare off, or afraid."
Debbie Hamm, superintendent for Richland School District Two, said, according to the Huffington Post, that the authorities were "deeply concerned" about the incident. Hamm also said, according to the Times, that school and district officials were "working closely and in full cooperation" with county sheriff's investigators.
"Student safety is and always will be the district's top priority," Hamm said, according to the Huffington Post, adding: "The district will not tolerate any actions that jeopardize the safety of our students. Pending the outcome of the investigation, the district has directed that the school resource officer not return to any school in the district."
A third angle of the video was uploaded by Reginald Seabrooks from the class. In the description for the video, Seabrooks wrote: "The officer in this is a cool dude, he is not Racist!!!. Girl was asked her to put the phone away, but told teacher no and Administrator was called and asked her to come to his office. She told him no, he then called the resource officer. When he got there he asked her nicely to get up. Over and over he did nothing wrong. They asked her to get up but she wanted to show off. To some it looks bad but she wanted to prove that she was bad."
Fields joined the sheriff's department in 2004 and he became a school resource officer four year later, the Times report said, citing a department newsletter last November. Fields was also assigned to Lonnie B. Nelson Elementary School and had "proven to be an exceptional role model to the students he serves and protects," the newsletter said.
However, there are two lawsuits filed against Fields in federal court, claiming he targets African-American students. One case was filed in November 2013, by a former student at Spring Valley named Ashton Reese, who sued Fields and the school district for violating civil rights. Reese was reportedly expelled after an "unlawful assembly of gang activity and assault and battery" after an investigation by Fields said that he was involved in a fight behind a store near the school. However, the lawsuit said, according to the Times, that Fields "unfairly and recklessly targets African-American students with allegations of gang membership and criminal gang activity."
In 2007, another lawsuit was filed against Fields, Lott and another deputy named Robert Clark by a couple -- Carlos Martin and his wife, Tashiana Martin -- for violating their civil rights, while the officials were investigating a complaint for excessive noise. The lawsuit claimed that Fields slammed Carlos to the ground, handcuffed him and kicked him several times, because Carlos called him "dude," without meaning to be disrespectful. The lawsuit added that Fields used and emptied a bottle of pepper spray at Carlos. Meanwhile, Clark confiscated a cell phone that Tashiana used to record the incident, threw her against a vehicle, handcuffed her and then threw her into the police car. Fields is also accused of making a lewd comment to Tashiana while she was being driven away. In 2010, a jury ruled in favor of the deputies in the case by the Martins. They appealed, but the court upheld the lower court's verdict.
"Parents are heartbroken as this is just another example of the intolerance that continues to be of issue in Richland School District Two particularly with families and children of color," a statement by a group called Richland Two Black Parents Association said, according to WISTV, adding: "As we have stated in the past, we stand ready to work in collaboration to address these horrible acts of violence and inequities among our children."
FOR FREE to continue reading
✔️ Unlock the full content of International Business Times UK for free
offer available for a limited time only
✔️ Easily manage your Newsletters subscriptions and save your favourite articles
✔️ No payment method required
Already have an account?
Log in
© Copyright IBTimes 2023. All rights reserved.