South China Sea Controversy: China Deploys Fighter Jets, Radar System To Woody Island, Report Says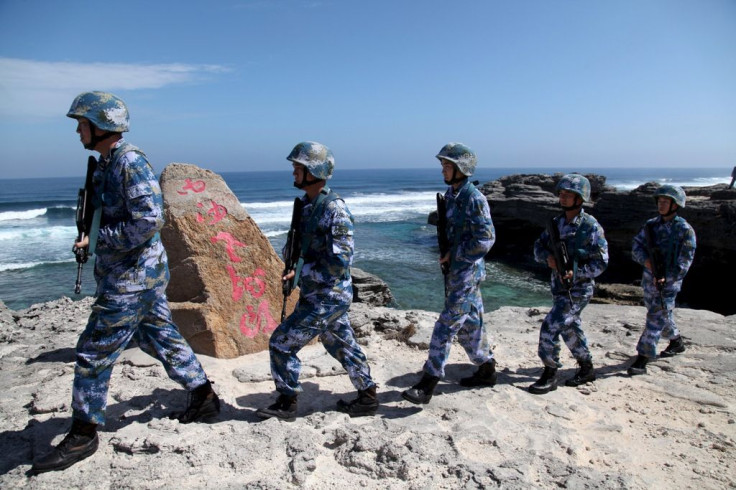 China has deployed new fighter jets in South China Sea's Woody Island at a time of mounting tensions in the contested area, Fox News reported Tuesday, citing latest satellite imagery. Woody Island — a part of the Paracel Islands — is largely controlled by China, but Taiwan and Vietnam have also laid claims on the islet.
The April 7 imagery, which was has been authenticated by U.S. defense authorities Tuesday, show two Chinese Shenyang J-11 fighter jets stationed on Woody Island, Fox News reported. A newly deployed fire control radar system can also be seen on the island making China's HQ-9 surface-to-air missile system — detected in February — fully operational, the report added. The images also reportedly showed four of the eight surface-to-air missiles ready to fire on the eastern part of Woody Island.
Beijing has also deployed the YJ-62 subsonic anti-ship cruise missile on Woody Island, the largest of the Paracels in the South China Sea. The missile was likely deployed at about the same time China's HQ-9 surface-to-air missile system was first detected on the island in February, according to IHS Jane's 360, a British publishing company that keeps records on military equipment. The YJ-62 reportedly arms the Type 052C destroyer launched in 2003.
China also began operating a lighthouse last Tuesday on Subi Reef, one of the county's artificial islands in the South China Sea. The lighthouse is reportedly capable of providing positioning reference, route guidance and navigation safety information to ships.
The South China Sea region has been long contested, with Brunei, China, Malaysia, the Philippines, Taiwan and Vietnam laying claim to various areas. Beijing has been expanding its presence in the disputed region and has built three runways on the Spratly archipelago. However, China has consistently defended its actions, saying it does not have any intentions of starting a conflict and that its aircraft facilities will maintain safety in the region.
© Copyright IBTimes 2023. All rights reserved.