South China Sea Controversy: US Navy Pacific Fleet Patrols Will Not Be Altered By Chinese Militarization, US Officials Say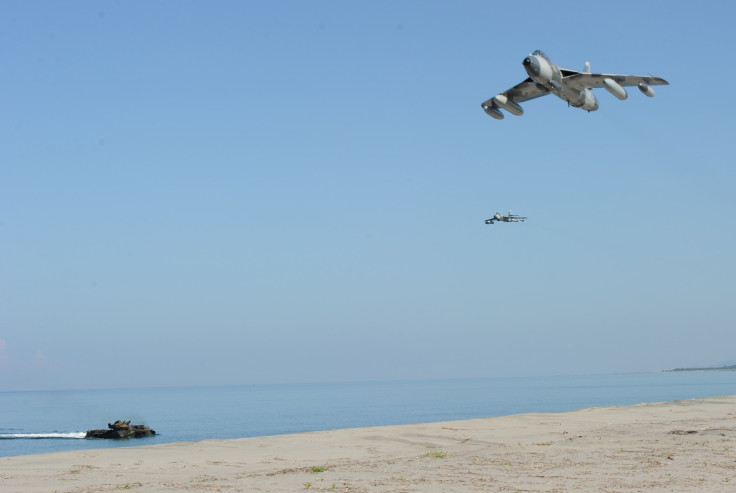 With China carrying out live-fire exercises and Australia admitting to conducting patrols over disputed islands in the South China Sea, the region remains fraught with tension. One aspect Chinese officials won't have to worry about before the year's end is another U.S. Navy patrol coming within 12 nautical miles of man-made Chinese islands, Reuters reported.
U.S. officials said late Monday that it was unlikely the Navy would carry out another "freedom of navigation" patrol in the contested region before 2016. At the same time the head of the U.S.'s Pacific Fleet said Chinese militarization would not alter American operations.
"I'm interested — potentially to the point of fascination — about the element of militarization, but the fact of the matter is that it's not going to make any difference to my operations," said Admiral Scott Swift, the U.S. Pacific Fleet's commander, Stars and Stripes reported Tuesday. "We'll continue to operate in accordance with international law in the South China Sea or any place else, just as we would globally."
China, Vietnam, the Philippines, Malaysia, Taiwan and Brunei have all laid claim to different areas of the South China Sea. China has built runways and buildings on islands that are part of the Spratly chain of islands in the region, and it has disputed Washington's characterization of "militarization" there. Scott argued that if the Spratly islands were militarized and China enforced an exclusion zone, it would completely alter dynamics in the region.
"If there's an effort to exclude military aircraft — regardless of the origin of that aircraft or the nationality of that aircraft — that becomes a legal discussion, and it's much more compelling," Scott said.
An official who spoke with Reuters said the U.S. was likely to conduct another patrol in the contested region in January, again challenging China's hold on the region. The U.S. had previously conducted a similar patrol in October. Both the U.S. and Australia have also conducted "freedom of navigation" flights over the region.
China's Defense Ministry, without naming any countries, accused nations of making a show of force in the region.
"At the same time, [they are] wantonly expressing remarks to create tensions, in an attempt to sow confusion and muddy the waters," the ministry said, Reuters reported.
© Copyright IBTimes 2023. All rights reserved.
FOLLOW MORE IBT NEWS ON THE BELOW CHANNELS