South China Sea Heats Up As US Amphibious Assault Ship Joins Flotilla Amid China Intrusion
KEY POINTS
The US Navy tweeted pictures of sailors participating in a live-fire training exercise
Analysts think "USS Makin Island is going to show off the American navy's muscle"
Reports say China has drilled deep in South China, though not clear where
The United States has sent an amphibious assault vessel to the South China Sea amid China's growing territorial aggression, reasserting Washington's commitment to maintaining a military presence in the region.
USS Makin Island traveled through the Strait of Malacca into the contentious waters late on Wednesday, South China Morning Post reported, quoting Beijing-based South China Sea Strategic Situation Probing Initiative.
The assault ship was accompanied by amphibious transport dock USS San Diego.
The U.S. Indo Pacific Command tweeted pictures of sailors participating in a live-fire training exercise onboard the ship, with the hashtag #FreeandOpenIndoPacific.
Last week, an aircraft carrier strike group led by USS Theodore Roosevelt sailed into the South China Sea, amid escalating tensions over a flotilla of Chinese boats stationed themselves around disputed reefs off the coast of the Philippines.
Beijing also sent one of its two aircraft carriers, the Liaoning, through the Miyako Strait off southwestern Japan on Saturday.
US destroyer the USS John McCain also passed through the Taiwan Strait on Wednesday, irking Beijing which blamed the U.S. ships for engaging in "provocations" and "sending the wrong signal to Taiwan.
Chinese military commentator Song Zhongping told the South China Morning Post that since "China-US relations are relatively tense, the U.S. is putting more of its military capacity near China." "Its transitioning to the South China Sea and western Pacific areas in particular is a normal situation," said Zhongping.
The report also quoted military commentator Liang Guoliang who said: "The USS Makin Island is going to show off the American navy's muscle. They are going to tell the Chinese military that even though Beijing built three airstrips in the Spratly Islands that can accommodate all kinds of warplanes, the US navy has the world's most powerful island-landing capability to deal with them."
Meanwhile, China has drilled deep in the South China Sea to retrieve sediment core from the seabed. The official Xinhua news agency said Chinese scientists have completed a deep-sea drilling project to obtain a sediment core with a length of 231 meters from a depth of over 2,000 meters in the South China Sea.
However, it is unclear exactly where the drilling took place as Beijing claims 90 percent of the South China Sea as its territory.
The South China Sea has a vast reserve of oil and natural gas - one older Chinese estimate places potential oil resources in the South China Sea as high as 213 billion barrels of oil - and Beijing's exploration activities have stoked tensions earlier.
Malaysia, the Philippines, Taiwan, Vietnam, and Brunei also lay claim to parts of the sea.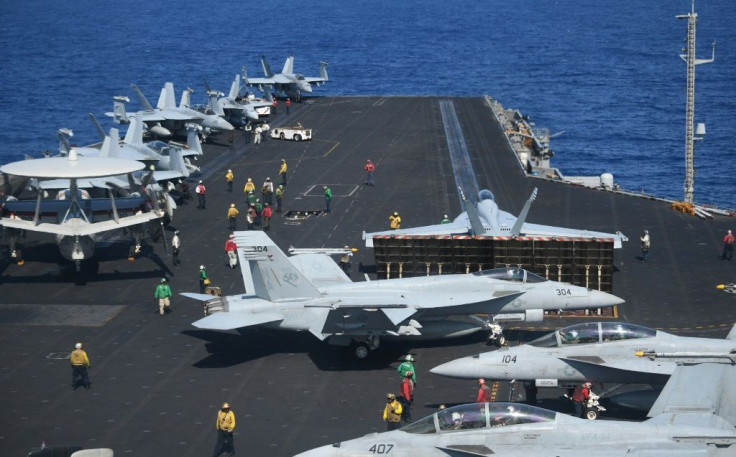 © Copyright IBTimes 2023. All rights reserved.