South China Sea: Philippines Sends Fresh Supplies To Grounded Vessel Despite China's Attempt To 'Interfere'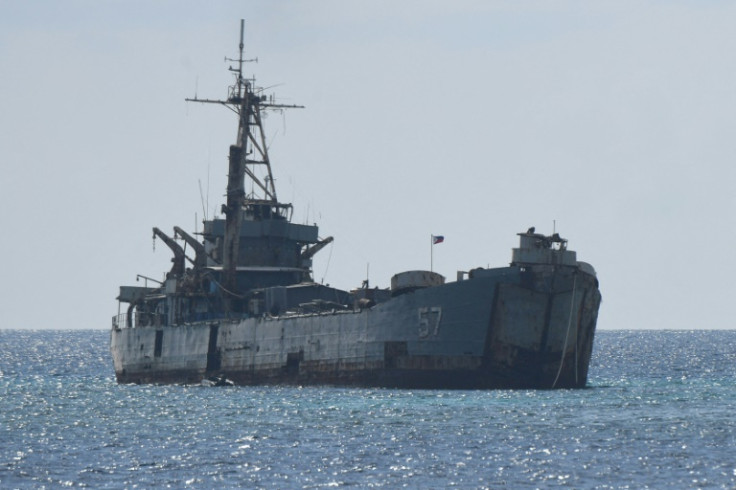 KEY POINTS
Philippines says fresh supplies have been sent to the troops aboard the BRP Sierra Madre
It said Manila will continue to carry out routine missions to resupply the vessel, now used as a military outpost
BRP Sierra Madre has been a source of tension between China and the Philippines
The Philippines overcame Chinese interference and successfully delivered fresh supplies to marines aboard the BRP Sierra Madre, a remote military outpost in the contested South China Sea.
"The routine follow-on Rotation and Resupply (RoRe) mission to the BRP Sierra Madre (LS 57) was successfully conducted today, August 22, through the combined efforts of the Armed Forces of the Philippines (AFP) and the Philippine Coast Guard (PCG)," the National Task Force for the West Philippine Sea (NTF-WPS) said in a statement. "This latest RoRe mission was able to deliver fresh provisions to our military personnel stationed on board BRP Sierra Madre."
The BRP Sierra Madre is a dilapidated warship that is now used as a military outpost on the Second Thomas Shoal in Manila's exclusive economic zone. China calls this area the Renai Reef and claims it as its sovereign territory.
The Philippines grounded the World War II-era vessel in 1999 to reinforce its sovereignty claims over the disputed shoal. The vessel hosts a handful of troops and continues to be a source of tension between Manila and Beijing.
The Chinese coastguard has been repeatedly accused of blocking Manila's resupply missions to the troops aboard the grounded warship.
The NTF-WPS said the latest mission, which was successfully completed Tuesday, also saw Chinese interference.
"Notwithstanding attempts by China Coast Guard (CCG) and Chinese Maritime Militia (CMM) vessels to block, harass, and interfere with the supply mission, the Philippine supply ships Unaizah May 1and Unaizah May 2, escorted by PCG vessels BRP Cabra (MRRV-4409) and BRP Sindangan (MRRV-4407) successfully completed their RoRe mission," the task force said. "Philippine Navy vessels were also on standby during the mission."
It added that Manila will continue to carry out resupply missions to BRP Sierra Madre "on a regular basis."
"Routine missions to Philippine outposts on various features in the West Philippine Sea (WPS) will continue on a regular basis. These missions are part of the Philippine Government's legitimate exercise of its administrative functions over the WPS, in line with the United Nations Convention on the Law of the Sea (UNCLOS), the 2016 Arbitral Award, and domestic laws," the statement read.
© Copyright IBTimes 2023. All rights reserved.