South China Sea: US Navy Carrier Groups Adopt 'Unpredictable Routes And Drills' To Counter China
KEY POINTS
The U.S. began its 2022 naval schedule two weeks earlier than last year
U.S. warships now adopted new routes while entering the South China Sea
Analysts think the U.S. Navy is trying to escape China's over-the-horizon radars
The U.S. Navy aircraft carrier strike groups are reportedly adopting 'complicated and unpredictable routes and drill patterns in the South China Sea where war threat looms large.
This is besides increasing the number of transits through the disputed waters, reported South China Morning Post. The number of transits increased to 10 in 2021 from six in 2020 and five in 2019.
The daily, quoting analysts, said the shift could be part of the "countermeasures" devised by the carrier strike groups to face any emergency in the region, including a Taiwan invasion.
According to the South China Sea Probing Initiative, a Beijing-based think tank, the U.S. began its 2022 naval schedule two weeks earlier than last year by sending the USS Carl Vinson Carrier Strike Group and a landing helicopter dock group to the South China Sea for a joint drill with Essex Amphibious Ready Group.
"The U.S. military has drastically reinforced their military deployment in the South China Sea since last year, in terms of training scales, sorties and scenarios," SCSPI director Hu Bo was quoted by the news outlet.
He added that while U.S. warships would enter the waters via the Bashi Channel between the Philippines and Taiwan earlier, the routes and operation timespans have become diversified recently.
Now, the ships are getting into the South China Sea via the narrow waterways between the Philippine archipelagos, as per navigation records and satellite images.
This includes the Balabac Strait off Palawan province, a channel between Verde Island and Mindoro, and other points. USS Carl Vinson too took this route, via the Balabac Strait, for the drill last Tuesday.
This is a part of the U.S. efforts against the PLA's anti-access strategies. "I believe the U.S. Navy is trying to escape the over-the-horizon (OTH) radars systems on the three artificial islands of Mischief, Subi and Fiery Cross reefs, which has targeted US warships and aircraft [before]," Lu Li-shih, a former instructor at Taiwan's Naval Academy in Kaohsiung, told South China Morning Post.
He added that the U.S. could use the geographical features of the Philippines to approach the region to evade the OTH radars, which fall short when it comes to monitoring approaching objects from a group of archipelagos.
The use of alternative routes also reduces the predictability of the warships, think analysts.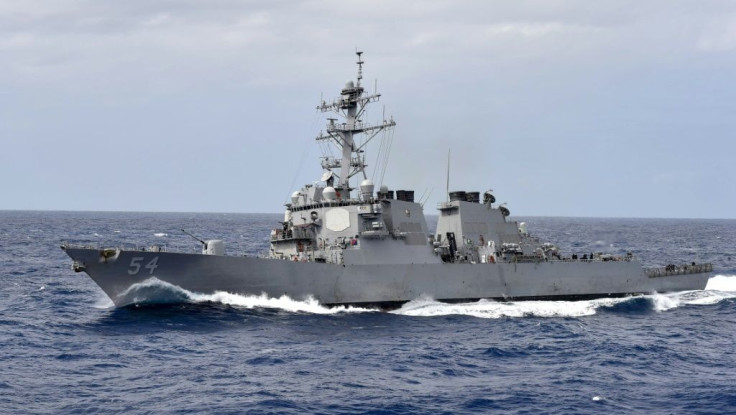 © Copyright IBTimes 2023. All rights reserved.