South Korean President Scandal Update: Park Geun-Hye Claims She Was 'Framed,' Calls Choi An 'Acquaintance'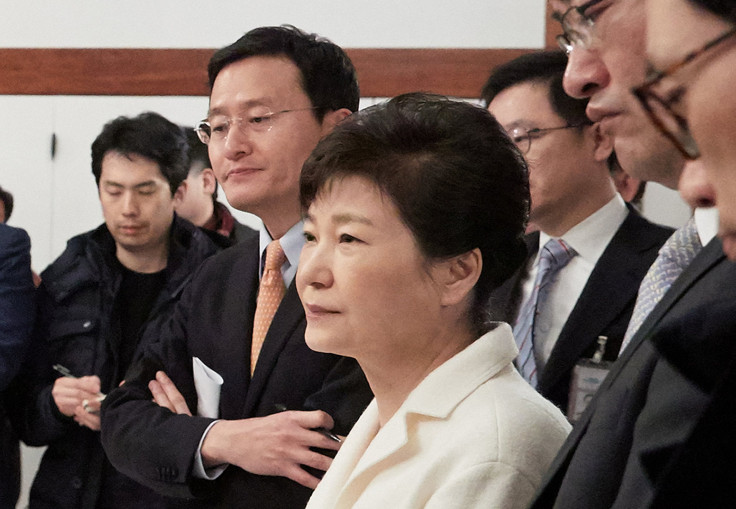 Scandal-hit South Korean President Park Geun-hye denied all allegations of corruption Sunday, adding that the accusations against her and her close aide Choi Soon-sil were "fabrication and falsehood," local media reports said.
She said Choi, her long-time friend and so-called spiritual adviser, was a "mere acquaintance" and dismissed allegations that Choi meddled in government affairs, influencing Park's decisions as president.
The 64-year-old met reporters for the first time Sunday since the parliament's Dec. 9 vote to impeach her. Park is at the center of a political scandal which is described as Seoul's biggest in recent years.
Her fate now lies at the hands of South Korea's Constitutional Court, which was given six months since the Dec. 9 vote to either reinstate the nation's first democratically elected female president or fall in line with the parliament's decision to throw her out of office.
If the court approves the parliament's impeachment vote, fresh elections must be held within 60 days.
However, Park insisted Sunday that she had been "totally framed."
"The matter is under investigation, so I can't make detailed explanations that might put both sides in trouble, but what I can assure you is that I have never conspired with anyone or did anything to give favors to someone, not even by a bit" she reportedly said.
Although, she denied allegations of corruption earlier, Park had apologised for her carelessness over her friendship with Choi. Choi, who has been a close friend of Park's for nearly 40 years, also denied any wrongdoing. She is currently in detention while on trial. The two have been accused of exploiting Park's position as president to amass profits.
Following the impeachment vote, Prime Minister Hwang Kyo-Ahn has stepped in as acting president. He will remain at the post till the court makes its decision.
© Copyright IBTimes 2023. All rights reserved.