South Korea's Response To MERS Outbreak 2015: Is Coronavirus As Scary As It's Made Out To Be?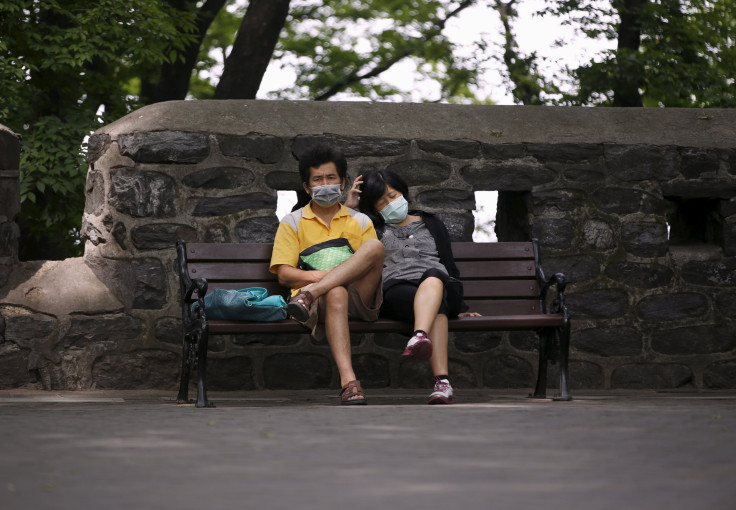 It's the new face of South Korea: the thin surgical mask that stretches over the mouth and nose and loops behind the ears, to be worn at all times. Its sales have soared in recent weeks, as scores of people, from pop stars to tourists, don the safety wear against a harmful virus.
Seven people so far have died in the recent outbreak of the Middle East respiratory syndrome (MERS) virus in South Korea. Official efforts to contain the virus have included quarantining 2,500 people and shuttering 2,200 schools, while the populace has steered clear of malls and movie theaters. After all, with 95 people so far sickened by a virus that kills roughly 36 percent of the people it strikes, it can't hurt to exercise an abundance of caution -- right? Not so fast, say some experts, who question whether the response to the outbreak might be disproportionate or even have adverse consequences.
Greg Gray, an epidemiologist at Duke University in North Carolina, compares the reaction to MERS to the widespread panic in the U.S. sparked by a bout of anthrax mailings in 2001. "The public concern about this was so escalated that the fears from the event were more dangerous than the threat of the event itself," he said, referring to extraneous demands on doctors, for instance, or calls to emergency services.
MERS is a virus that can cause fever, cough and shortness of breath. Severe infections can lead to pneumonia and organ failure, according to the World Health Organization (WHO). The first case was reported in Saudi Arabia in 2012, and the virus is thought to have originated from animals, specifically camels. Droplets from coughs or sneezes probably transmit the virus from person to person, the WHO suspects.
South Korea's outbreak of MERS, which by now has spread to 24 hospitals and healthcare facilities, began May 20 with a 68-year-old man returned from a four-country tour in the Middle East. As of Tuesday, seven people have died from the virus, most recently a 68-year-old woman.
Some have suggested that the reason South Korea has taken such stringent steps to quell this outbreak is because of Asia's experience with severe acute respiratory syndrome, or SARS, in 2003, in which approximately 8,000 people were infected and 750 people died. But although MERS and SARS are both members of the coronavirus family, MERS appears -- for now -- to be far less contagious. "This is certainly not as global a threat right now as SARS was," Andrew Pekosz, a virologist at Johns Hopkins University, said.
South Korean officials may also want to compensate for what has been criticized as a lax response during the early stages of the outbreak, when the first patient carrying the virus visited four hospitals before he was diagnosed. "We apologize for the inappropriate initial responses," Korean Minister of Health Moon Hyung-pyo said June 2. "We were too relaxed."
Authorities subsequently vowed to "launch an active, all-out response with the goal of ending the MERS crisis within this week," in the words of Korean Finance Minister and acting Prime Minister Choi Kyung-Hwan, Agence-France Presse reported Tuesday.
A Justified Panic?
When the public becomes unnecessarily terrified, the resulting precautions may do more harm than good, Gray, the epidemiologist from Duke, pointed out. When schools are closed suddenly, working parents have to figure out child care, for example. Doctors can sometimes be overwhelmed by healthy people who want confirmation they're not sick, he added, and such panic can ultimately drain valuable resources.
In South Korea, attendance at theaters Friday dropped 11.7 percent from the week before and more than 25 percent from two weeks earlier. The scheduled release for the movie "Northern Limit Line," slated to be a summer blockbuster, had been Thursday; now it's June 24, the Hollywood Reporter said.
Approximately 45,000 people, mainly from Taiwan, China and Hong Kong, have canceled plans to travel to the country since the outbreak began, and Singapore has postponed or canceled all of its school trips there. Malaysia and the Philippines have similarly advised their citizens to stay away.
"The economic and social damage that occur from those bans far outweigh any kind of potential benefit," Pekosz said, suggesting that travel bans offer little benefit because the number of MERS cases is so few. Not even the WHO supports a ban in this case, although the U.S. Centers for Disease Control and Prevention has issued a travel notice to South Korea.
"We don't really recommend any travel restrictions for countries that have MERS," Tarik Jašarević, spokesman for the WHO, which has sent a team to South Korea to analyze the virus and outbreak and recommend a course of action, said. Pointing to South Korea's robust health system, he said he hoped the virus could be quelled quickly and effectively. "It's also important that the public listens to public health advice and not panic," he added.
The challenge lies in striking a balance between responding effectively and not generating mass panic over the outbreak, the largest to occur so far outside of the Middle East. "People may be concerned, but I hope that they will not overreact and cooperate to ensure that economic activities will not be weakened," South Korean President Park Geun-Hye has said.
Yet South Korean authorities have ordered thousands of schools closed, despite the fact that every case of MERS yet to surface in South Korea has been transmitted within hospitals and medical facilities, a move that "really doesn't make sense," Kang Cheol-In, an infectious diseases expert at the Samsung Medical Center in Seoul, told the Associated Press.
"In a setting like this, where most of the transmission is involved in hospitals, I think that's where the focus needs to be," Gray said. Hospitals needed to set up effective protocols to identify possible MERS cases and separate patients infected with the virus from those who were not, he said.
Meanwhile, visitors shied away from communal areas like shopping malls over the weekend, as revenue at branches of one major retailer fell by as much as 18 percent from the previous weekend, the Korea Times reported Monday. E-commerce though, reaped the benefits of people staying in. For the week of June 1 to June 6, revenue rose by 60 percent for one website compared with the same week the year before. Immune system boosters were particularly popular purchases.
Monitoring The Threat
MERS could become more dangerous -- if it mutated to more easily jump from person to person. So far, that hasn't happened, and the virus still isn't transmitted all that easily. The current strain of MERS in South Korea is not different from the strain found in Saudi Arabia, Jašarević, the WHO spokesman, said, and "for the time being, we don't see that the virus has changed."
"Relatively speaking, it's not as contagious as many human respiratory infections," Pekosz, the Johns Hopkins virologist, said of the MERS virus. "Humans aren't the main host of this virus, so it's not well adapted to either replicating or spreading between humans." When the virus does pass between humans, it tends to do so through close contact.
Still, even if the MERS virus doesn't spread easily, scientists aren't sure why -- or when or how -- it could mutate. That, Pekosz said, is what really needs to be monitored. Otherwise, he said, "there's no reason to think that we can't get this under control quickly."
© Copyright IBTimes 2023. All rights reserved.