South Ossetia To Join Russia? Crimea-Style Referendum Proposed By President Of Self-Declared Republic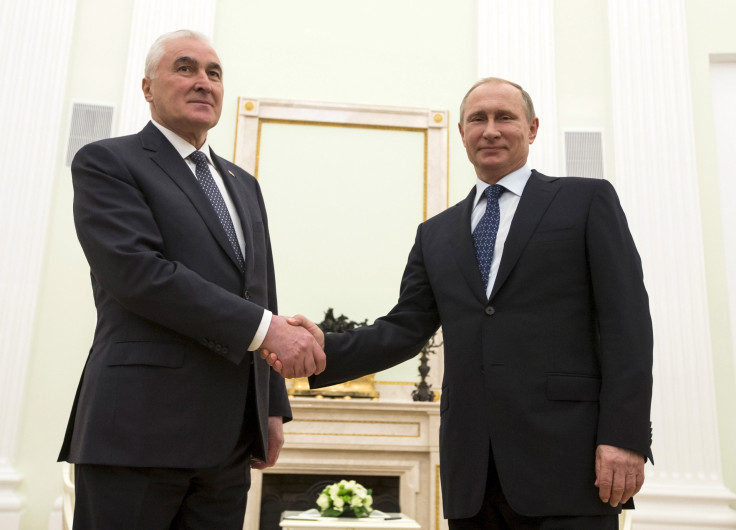 If the president of the self-declared republic of South Ossetia has his way, the world will witness another Crimea-style referendum, this time in a region within Georgia's internationally recognized territory. Leonid Tibilov said he described his plans for a referendum to join Russia to an aide to Russian President Vladimir Putin Monday, Reuters reported.
"Today's political reality is such that we must make our historic choice and be reunited with brotherly Russia so that we can ensure the security and success of our republic and people for many centuries," Tibilov said in a statement.
Tibilov did not say when the referendum would be held and said the Russian government would decide how to proceed following any vote. Tibilov said he was certain that the election would allow Russia and South Ossetia to "unite our people." Neighboring North Ossetia, inhabited by the same ethnic group, is part of Russia.
The Georgian government, which has not controlled the small mountainous region since 2008, responded to the announcement by saying it would hold discussions with its allies. Details on how the question would be worded were not immediately available.
"It just confirms the provocative policy which Russia is pursuing on South Ossetia. It is a continuation of Russia's policy of 'creeping occupation,'" said Gigi Gigiadze, Georgia's deputy foreign minister.
South Ossetia, with a population of approximately 50,000, broke away from Georgia, declaring its independence in 1990, shortly before the Soviet Union collapsed and Georgia gained its independence. Russia recognized South Ossetia as an independent country after fighting a brief war with Georgia in 2008 over the region. Moscow provides South Ossetia with heavy financial support. Russia also recognized the independence of another breakaway Georgian region, Abkhazia. Russia is one of the few countries that recognizes both South Ossetia and Abkhazia as independent states.
The proposal for a vote comes at a moment of high tensions in Europe with Russia continuing airstrikes in Syria and increased provocations along European borders, waters and airspace. Russia annexed the Ukrainian peninsula of Crimea in March 2014 when unmarked soldiers, later revealed to be Russia military, appeared on the peninsula.
A referendum that was declared illegal by the U.S. and the EU resulted in more than 95 percent of voters supporting the decision for Crimea to join Russia. Western governments still recognize Crimea as being part of Ukraine. Following Crimea's annexation, a war broke out in eastern Ukraine pitting government forces against Russian-backed separatists, claiming more than 8,000 lives so far.
Russia and South Ossetia signed a pact in March to integrate their security and military forces.
© Copyright IBTimes 2023. All rights reserved.