Russia-Ukraine Conflict Update: Amid Crimea Road Blockade, Moscow Threatens Revolt As Crimean Tatars Protest Human Rights Violations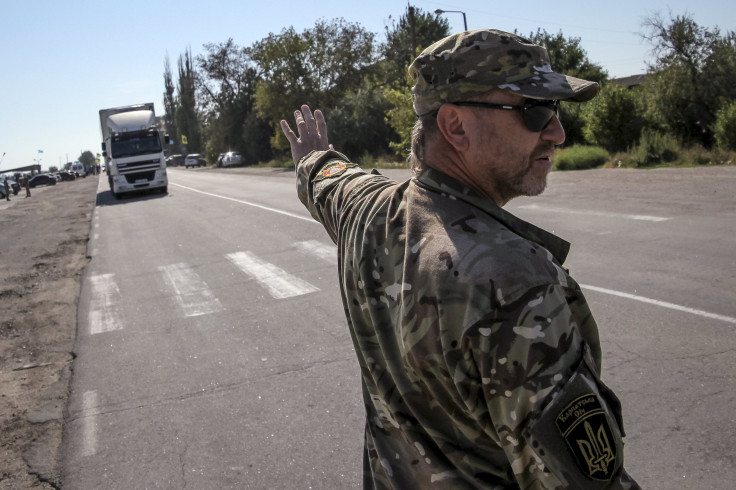 Hundreds of trucks containing perishable goods bound for Crimea were stuck on the Ukrainian side of the border after the route from the Russian-annexed peninsula to the mainland remained blocked Tuesday by a throng of Tatars, who are native to the region, local media reported. Ukrainian Tatars began the blockade Sunday to protest alleged human rights violations by Russia against the Crimean Tatars. But with Russia still holding $3 billion in Ukrainian debt, the confrontation could have significant economic ramifications.
Russian President Vladimir Putin will see the protest as economic blackmail, Anton Gerashchenko, an official at Ukraine's Interior Ministry, told local media, without saying how he thought Russia would respond.
In late August, after five months of negotiations, Ukraine reached a deal with creditors to restructure its debt to avert a default. The deal included a 20 percent writedown on bonds worth approximately $18 billion, but Russia rejected those terms and still holds $3 billion in bonds that are due in December.
"The persons crossing the state border say that a revolt is about to start among the drivers of the trucks on the adjacent territory as the goods inside them are spoiling," the frontier department of Russia's state security service told the government news agency Tass.
Less than 5 percent of Crimea's supplies come from Ukraine's mainland, meaning the blockade would not seriously affect the peninsula, Crimea's Prime Minister Sergei Aksyonov said. It was not immediately clear how accurate that figure is.
Russia does not have direct land access to Crimea, but is planning to spend upwards of $3 billion to build a bridge. So far, supplies from Russia have been transported by ferry to the peninsula. Since Russia's annexation of Crimea in March 2014 and the cutoff of many Ukrainian services, Russia has been forced to devote large amounts of funding to the region, including $2.2 billion in 2015 to upgrade infrastructure and $830 million for an electricity cable.
"This is a huge sum comparable with expenses on the Olympic Games in Sochi, and more than the funds spent to prepare Vladivostok for the APEC summit," Andrey Sokolov, Russian deputy for Crimean affairs, said in April in describing the infrastructure investments. "The sums will grow in the future. About 700 billion rubles [$13.6 billion] will be invested in Crimea by 2020."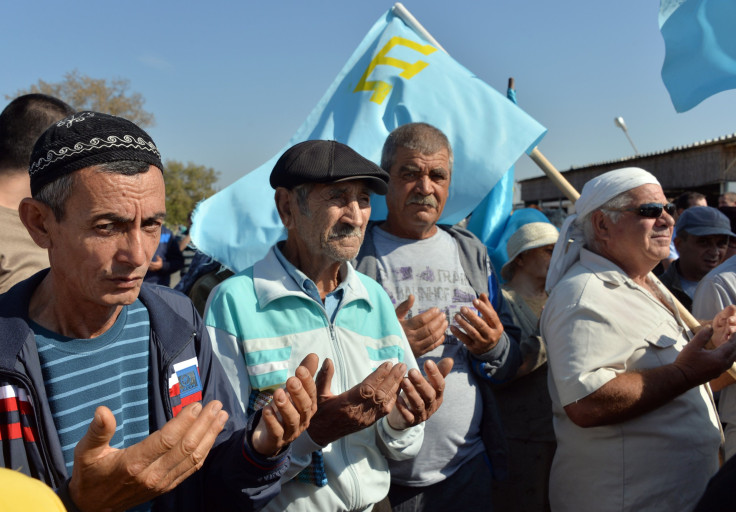 Russian authorities have already called the blockade a mistake and blamed it on Ukrainian officials.
"In reality the blockade is not even a mosquito bite, but only quiet buzzing nobody cares to take note of," said Frants Klintsevich, the first deputy head of Putin's United Russia party in the parliament, Tass reported Tuesday.
Crimean Tatars have hoped the economic blockade would raise awareness about their situation under Russian rule. Tatars account for approximately 300,000 of Crimea's 2 million inhabitants.
"Our goal is to end the occupation of Crimea and to restore the territorial integrity of Ukraine," said Refat Chubarov, a Crimean Tatar leader and member of the Ukrainian parliament, according to RFE/RL. Chubarov, who was banned from entering Crimea by Russian authorities, said more than 230 trucks had been stopped so far.
Nearly six tons of food arrived in Crimea last week from mainland Ukraine at an estimated value of $475 million, Chubarov told the Ukrainian Crisis Media Center.
Gross human rights violations are occurring in Crimea and it is imperative for the United Nations to prepare a special report and that international monitoring missions be sent to the region, said Ukrainian Foreign Minister Pavlo Klimkin.
The extreme Ukrainian nationalist group Right Sector joined the Crimean Tatar protesters Sunday in blocking supplies from reaching the region, a fact touted by Russian media because of Right Sector's past violent behavior.
Both Putin and Ukrainian President Petro Poroshenko are to address the U.N. General Assembly next week in New York, prompting rumors about a possible meeting between the two.
© Copyright IBTimes 2023. All rights reserved.