Southern Church Burnings: Arson Not Suspected In 3 Fires, Justice Department Says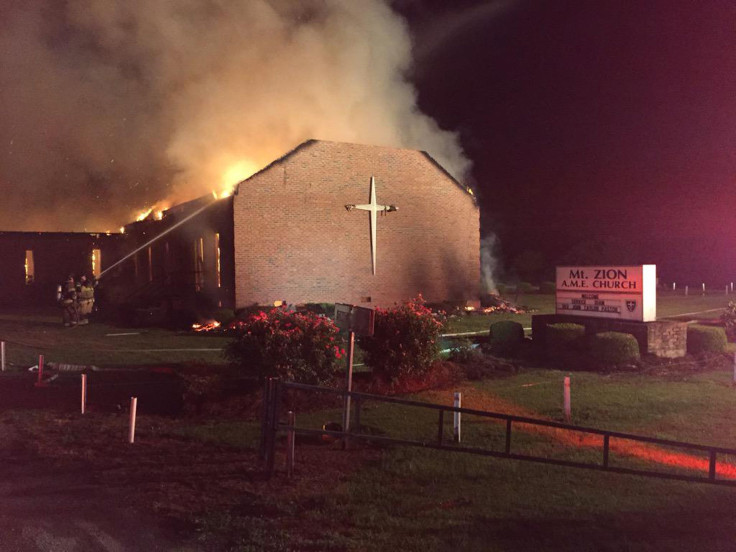 A joint federal task force's "preliminary investigations" have not found evidence of arson in three of the recent fires at predominantly black churches across five Southern states, the U.S. Justice Department said in a statement Thursday. All of the fires occurred after June 17, when Dylann Roof allegedly killed nine people in a racially motivated shooting at Emanuel AME Church in Charleston, South Carolina.
Officials from the FBI and ATF have worked closely with local authorities and the Justice Department's Civil Rights Division to determine if any criminal activity occurred at the church fire sites. Federal investigations into the fires have yet to conclude, but so far, officials do not believe arson was to blame in at least three of them. Moreover, investigators have found no evidence of a link between the fires.
"Preliminary investigations indicate that two of the fires were started by natural causes and one was the result of an electrical fire. All of the fires remain under active investigation and federal law enforcement continues to work to determine the cause of all of the fires. To date the investigations have not revealed any potential links between the fires," Justice Department spokeswoman Melanie Newman said in a statement, without specifying which churches were being referenced.
"If in fact there is evidence to support hate crime charges in any one of these cases, the FBI, in coordination with the ATF and local authorities, will work closely with the Civil Rights Division and the U.S. Attorneys' Offices to bring those forward," Newman added.
Church fires have occurred in Tennessee, Georgia, North Carolina, South Carolina and Florida since June 17. Arson was not suspected in a fire at Mount Zion AME church in Greeleyville, South Carolina, a federal source told the Associated Press on Wednesday. FBI officials said lightning may have caused the blaze, CNN reported.
© Copyright IBTimes 2023. All rights reserved.