SpaceX Crew Dragon Landing Swarmed By Private Boats, Raises Security Concerns For NASA
KEY POINTS
Private boats approached the Crew Dragon Endeavour after it splashed down in the ocean
NASA Administrator Jim Bridenstine released a statement regarding the incident
NASA and SpaceX plan to enforce better security measures in future recovery operations
After the successful splashdown of SpaceX's Crew Dragon Endeavour, which transported astronauts Doug Hurley and Bob Behnken back to Earth from the International Space Station (ISS), NASA Administrator Jim Bridenstine addressed the security issues involving private boats that occurred during the event.
On Sunday, the Crew Dragon capsule safely returned to Earth after spending time on the ISS. The mission was SpaceX's first human test flight for the capsule.
Shortly after entering Earth, the capsule splashed down in the Gulf of Mexico off the coast of Pensacola, Florida. After Crew Dragon hit the water, SpaceX deployed its vessel Go Navigator to recover the capsule and secure NASA's astronauts.
However, before Go Navigator was able to retrieve the capsule, multiple private boats had swarmed the Crew Dragon Endeavour. It took SpaceX's vessel about 30 minutes to reach the capsule and pull it out of the water. Unfortunately, the private boats had already reached the capsule before this happened.
Although the capsule was safely recovered from the ocean, the presence of private boats in the area could have endangered the whole recovery process. Bridenstine said the U.S. Coast Guard had already cleared the area before the capsule's splashdown. However, the private boats were still able to enter the restricted area right after the Crew Dragon hit the water.
Bridenstine noted that the incident indicates that NASA needs to impose better security measures to ensure the safety of pilots, recovery crew members and the general public.
"That capsule was in the water for a good amount of time and those boats just made a beeline for it," he said during a press conference after the splashdown, Space.com reported.
"There are things that we're going to look at, that we need to do better at, for sure," Bridenstine added.
Gwynne Shotwell, the president of SpaceX, echoed Bridenstine's statement on improving actions related to recovery operations. She noted that more SpaceX, NASA and Coast Guard assets should be used in future operations.
"The lesson learned here is that we probably need more Coast Guard assets, and maybe more SpaceX and NASA assets as well," Shotwell stated. "This was a demonstration mission. This is the time that you go learn about these things, and we'll certainly be better prepared next time."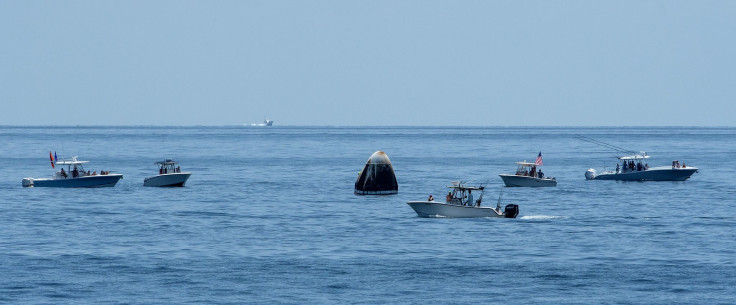 © Copyright IBTimes 2023. All rights reserved.
FOLLOW MORE IBT NEWS ON THE BELOW CHANNELS