SpaceX Rival Blue Origin Launches And Lands New Shepard Rocket In Successful Suborbital Test Flight
KEY POINTS
New Shepard was in flight for 10 minutes, reached 66 miles high
It tested precision landing technologies for NASA's moon landing program
This is Blue Origin's 13th launch in its New Shepard program
Jeff Bezos' aerospace company Blue Origin announced the successful suborbital launch of its reusable New Shepard NS-13 rocket Tuesday, testing precision landing technologies for NASA's mission to put astronauts on the moon by 2024.
Blue Origin Creative Director Joel Eby said during the video stream of the launch that there will be "a couple more flights" before before the rocket is ready to fly space tourists, scientists and professional astronauts to space.
The booster landed on the launch complex and the capsule parachuted to the desert floor. This is the thirteenth launch in Blue Origin's New Shepard program and the seventh flight for this rocket.
The flight duration was just 10 minutes and it achieved a peak altitude of 66 miles, but the company said, "it was the first payload to fly mounted on the exterior of a New Shepard booster rather than inside the capsule" which opens up possibilities for high-altitude sampling and exposure of payloads.
NASA's Jim Bridenstine, in a tweet, congratulated the company on the successful launch.
The rocket was unmanned but carried 12 research payloads for NASA, along with navigation equipment for future moon landings. This test flight was conducted to assist in NASA's Artemis program, which aims to put astronauts on the lunar surface by 2024. Such flights help test landing technologies and the sensors, computers and algorithms for moon landings. The sensors will give data on the spacecraft's location and speed as it moves on the lunar surface.
Washington-based Blue Origin was delayed in its testing of the New Shepard program due to the COVID-19 pandemic, and following some technical errors that surfaced in the past month. The previous test flight of the rocket was held in December last year.
Competitors in space
NASA has picked three U.S.-based companies to design human landing systems for the initial phases of its Artemis program. Blue Origin is one of them, developing its lunar lander 'Blue Moon;' its main rival is SpaceX's Starship. The third company is Dynetics based in Huntsville, Alabama.
Blue Origin has only built four rockets under this program. This rocket is roughly the diameter as SpaceX's Falcon 9 and is fuelled by one liquid hydrogen and oxygen engine, designed for 'operational reuse.'
Elon Musk's SpaceX will be a tough one to beat for Blue Origin because in the 10 months that it took Blue Origin to test two suborbital launches of the New Shepard 3 booster, SpaceX completed 18 Falcon 9 launches. It also became the first private company in history to launch astronauts into orbit. Falcon 9 also recently beat NASA's Space Shuttle to become the world's most rapidly reusable rocket. It also completed two successful hop tests for its Starship rockets.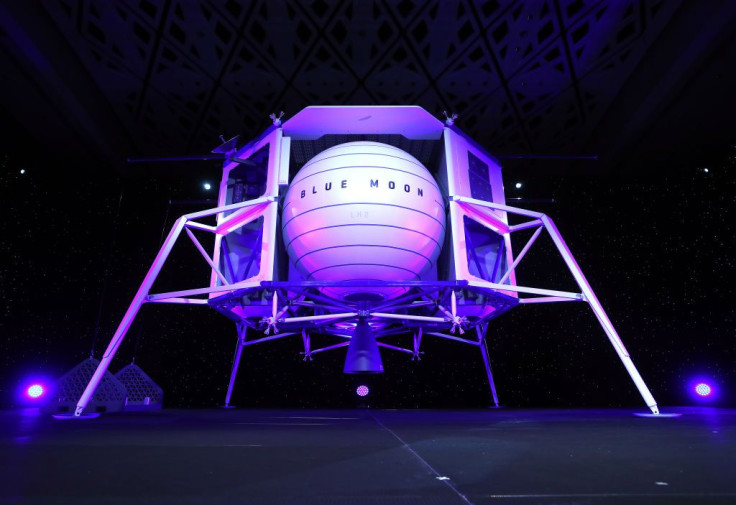 © Copyright IBTimes 2022. All rights reserved.
FOLLOW MORE IBT NEWS ON THE BELOW CHANNELS