SpaceX SES-9 Launch Live Stream: Watch Elon Musk's Latest Landing Attempt Ocean Barge 'Of Course I Still Love You'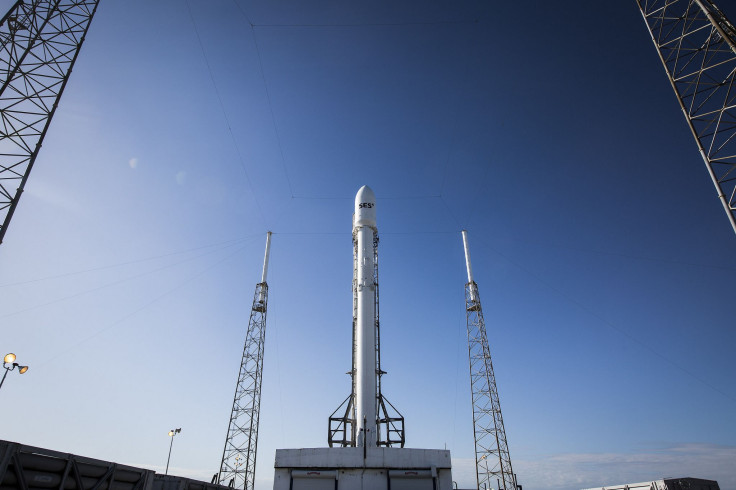 Elon Musk will to try once again to land a SpaceX rocket on an ocean barge on Wednesday, but this time he's raising the degree of difficulty significantly.
Musk completed the first landing of a re-usable rocket on land by SpaceX in December, but his third attempt to land a rocket on a barge in when the Falcon 9 rocket tipped over and exploded in January. Wednesday marks the latest attempt to return the first stage of its Falcon 9 rocket, a feat has remained elusive for Musk's company as they attempt to create a reusable rocket that will dramatically reduce the cost of rocket launches.
For its fourth attempt, SpaceX will be placing a satellite into an orbit as high as 16,155 miles above the Earth, much higher than last month's attempt after delivering a NASA satellite to a lower orbit 830 miles above Earth. That means this SpaceX rocket will carry more fuel and have a much longer descent when it attempts to land on the barge dubbed "Of Course I Still Love You."
The launch from Space Launch Complex 40 at Cape Canaveral Air Force Station, Florida is set for 6:46 p.m. EST with the SpaceX live stream coverage beginning at 6:26 p.m. EST.
The payload this time is the SES-9 communications satellite weighing in at 11,620 pounds, which required larger fuel tanks and and increased thrust from more advanced Merlin 1D rocket engines to boost the rocket's normal 10,692 pound payload capability, Spaceflight Now reported.
SpaceX previously launched a SES communications satellite in 2013 with five future launches scheduled. "SES-9 will provide expansion and replacement capacity to serve the video, enterprise, mobility and government sectors in fast-growing markets across Northeast Asia, South Asia and Indonesia," SpaceX wrote in its description of the payload.
The SpaceX SES-9 launch live stream can be viewed below. There is a hosted broadcast and a technical broadcast that includes rocket views and telemetry information for Wednesday's launch.
Hosted Broadcast
Technical Broadcast
© Copyright IBTimes 2023. All rights reserved.