SpaceX's Secret Falcon 9 Zuma Launch Is Scheduled For Thursday Night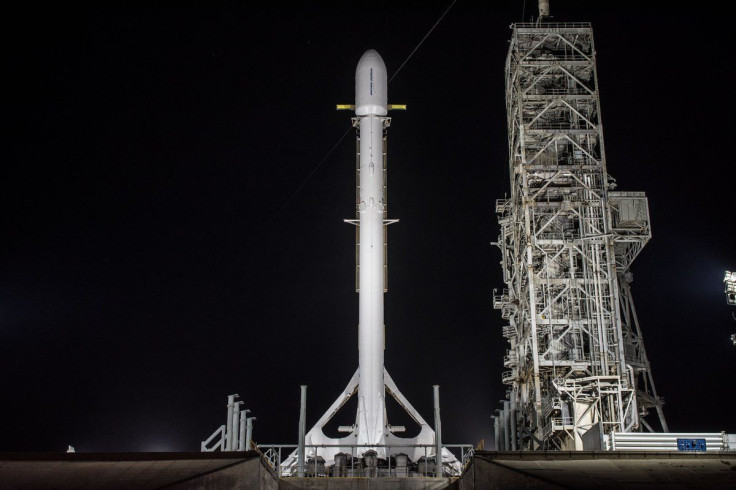 There's little we know about the SpaceX launch scheduled for Thursday night. The company will be using one of its Falcon 9 rockets to launch a secret payload, nicknamed Zuma, according to the launch schedule from the Kennedy Space Center.
The launch was originally scheduled for Tuesday evening but was delayed. A tweet from SpaceX on Saturday said the static fire test was completed and the launch was on target for the 15th.
Tuesday night, both the rocket and the payload were on Launch Pad 39A at the Kennedy Space Center in preparation for the Thursday launch. The rocket and payload were both healthy, according to a tweet from SpaceX, but the teams were using the "extra day to conduct additional mission assurance work." The Thursday evening launch window opens up at 8 p.m. EST.
It's unclear what exactly the Zuma payload is. Last month, Spaceflight Now reported that SpaceX had a secret launch scheduled for November, based on filings with the Federal Communication Commission. The filings showed that the launch would be occurring from the Kennedy Space Center and that the first stage of the Falcon 9 would be recovered but not much else.
There was one FCC filing that covered the launch of the Falcon 9 and one that covered the recovery of the first stage of that rocket. That first stage will attempt a controlled landing at the Landing Zone 1 at the Cape Canaveral Air Force Station. The filing for the actual launch said, "This STA is necessary to authorize launch vehicle communications for SpaceX Mission 1390, from Complex 39A, Kennedy Space Center. Includes sub-orbital first stage, and orbital second stage. Trajectory data will be provided directly to NTIA, USAF, and NASA. All downrange Earth stations are receive-only. Launch licensing authority is FAA Office of Commercial Space Transportation."
Those who wish to view the launch can do so either in person or online. If you happen to be at the Kennedy Space Center on Thursday you can buy a ticket for the launch. There will be no viewing spots available at the main visitor complex but for $20 visitors can get tickets for viewing from the Apollo/Saturn V Center, situated about four miles from the launch pad. The night also includes a cash bar, musical entertainment, a junior astronaut station and other activities, says the website for the launch.
If you wish to still view the launch but won't be there in person, it will likely be live streamed online on SpaceX's website. These video streams usually become available about 20 minutes before the launch window opens up.
© Copyright IBTimes 2023. All rights reserved.