Spc. Ivan Lopez And PTSD: Is There A Link Between Post-Traumatic Stress Disorder And Violence?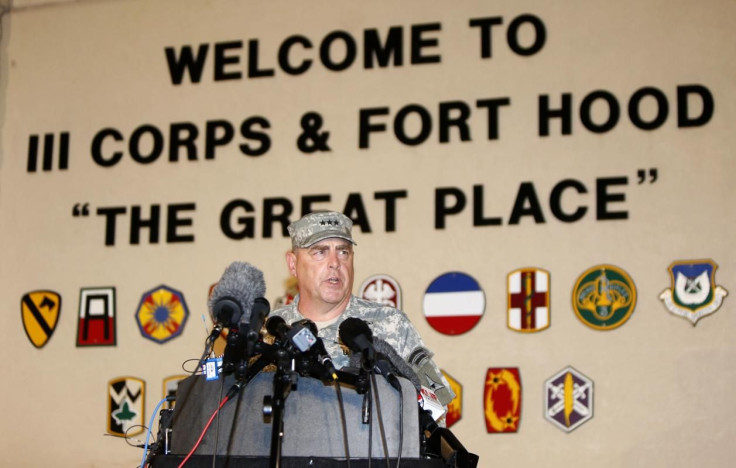 The Fort Hood shooting that led to the deaths of three people Wednesday before the gunman committed suicide thrust post-traumatic stress disorder once again into the spotlight, renewing a debate on social media over the links between PTSD and violence, even though it's not established whether Spc. Ivan Lopez suffered from the disorder.
Lopez, who was deployed in Iraq for four months but never saw combat, was identified as the man who opened fire in the Texas Army base Wednesday, killing three people and wounding 13 others before turning the gun on himself. Lopez was reportedly being evaluated for PTSD and also was being treated for anxiety and depression.
Secretary of the Army John McHugh told Bloomberg that Lopez was prescribed drugs for anxiety, sleeping problems and depression, but a psychiatrist's evaluation last month found that he was no threat to himself or others. There's no indication that he was diagnosed with PTSD before his death.
On Thursday, the morning after the Fort Hood shooting, the PTSD started trending on Twitter, as users debated whether PTSD was connected to the incident.
Experts agree that PTSD does not necessarily make people more prone to violence.
"The vast majority of people with PTSD don't ever commit acts of violence," Paula Schnurr, acting executive director of the Department of Veterans Affairs' National Center for PTSD, told International Business Times. "PTSD is not synonymous with violence, it's far from it."
About 15 percent of veterans of the wars in Iraq and Afghanistan have PTSD (there are no official numbers for World War II, Korea, Vietnam or Persian Gulf War veterans, but Schnurr said percentages may be lower for those groups) and about 4 percent of the population suffer from PTSD.
"Some people have symptoms and most people don't develop PTSD," she said.
Yuval Neria, professor of medical psychology at Columbia University, said anger is more of an issue for PTSD patients than violence.
"Many of the PTSD patients are not dangerous to themselves or others," Neria, who is also director of the Trauma and PTSD Program at the New York State Psychiatric Institute, told IBT. "Most of them are angry, not necessarily aggressive. The challenge is really to provide treatment in order to reduce violent tendencies."
Neria said suicide is more of a concern than murder with soldiers who have PTSD, noting that veterans account for 22 suicides a day.
"I still think that the risk of homicide is very low," Neria said. "The challenge for the [Department of Defense] is to diagnose them, to treat them well. Medication is not enough."
The National Center for PTSD has gotten "better at understanding effective treatment" since it was created through congressional mandate in 1989, Schnurr said. Treatment includes both medication and cognitive-behavioral therapy, and some veterans vastly improve their quality of life in as little as 10 to 15 weekly therapy sessions. The most pressing challenge for the center today is getting veterans to realize that their condition does not have to permanent, she said.
"We're still trying to get the word out that it can be treated," she said.
© Copyright IBTimes 2023. All rights reserved.
FOLLOW MORE IBT NEWS ON THE BELOW CHANNELS