The 'Star Wars' Box Office Effect: Can 'The Force Awakens' Save Hollywood From A Disappointing 2015?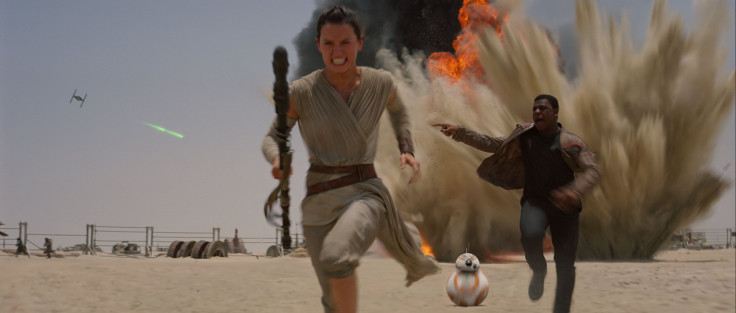 LOS ANGELES — Can the Force awaken this year's sleepy box office? This week's opening of "Star Wars: The Force Awakens," which has spawned a secondary market for tickets and 3 a.m. showings, is going to be huge for cinema chains. But will the hype surrounding the movie be enough to redeem 2015's disappointing box office performance?
The movie has come out to rave reviews -- 94 percent approval on Rotten Tomatoes -- but its hordes of fans would probably pack theaters even if critics hated it. Still, the buzz should help the film bring in a bunch of cash, and distributors surveyed by Deadline Hollywood have it pegged for a $180 million to $220 million opening weekend. That could top the $208.8 million "Jurassic World" reeled in when it opened in June.
Despite the presence of "Jurassic World" and a couple other monster summer hits, like "Avengers: Age of Ultron," "Furious 7," and "Straight Outta Compton," 2015 has been a tepid year for movie ticket sales. Optimistic predictions at the beginning of the year that 2015 would shatter records have not been fulfilled, and it's going to take an unprecedented effort over the holiday season to even match 2013's results. But if any movie is capable of turning things around, it's "Star Wars," which has already broken pre-sale records.
Laura Martin, a media analyst at Needham & Co., said not only could "Star Wars" get 2015 back on track, it could have a huge impact on next year's box office, which isn't projected to benefit from as strong a slate of movies as this year.
"I think it's quite possible that 'Star Wars' can save the box office for the year," she said. "But frankly, it gets released so late that it might be able to save both years."
'A Long Tail'
Martin said she expects "Star Wars" to play in theaters through January and February, which should really help 2016 get off to a good start.
"The opening excitement benefits this box office year, but all indications are that it will have a long tail," Martin said.
Martin doesn't blame security fears, cost-of-living increases or other outside factors for 2015's disappointing performance. She said the slate of films from most big studios -- particularly Warner Bros. -- simply hasn't motivated the audience to leave the comforts of HDTV at home and head to the theater.
"The content that's been in the box office hasn't been what people wanted to see," she said. "Warner Bros. has had a really tough year. Normally they have films that bring people to the theaters, but not this year."
Warner Bros.' highest-grossing 2015 film, "San Andreas," an earthquake-themed action movie starring Dwayne Johnson, is only the No. 18 highest-grossing movie this year. Warner Bros. has had multiple films in the top 10 in each of the previous three years, and Martin expects its "Batman v. Superman: Dawn of Justice" to be one of the biggest films of 2016.
The Walt Disney Co., which acquired "Star Wars" production firm Lucasfilm for $4 billion three years ago, fared a lot better. Its "Avengers: Age of Ultron" and "Inside Out" were this year's No. 2 and No. 3 movies, respectively. And "The Force Awakens" -- the first "Star Wars" film to come out since the Disney deal -- should surpass their performance.
No Sure Things
And while the "Star Wars" hype looks certain to do its part to boost the year-end box office, there aren't any other holiday releases that seem to be sure things. "Concussion" features Will Smith in a role that's already getting Oscar buzz and "The Big Short" stars Brad Pitt, Ryan Gosling, Christian Bale and Steve Carell, but movies about brain injuries and mortgage-backed securities, respectively, may not have the broad appeal of fantasy epics, superhero films and comedies, which are typical Christmas season mainstays.
While 2015 has certainly been a letdown after such high hopes, not every studio has disappointed. Universal, for instance, has had a banner year, including "Jurassic World," which broke an opening weekend record with sales of $208.8 million, "Furious 7," "Minions," and surprise performers like hip-hop biopic "Straight Outta Compton." And Lions Gate Entertainment Corp. had another big hit with "The Hunger Games: Mockingjay Part 2."
Still, even if "Star Wars" does redeem a weak 2015, there's only so much the industry can take from that. The excitement surrounding a reboot of a 38-year-old cult classic, with many original cast members returning in their roles -- which wasn't the case for the three prequels -- can't really be replicated. And the next "Star Wars" movie – the second of a sequel trilogy – doesn't hit U.S. theaters until May 2017.
Two of next year's most anticipated movies, "Batman v. Superman" and "Captain America: Civil War," also hope to capitalize on legendary fictional heroes with proven followings, but Superman fans aren't buying up tickets for middle-of-the-night showings. "Star Wars" may help paper over this year's soft box office, but its effect can't really be duplicated -- and that's a bigger issue than a disappointing 2015.
FOR FREE to continue reading
✔️ Unlock the full content of International Business Times UK for free
offer available for a limited time only
✔️ Easily manage your Newsletters subscriptions and save your favourite articles
✔️ No payment method required
Already have an account?
Log in
© Copyright IBTimes 2023. All rights reserved.