'Star Wars: The Force Awakens': Kylo Ren Not His Real Name; Last Names Of Finn And Rey Are Secret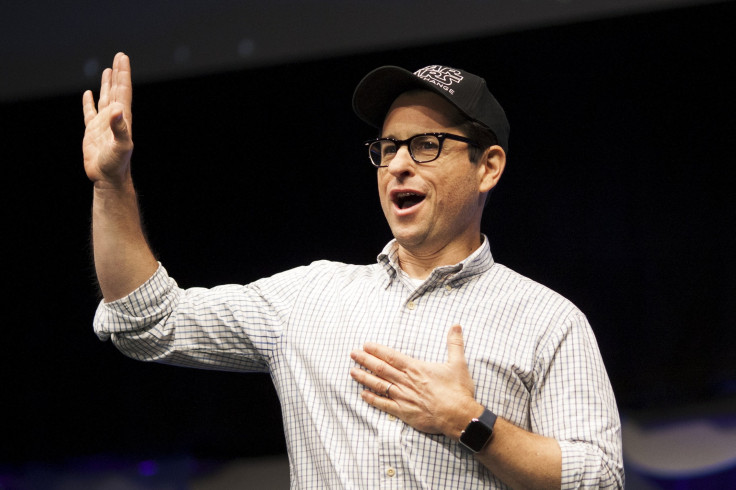 The origins of Kylo Ren and his mask in "Star Wars: The Force Awakens" were explained by J.J. Abrams in a recent interview. Details behind the names of some of the other popular characters in the movie, like Rey and Finn, were also revealed by the director.
Speaking to Entertainment Weekly, Abrams revealed that the forthcoming movie will explain the origins of Kylo Ren's mask, and said that the design was a nod to the mask of Darth Vader. The director also confirmed that the crossguard lightsaber that was seen in the trailers of the movie was in fact built by Kylo Ren. Abrams also added that the lightsaber was just as "dangerous and as fierce and as ragged" as the character was wielding it.
The director described Kylo Ren as someone, who is more complex and not just a "prototypical mustache-twirling bad guy." Abrams said that the character is not "fully formed" yet in the movie, when compared to what fans saw in Darth Vader in the original trilogy. The name of the villain is also an acquired name that he got after joining a group, called "Knights of Ren." The director did not reveal anything more about this group.
Abrams also talked to Entertainment Weekly about how some of the characters in "Star Wars: The Force Awakens" were named. Two new characters introduced in the movie are Rey [Daisy Ridley] and Finn [John Boyega]. Unlike the other characters in the movie, these two characters only have a first name and the director said that this was done intentionally, but did not reveal why.
The name "Poe Dameron" was chosen because the name sounded right to the director. He also admitted that his assistant's name was Morgan Dameron, and that she had a "giant smile on her face" when she learnt the name of Oscar Isaac's character in the movie.
Gwendoline Christie will be playing the role of Captain Phasma of the First Order in "Star Wars: The Force Awakens." Abrams revealed that he chose the name because the chrome design of the character's armor reminded him of the ball in the 1979 movie "Phantasm." Details about Andy Serkis' character Supreme Leader Snoke were not revealed by the director.
© Copyright IBTimes 2023. All rights reserved.