Starbucks CEO Howard Schultz Could Face Senate Panel As Judge Rules On 'Widespread Misconduct'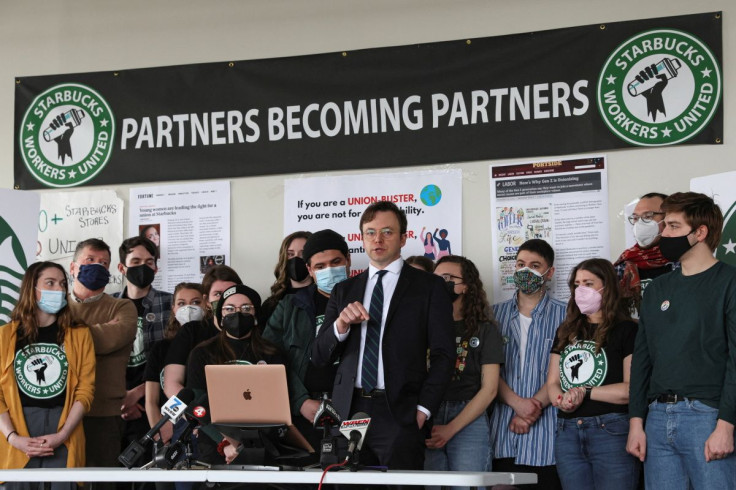 KEY POINTS
The violations include the illegal firing of more than a dozen Starbucks workers
Over 500 unfair labor practice charges have been lodged against the company
Starbucks illegally monitored, disciplined and fired employees engaged in union organizing, a judge found
Starbucks interim CEO Howard Schultz could face the Senate over "widespread misconduct" in the company's dealings with employees involved in efforts to unionize.
In a statement Wednesday, Vermont Sen. Bernie Sanders said the Senate Health, Education, Labor, and Pensions (HELP) Committee, which he leads, will vote on March 8 on whether to subpoena Schultz to provide testimony about the coffee giant's alleged federal labor law violations. The CEO previously declined to appear in front of the committee.
"Unfortunately, Mr. Schultz has given us no choice, but to subpoena him," Sanders said.
The senator noted that the National Labor Relations Board (NLRB) has filed over 75 complaints against Starbucks for violating federal labor law and that over 500 unfair labor practice charges have been lodged against the company.
"These violations include the illegal firing of more than a dozen Starbucks workers," Sanders added.
If the vote passes, Schultz would be required to appear before the committee on March 15, the Associated Press reported.
Starbucks issued a statement on Sanders' announcement, calling it a "disappointing development." The company offered to send its chief public affairs officer, AJ Jones II, to testify instead, stating that Jones has been more closely involved with the unionization effort, according to AP.
NLRB administrative judge Michael A. Rosas ruled Wednesday that Starbucks repeatedly violated federal labor law while responding to its employees' efforts to unionize, shortly after the campaign began roughly 18 months ago.
Rosas concluded that Starbucks had illegally monitored, disciplined and fired employees engaged in union organizing, among other violations.
The judge, in an order filed Wednesday, said that Starbucks' "egregious and widespread misconduct" demonstrated its general disregard for the employees' fundamental rights.
Starbucks was ordered to "take affirmative steps," including posting a notice in its stores nationally that will inform workers of their right to join a union as well as list what the company is prohibited from doing, including anti-union organizing activities.
Judge Rosas further ordered Starbucks to cease promising its employees increased benefits if they refrained from joining unions. The company must also reinstate and make whole the workers who suffered retaliation or were let go from stores in or around Buffalo, New York, among other remedies, Rosas said.
The case included 32 unfair labor charges made by Workers United against the coffee chain for its actions between August 2021 and July 2022 at 21 stores in the Buffalo area, including the first Starbucks location to unionize.
"Since the first store voted to unionize in December of 2021 in Buffalo, workers at more than 350 Starbucks in nearly 40 states across the country have held votes to unionize, citing various concerns – from safer working conditions during the pandemic and better wages, to better benefits and more reliable schedules," Sanders said in his statement. "Despite those efforts, as a result of [Starbucks' union-busting] campaign, there has not been one union contract signed."
Meanwhile, workers welcomed the decision against Starbucks' alleged union-busting activities.
"This is truly a historic ruling," Gary Bonadonna Jr., manager of the Rochester Regional Joint Board of Workers United, SEIU, said in a statement issued by Starbucks Workers United and obtained by The New York Times. "We will not rest until every Starbucks worker wins the right to organize."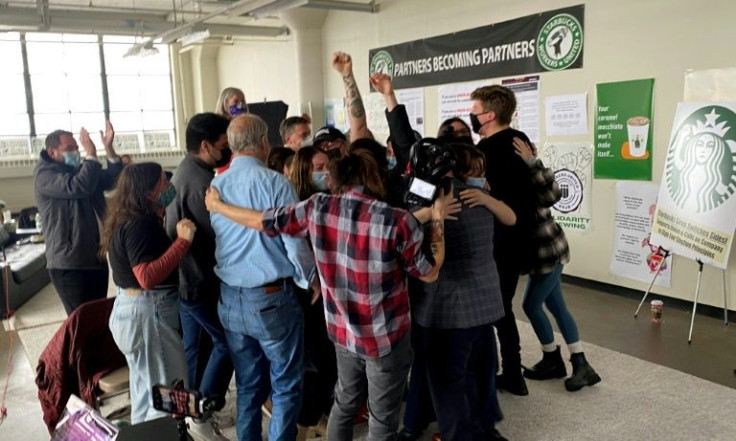 © Copyright IBTimes 2023. All rights reserved.