Staten Island's Volunteers Save The Day As Sandy Relief Effort Falters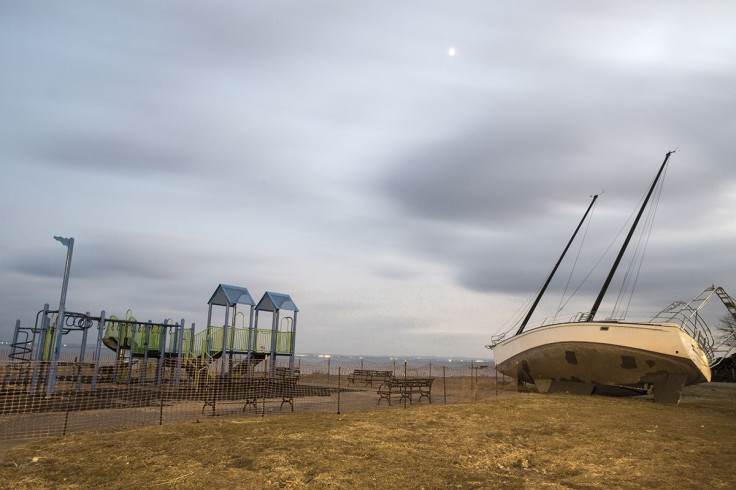 Upon arriving at the brick arches that mark the entrance to the seaside South Brooklyn community of Sea Gate last Tuesday, two weeks after it was devastated by Hurricane Sandy, drivers and pedestrians had their identification checked by police while helicopters still whirred overhead.
The first sight after entering the upscale Brooklyn neighborhood was an Army National Guard distribution point, where about a dozen soldiers helped police, firefighters and local community groups get food and supplies to residents.
But when driving though the hardest-hit coastal areas of Staten Island last Sunday afternoon, the scene was vastly different. Despite the fact that major sections of neighborhoods like New Dorp Beach, Tottenville and Great Kills were wiped out by the storm surge and high winds, there was little sign of government assistance on the debris-strewn streets.
As in Sea Gate and areas like Breezy Point, Queens, there are hundreds of homes in ruins across large swaths of Staten Island. Entire blocks have been abandoned after taking on 15 or more feet of floodwater. Boats remain suspended in trees and lodged in crumbling homes, and a light blue house lifted off its foundation still sits in the middle of one derelict road.
But over a period of about six hours of walking and driving through Hurricane Sandy's ground zero on Staten Island, only a lone Red Cross truck was seen, along with a number of Con Edison and National Grid vehicles. There seemed to be no federal or local government relief presence whatsoever on the island.
People on the ground there say it's been that way since shortly after the storm hit, and concerned volunteers from across the city, New Jersey and beyond are banding together in roving crews in an attempt to make up for what they say is a shocking dearth of help. It's people helping people, and it's what's driving the recovery effort forward, one block at a time.
The Yellow Team
One such relief group calls itself the Yellow Team. Its three-dozen members, bedecked in bright yellow T-shirts bearing the slogan "We Are Staten Island" and matching yellow bandanas, are going door to door and neighborhood to neighborhood, assisting residents in whatever ways they can, from helping residents find food and supplies to clearing out their belongings and gutting their homes.
The Yellow Team's members say they are filling an essential gap.
"When Sandy first happened, there were Red Cross trucks, the Army, everything. And now it's less and less," Alex Chomiak, a Manhattan resident who has been commuting to Staten Island to help the Yellow Team for much of the past two weeks, said on Sunday while taking a break from tearing out the interior of a bungalow in the South Beach neighborhood.
The group formed a couple of days after the hurricane, when siblings Farid and Rima Abdelkader -- whose homes in the Staten Island neighborhood of Bay Terrace were unharmed -- decided they needed to do something. They set up a Facebook page to let people know where they were each day, and they got to work, picking up new volunteers along the way.
They're doing the dirty work that comes after the search-and-rescue effort and the counting of bodies -- 19 of the 41 Sandy victims found so far in New York City died on Staten Island -- comes to an end.
"We all meet up each day and gut houses down to the studs, pull up parquet floors, tell people how to deal with the mold," Farid Abdelkader said Tuesday, speaking through a cheap air filter mask. "People are crying. These are poor neighborhoods, their homes are destroyed, they don't have flood insurance. That's what's driving us. We know they don't have any money, and they need help."
After more than two weeks of 12-hour days, the Yellow Team is exhausted and growing increasingly frustrated with the slow pace of the recovery and the lack of attention to Staten Island, which some locals refer to as the "forgotten borough." Yellow Teamers say new volunteers need to come in to relieve them when their work schedules and weary bodies no longer allow them to dedicate their lives to the cause.
As time passes, the work gets harder and more urgent as mold sets in, turning water-damaged homes into unlivable petri dishes, and forcing their inhabitants -- especially the elderly and disabled -- out, in some cases into tents in their yards or homeless shelters.
Jason Vogel, a Yellow Team member whose South Beach home sits two blocks past where the storm surge stopped, discussed the desperate situation in between trips into a home to haul out moldy slats of wooden baseboard.
"We've just been running on adrenaline. I've been out here every day, I haven't missed a day. We're not even taking care of our normal lives. It's a full-time job, but it's got to be done and nobody else is doing it," he explained Sunday. "People need to come out here and help. I went to a house yesterday and nothing's been touched. There's mold and fecal matter, and we found a dead cat, dead fish. It's organized chaos out here."
Months, Not Days
That sense of chaos is another problem that volunteers say could be lessened by a stronger government presence on Staten Island.
"Churches are coming together and sectioning the island into different areas, but the government, as much as they want to help, is not delegating or organizing the effort," Farid Abdelkader said. "One of the problems is there are so many people that want to help, but there's no organization. They're starting to do it now, but we need Habitat for Humanity-type things, and to start doing rebuilding. We shouldn't still be gutting."
Farid's sister, Rima Abdelkader, agrees, saying that the recovery effort will be measured in months and years, not days and weeks.
"Months from now, these families are going to look around and they're still going to need help, they'll still need assistance," she said. "These families are not just going to need help cleaning out their homes, they're going to need help rebuilding."
Despite all the problems, the volunteers are hopeful. Jonathan Guiffre, another local Yellow Team member, said he has been increasingly inspired to do all he can to help with the recovery as he has met the people who need assistance.
"When you see Katrina, you would never think that would happen in your hometown. I'm a native Staten Islander, so it's great to see the community come together as one, and all the people coming from other states, too," he said. "At the end of the day, it's rewarding to see someone's whole life on the curb, and still they're giving you a hug and a kiss for helping out. There's lots of hugs and kisses. One lady even mentioned wanting us to come out for Thanksgiving dinner."
Rima Abdelkader wants more people to take that initiative.
"People looking beyond themselves -- that's what we need. I think the saddest thing is not extending a hand to other people when you know you're okay," she said. "People say to me, 'your immediate family is okay, why are you still out there?' It's because we're all a family."
FOR FREE to continue reading
✔️ Unlock the full content of International Business Times UK for free
offer available for a limited time only
✔️ Easily manage your Newsletters subscriptions and save your favourite articles
✔️ No payment method required
Already have an account?
Log in
© Copyright IBTimes 2023. All rights reserved.