'This Is Our Katrina': Coney Island Reels From Hurricane Sandy's Wrath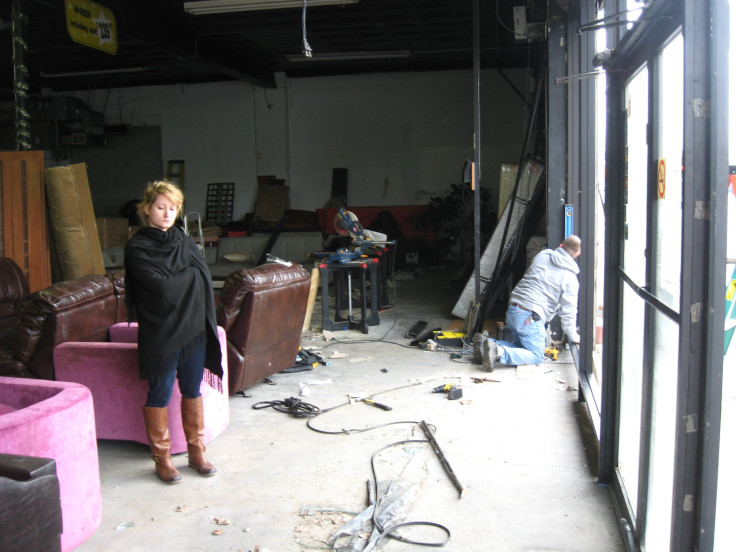 You don't have to be a New Yorker to know its name. Coney Island has long been a staple of New York City summers: the Nathan's hot dog-eating contest, the Mermaid Parade, Shoot the Freak, the Cyclone roller-coaster.
But the onetime seaside resort took a bad turn after the vacationers stopped flocking there generations ago, and for much of the past several decades, it was a place to avoid, overrun by poverty and dreariness. It made an appearance in the 1970s cult film "The Warriors" as the destination of the movie's eponymous street gang, and it's depiction in the film as a blighted urban area wan't far off the mark. That was the bad New York of the 1970s, with Coney Island as one of its seediest icons.
But as the new millennium arrived, the old feeling returned to the boardwalk as new rides and restaurants popped up, and the crowds and builders followed.
The whole area was in the process of being redeveloped as a rejuvenated resort, with attractions, rides and family fun, as well as mega-condo complexes, accompanied by acre upon acre of shopping opportunities.
What no one expected to see at Coney Island was wholesale devastation. Entire blocks of businesses gutted by a 15-plus-foot-high storm surge. Con Ed workers and contractors toiling to get the now ironically named Cyclone back in working order. Rubble stacked on the side of the road higher than eye-level.
But that's what is left in the wake of Hurricane Sandy, which broadsided Coney Island the evening of Oct. 29, and it left the area a shell of its recent self, decimated and seemingly as fallow and forgotten as it was in the 70s and 80s. As one local restaurant owner put it Tuesday morning, "this is Coney Island's Hurricane Katrina."
"We have to come back from this"
Ali Ahmed and two partners opened Remas Gourmet Deli & Hot Food on Stillwell Avenue, by the stairs to the F train station, just three months ago.
The trio poured $400,000 into outfitting their shop to be one of the nicer delis in town, with custom wood features, rows of gleaming refrigerators and even a pizza oven in the back.
They maxed out credit cards, borrowed from friends, did everything they could to raise the money to open their dream business.
Then, on Oct. 29, their pride and joy, their livelihood, the result of all their hard work, was destroyed by the sea that came in from the beach three blocks away.
"The way it happened was new to us. We never ate s--- like that before in New York," Ahmed said Tuesday as he coordinated a team of clean-up workers in the chilly shop. "We see storms in other states and stuff, but you can feel the fire. When your hand's in it, you can feel the fire. It was destruction. We lost almost everything."
The store was still shuttered Tuesday morning, though the pull-down metal gate was half-open so Ahmed and his men could periodically step outside to smoke and get out of the moldy, damp deli.
Ahmed estimated the storm damage to be in the tens of thousands of dollars, but he said it could skyrocket as they work to address the effects of the storm surge's water, which could include electrical damage and mold, as well as ruined shelves, ATMs, cooking equipment, refrigerators, merchandise and perhaps even the walls.
And the bills continue to come in, from Con Ed, from the phone company. They don't stop for disaster.
"We lost almost everything. Everything got flooded in here. The water was almost shoulder-high," he said, pointing to a dingy brown high-water mark. "The store's three months old. It's a brand-new store. We haven't tasted anything yet. We put everything into it, so we have to come back from this."
Liana Stevens, the owner of Lago Furniture on Surf Avenue, showed up at her massive outlet on Oct. 30 expecting to see some damage to her family's business. But she wasn't prepared for what greeted her when she pulled up in front of it.
The storm surge traveled hundreds of yards inland past the Cyclone and all the other rides and concessions located across the street from the deli, and it reached the tall roll-up metal gates that protect Lago's massive glass windows.
Incredibly, several of the panes had been shattered after a large piece of the boardwalk slammed into one of the metal gates hard enough to wrench it open, allowing the full force of the storm and its surge to pour into the store.
"We lost everything. It was a disaster. Furniture was upside down. There was five feet of water, and there was water and wind damage. I'm estimating about 200 grand in damage," she said, standing wrapped in a shawl as workers repaired one of the windows on Tuesday.
To add insult to injury, Stevens said the store does not have flood insurance, though she is hoping to be compensated in some manner.
FEMA and the city have been slow to offer assistance, Stevens said, as did other business owners interviewed there on Tuesday. She said that since the storm occurred, the only help she had been offered was the opportunity to apply for a low-interest small-business loan from FEMA.
Despite the storm's impact on her livelihood, Stevens said she is optimistic about her future, and that she thinks the community will band together and rebound from Sandy's wrath.
"We're a well-known store in the neighborhood, so hopefully we'll be okay. How long before we're okay, I don't know, but I'm hopeful," she said. "Right now, it's a little bit difficult to see something good out of this, but we have to help each other. If people need furniture, for example, come to my store. And I'll go to stores that were hit by Sandy and try to help them out that way ... It's trying to get back to normal that's difficult."
"Like starting from scratch"
Cha Cha's of Coney Island Surf Bar and Grill is one of those places that comes to mind when you think of a sunny summer day on the island (which isn't an island, really, but a spit of land at the south end of Brooklyn.) Beer on tap, baskets of fried shrimp, bumping music, windows open to Surf Avenue -- all just a five-minute walk from the beach.
And that's exactly the type of classic Coney Island experience the one-year-old bar offered for the first time this past summer, establishing itself as a fun, new place to get a drink and a bite. But that all seems a world away now. It was utterly destroyed during Hurricane Sandy, manager Dee Dee Mancuso said, while workers in hazmat suits and face masks scrubbed raw sewage off the store's walls and floors Tuesday morning.
"We're at a 100 percent loss," she said. "The status is we had 5 ½ feet of water inside the restaurant. And it wasn't as much the floodwater but the sewage backing up, which topped everything off," Mancuso explained while smoking in the cold air while standing on Surf Ave outside the bar. "When you have salt, sewage, sand and oil covering up to five feet in a business, everything has to come out. It's like starting from scratch. You've got to even rip the walls out. It doesn't get more everything than that."
When Sandy hit, the water came into Cha Cha's with such ferocity that it lifted full kegs of beer and dropped them on top of the wooden bar.
Everything in the bar has to be gutted, replaced or flat-out thrown out, from the sparkly purple bar stools and the antique player piano to the bar itself -- even every individual bottle of beer and can of food, almost all of which has been corroded, rusted or exposed to raw sewage.
No public money seems to be coming in anytime soon, and Mancuso figured the insurance money is likely going to take time to arrive. But she's still thankful for the blessings she has been given.
"We were devastated, but it doesn't compare to loss of life or the loss of a home and memories. That's got to be worse," she said, a weary look in her eyes. "So in that way, I'm grateful."
© Copyright IBTimes 2023. All rights reserved.