Stench Of Dead Russian Soldiers Is 'Crazy', Corpses 'Lie Outside'
KEY POINTS
A Russian soldier said the bodies of his fallen comrades are being left out on the street
Ukrainian officials said Russians move corpses in small batches to cover up their losses
More than 32,000 Russian soldiers have reportedly died in the war as of Sunday
Russian troops are reportedly leaving the corpses of their comrades on the streets instead of storing them in fridges amid the war in Ukraine, a new recording revealed.
The Security Service of Ukraine (SSU) on Saturday released a recording of an intercepted phone call where a Russian soldier was heard complaining about the stench of soldiers' dead bodies that were left out on the streets. It was not immediately clear where or when the phone call was intercepted.
"They lie in stockpiles. Not in the fridges, nowhere. They just lie outside like lumber. The smell is… crazy," the Russian soldier said in a phone call with an unnamed acquaintance.
In its report, the SSU also noted that Russians are trying to hide the scale of military losses they are suffering in the war by moving corpses at night and in small batches. However, Ukrainian officials said that the bodies have already started decomposing by the time they are moved.
The newly released recording comes days after the intelligence unit of Ukraine's Ministry of Defense said Russians currently occupying the city of Melitopol were looking for more refrigerators to store the corpses of dead soldiers after a converted morgue ran out of space. Ukrainian officials said the Russians first converted a meat-packing plant in the city into a morgue on June 6.
"The occupation administration of Melitopol is urgently looking for additional freezers and industrial refrigerators. It is known that the city meat-packing plant, which was converted into a morgue, is already completely filled with the bodies of the killed occupiers and can no longer accept more," the Ministry of Defense said in a statement.
Officials said bodies were being brought to the meat-packing plant from outside the city, adding that the soldiers likely died while fighting in the southeastern Zaporizhzhya region.
Russian forces first occupied Melitopol in February. While the city has been under Russian control since then, it continues to face underground resistance from the city's residents.
Russia has suffered devastating losses among its military forces since the beginning of the war. While the Kremlin has refused to release an official count, estimates from Kyiv put the Russian military death toll at 32,150 as of Sunday.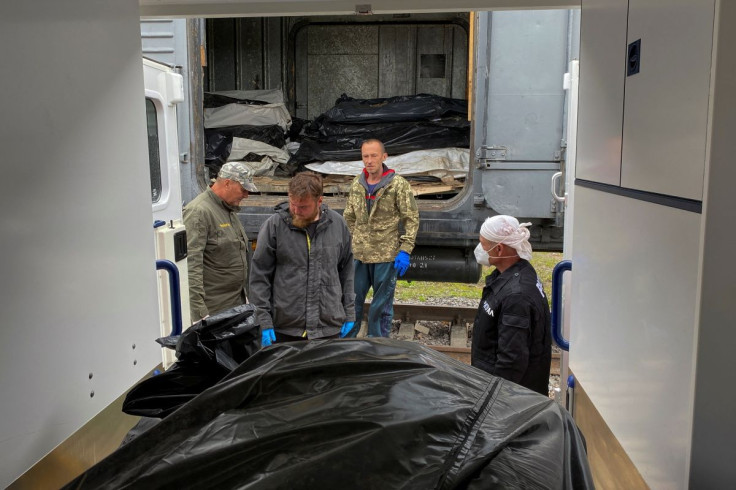 © Copyright IBTimes 2022. All rights reserved.
FOLLOW MORE IBT NEWS ON THE BELOW CHANNELS