Steven Salaita Twitter Scandal: University Offers Settlement, But Free Speech Questions Linger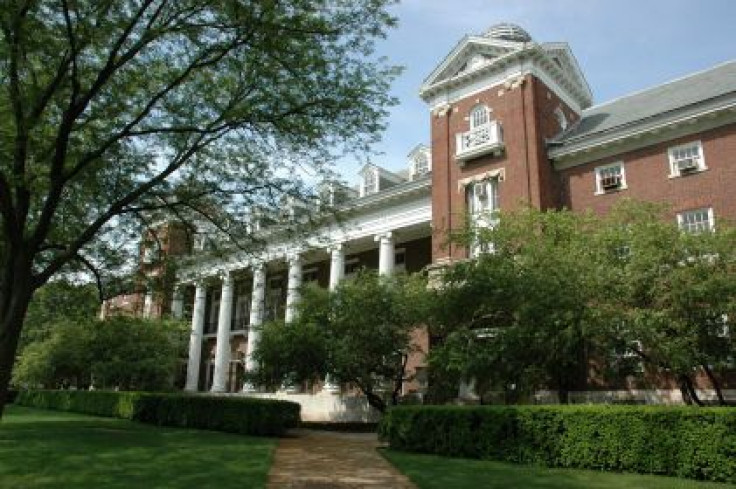 What's the price of free speech? For English professor Steven Salaita, it was his new job.
And though the University of Illinois at Urbana-Champaign has reportedly offered him a settlement to help compensate the wage loss for rescinding his job offer, some critics are saying it's not enough.
Salaita was offered and accepted a faculty position at UIUC that was rescinded after he posted a series of anti-Israel statements on Twitter. The case has galvanized many in the academic community to protest his termination as contrary to constitutional and academic freedom of speech, while some speculate that Salaita's offer was rescinded to appease donors who didn't like his tweets.
In October 2013, Salaita, a Palestinian-American and scholar of colonialism, was offered a position in the American Indian Studies department at UIUC and was slated to teach two courses this fall. He accepted the job, quit his tenured position in the English department at Virginia Tech, where he had been a popular professor with high ratings from students, and planned to move to Chicago with his wife, who had recently had a baby.
A vocal critic of Israel, Salaita used Twitter as a platform when Israel began ground strikes in Gaza in July. Some of his tweets, with the hashtag #Gaza, were unremarkable, while his most controversial tweets invited accusations of anti-Semitism and "incitement to violence" by people both within and outside academia. In one widely circulated tweet, he wrote: "At this point, if Netanyahu appeared on TV with a necklace made from the teeth of Palestinian children, would anybody be surprised? #Gaza." In another, he tweeted: "Zionists: transforming 'anti-Semitism' from something horrible into something honorable since 1948."
Although some, including the Simon Wiesenthal Center, said Salaita's tweets were anti-Semitic, there were academics who parsed them differently, suggesting that the English professor's critiques were more nuanced. In a letter to UIUC Chancellor Phyllis Wise in support of Salaita, Bonnie Honig, professor of Modern Culture and Media and Political Science at Brown University, who is Jewish and was raised as a Zionist, implies that the scare quotes around the word "anti-Semitism" make Salaita's tweet ironic rather than literal.
In a public statement explaining the university's decision, Wise stated, "We cannot... tolerate... personal and disrespectful words or actions that demean and abuse either viewpoints themselves or those who express them."
Response from some academics was immediate. According to the Nation, within hours, nearly 2,000 signatures were gathered criticizing the decision, reaching 17,000 by the end of August. Three thousand professors said they would boycot dealings with UIUC. In an open letter to Wise, Columbia Law Professor Katharine Franke announced she was cancelling a series of lectures she had planned to give at UIUC in late September. Instead of merely boycotting in protest, she stated that she would travel to Urbana-Champaign in mid-September at her own expense to discuss Salaita's termination and how it threatens a "robust principal of academic freedom."
The American Association of University Professors issued a statement declaring that social media expression is private and protected speech, and that "the use of 'civility' as a litmus test…was not acceptable." They also saw the case indicating a "campaign to silence critics of Israel, and the undermining of faculty governance at American universities in favor of corporate control."
Particularly problematic to critics was that the decision to withdraw Salaita's appointment was made by the UIUC Board of Trustees and without consultation of the faculty. "Many trustees," says David Palumbo-Liu in The Nation, "have no background in higher education. They are there primarily to safeguard and grow the endowment – their responsibility is fiduciary, not educational."
But not all of academia has objected. A group of UIUC faculty members, in a letter in the News-Gazette of Urbana-Champaign, voiced their support for the chancellor's decision not to hire to Salaita. "In spite of the narrative that has thus far dominated the attention surrounding this case," the letter said, "the non-hiring of Steven Salaita is not about academic freedom. It is about an administrative decision to not pursue the hiring of someone who has used his constitutional right to free speech to express hatred, bigotry and aggression."
Salaita has not yet commented on the settlement offer and is in the process of changing lawyers. "Our intention isn't to hurt him financially," UIUC board chair Christopher Kennedy told the Chicago Tribune. "We just don't want him at the university."
© Copyright IBTimes 2023. All rights reserved.
FOLLOW MORE IBT NEWS ON THE BELOW CHANNELS