Street Price Of Cocaine Across The Globe: UAE Has The Highest Cost
KEY POINTS
The United Arab Emirates has the highest average street price of cocaine worldwide at $286 per gram
Bolivia registered the lowest average retail cocaine price at $6 per gram
A U.N. report showed that 22 million people across the globe used cocaine last year
The United Nations Office on Drugs and Crime (UNODC) has released its latest World Drug Report, showing that global cocaine production has reached new highs.
The U.N. report noted that in Europe, cocaine supply chains have been diversifying, driving the prices down and pushing the quality up.
An infographic by Statista showed that the United Arab Emirates (UAE) in the Middle East has the highest average cocaine retail street price of $286 per gram.
UAE is followed by its neighboring country, Saudi Arabia, with an average cocaine retail street price of $266 per gram.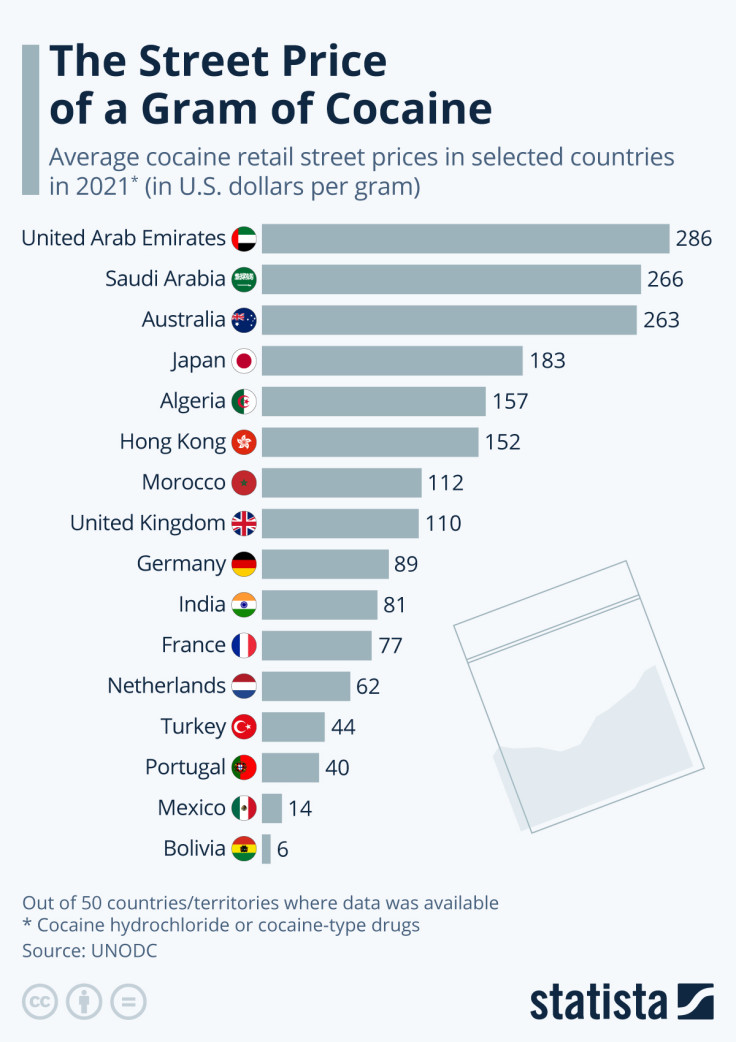 The high street price of cocaine is likely due to the extremely strict anti-drug laws of the two Middle Eastern countries.
In its foreign travel advisory, the U.K. government warned its residents of the UAE's "zero tolerance for drugs-related offenses" since it includes a possible death penalty punishment for drug trafficking cases.
Possession of the smallest amount of illegal drugs in the UAE is punishable with a minimum three-month prison term or a fine between AED 20,000 ($5,445) and AED 100,000 ($27,228). The Emirati authorities also consider drugs in the bloodstream as possession.
Meanwhile, Australia is the third country with the highest cocaine street value at $263 per gram.
In Europe, the street price of a gram of cocaine varies per country but is a few dollars apart. The price in the U.K. is $110, Germany $89 and France $77.
Mexico and Bolivia registered some of the lowest cocaine prices in the world, with $14 per gram and $6 per gram, respectively.
According to the U.N. drug report, about 296 million people used illegal drugs last year, while around 22 million used cocaine.
The latest number of drug users marked a staggering increase of 23% in the last decade, Euro News reported.
The report also revealed that nearly 40 million people suffered from drug use disorders, a 45% increase in the last ten years.
"We are witnessing a continued rise in the number of people suffering from drug use disorders worldwide, while treatment is failing to reach all of those who need it," UNODC Executive Director Ghada Waly said.
"Meanwhile, we need to step up responses against drug trafficking rings that are exploiting conflicts and global crises to expand illicit drug cultivation and production, especially of synthetic drugs, fueling illicit markets and causing greater harm to people and communities," Waly added.
But UNODC noted that more countries have adopted "innovative ways" to reach and treat drug users due to the COVID-19 pandemic.
Angela Me, the UNODC's Research and Trend Analysis chief, said the recent innovation in reaching out to drug users gave them "a sign of hope" since it translates to an increase in the number of patients availing treatment.
© Copyright IBTimes 2023. All rights reserved.