Strong Cloud Growth Continues To Drive Microsoft Higher
Over the past several years, Microsoft (NASDAQ:MSFT) has accomplished an amazing feat, transforming from a shrink-wrapped business software provider to one of the biggest names in cloud computing. The company has been successful challenging the cloud leader, Amazon Web Services, and making meaningful headway, currently ranking in a strong second place.
This article originally appeared in the Motley Fool.
As the global digital transformation gains steam, investors were watching closely for signs that Microsoft's cloud momentum would continue. When the company reported the financial results of its fiscal 2019 first quarter, which ended Sept. 30, 2018, Microsoft showed that it has much more growth in the tank, producing a record first quarter.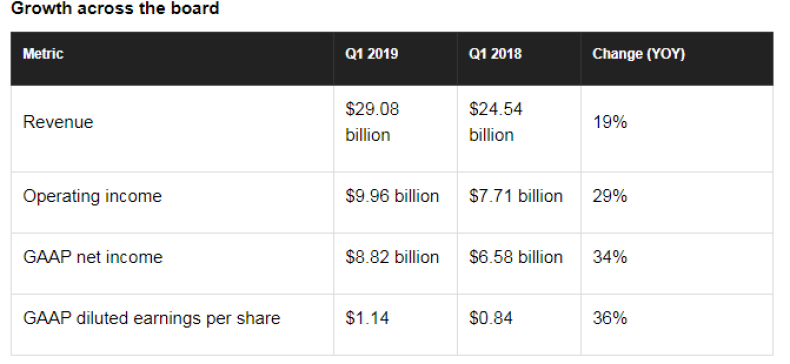 Microsoft reported revenue of $29.1 billion, an increase of 19% year over year, and easily topping the high end of management's forecast and analysts' consensus estimates of $27.9 billion. Profits were similarly robust, with diluted earnings per share of $1.14, far exceeding the $0.96 expected by analysts.
Microsoft saw strong growth across each of the company's major business segments:

There were numerous highlights in Microsoft's impressive quarter. Office 365 subscribers grew to 32.5 million, while commercial revenue from the Office suite of products increased 36% year over year. LinkedIn continued to scale, with revenue from the business social networking platform up 33%, producing record levels of engagement -- as measured by sessions -- which grew 34%. Microsoft's gaming business continued to thrive, up 44% year over year, led by Xbox software and services revenue, which grew 36%.
Azure, Microsoft's cloud computing business, continued its relentless march upward, growing 76% over the prior-year quarter, though it slowed somewhat from the 90% year-over-year gains seen last quarter.
Operating expenses of $9.2 billion grew 8% year over year, slower than the rate of revenue growth, allowing the company to drop more to the bottom line. Capital expenditures came in at $4.3 billion to support increasing demand for Microsoft's cloud computing. Free cash flow of $10.1 billion declined 2% year over year, as the result of higher capital expenditures.
Down the road
For the second quarter, Microsoft is forecasting revenue growth in a range of $31.9 billion and $32.7 billion, which would represent year-over-year growth of between 10% and 13%. Cost of goods sold is expected to be at about $12.3 billion, while operating expenses are forecast at about $9.85 billion. Microsoft didn't provide earnings-per-share estimates.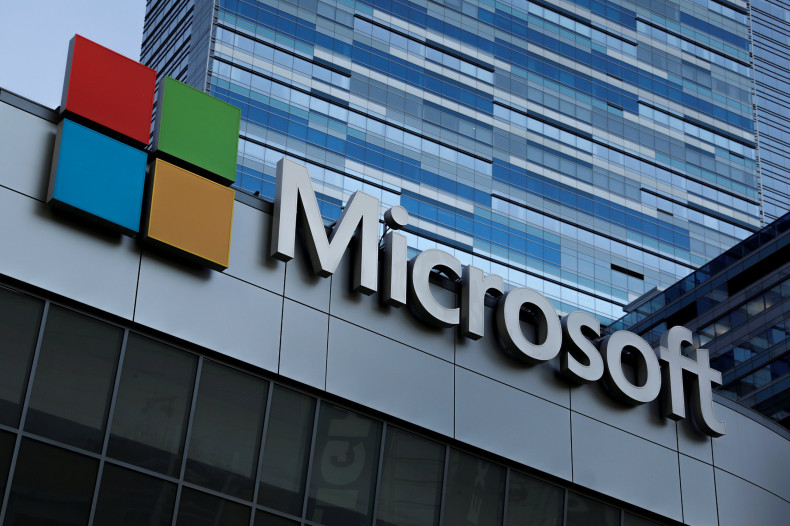 Analysts' consensus estimates are calling for revenue of $32.25 billion, an increase of 11.5% year over year and near the midpoint of Microsoft's guidance, and earnings per share of $1.08, an increase of 12.5% compared with the prior-year quarter.
Microsoft continues to make all the right moves, though its cloud growth continues to be the driving force.
John Mackey, CEO of Whole Foods Market, an Amazon subsidiary, is a member of The Motley Fool's board of directors. Teresa Kersten, an employee of LinkedIn, a Microsoft subsidiary, is a member of The Motley Fool's board of directors. Danny Vena owns shares of Amazon. The Motley Fool owns shares of and recommends Amazon. The Motley Fool has a disclosure policy.