Student Loan Debt Increased By $77B Last Year, Hitting A Record $1.16T; Student, Auto Borrowers Lagging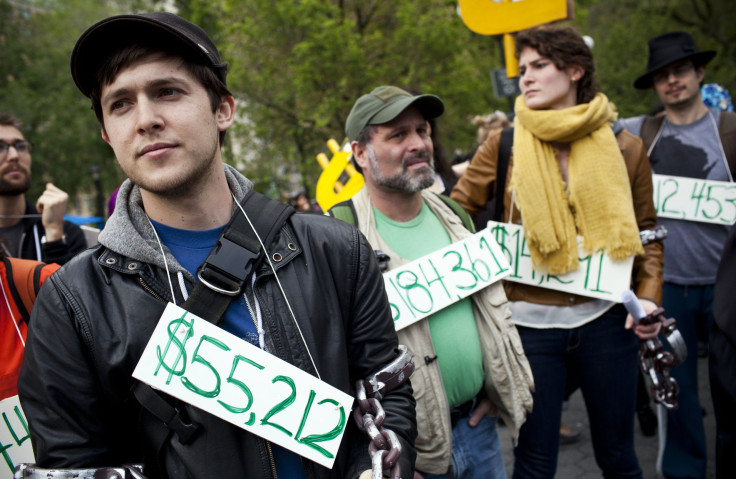 U.S. student debt increased by $77 billion last year to hit a record $1.16 trillion, the Federal Reserve Bank of New York said Tuesday. Fed researchers noted also that student and auto loan delinquencies increased in the fourth quarter of 2014.
"Although we've seen an overall improvement in delinquency rates since the Great Recession, the increasing trend in student loan balances and delinquencies is concerning," Donghoon Lee, research officer at the Federal Reserve Bank of New York, said in a prepared statement.
Student loan delinquencies, measured as the number of borrowers who are at least 90 days behind in their payments, has been a growing concern because the debt prevents young adults from making home purchases or taking out business loans. Delinquent or defaulted student loans can stagnate on borrowers' credit reports because they can't be discharged like other forms of debt through bankruptcy.
Student loan delinquencies edged up to 11.3 percent in the fourth quarter compared with 11.1 percent in the last three months of 2013. Auto loan delinquencies also increased, to 3.5 percent from 3.1 percent, according to data provided to the Fed from credit reporting firm Equifax. Home mortgage and credit card delinquency rates declined at the same time.
Home equity loans continue to shrink as banks pull back on doling out credit to homeowners. Home equity loans declined by $19 billion last year, and delinquencies shrank from 3.3 percent to 3.2 percent.
Total consumer debt – which includes student loans, auto financing, credit card balances, home mortgages and home equity lines of credit – increased by $326 billion to $11.83 trillion as of Dec. 31, according to the New York Fed's data. The figure is 6.7 percent lower than it was at its all-time peak of $12.68 trillion in the third quarter of 2008 amid the Great Recession.
Read the full New York Fed report here.
© Copyright IBTimes 2022. All rights reserved.
FOLLOW MORE IBT NEWS ON THE BELOW CHANNELS