Sun Releases X-Class Solar Flare; NASA Captures Its Image [Watch]
KEY POINTS
The sun emitted an X-class solar flare last weekend
NASA shared a stunning GIF of the event
The sun may continue to be active "over the next week"
The sun released a significant solar flare last weekend and a NASA instrument was able to capture a stunning image of it.
A solar flare erupted at 11.34 p.m. EDT last Saturday and it was followed by a coronal mass ejection. NASA's Solar Dynamics Observatory, which is always watching the sun, had a rather incredible view of the event.
In a GIF shared by NASA, one can see the powerful eruption on the upper left portion of the sun.
The event is said to be an X-class solar flare, which is the most intense type of flare, according to NASA. The intensities are rated from the A level or "near background level," to the B, C, M and X level, with each level representing a 10-fold increase in energy. Each level also has a scale from one to nine, although it can still go higher than nine. The Saturday event was rated as an X1 flare.
The biggest X-class flares are among the largest explosions in the solar system, NASA explained. In 2003, for instance, a flare was so powerful that the sensors measuring it became overloaded and stopped measuring at X28.
If such massive flares are directed at the Earth, the associated coronal mass ejections can cause significant disruptions to our satellites, power grids and communications systems. In the case of last weekend's event, its trajectory from the surface of the sun makes it unlikely to hit the Earth. Instead, it could pass behind the planet, according to Spaceweather.com.
That said, it appears that there will be more such activity from the sun in the coming days.
"Region 2994 and Region 2993 (N22E61) form a cluster of active sunspots that have produced significant flaring prior to appearing on the eastern limb," noted the National Oceanic and Atmospheric Administration's (NOAA) Space Weather Prediction Center (SWPC). "Solar activity is expected to be active over the next week as these sunspots migrate across the visible disk."
So far, the sun is in an "increasingly active" phase of its 11-year solar cycle. Experts continue to keep a close watch on space weather because of the possible impacts of solar activity on Earth and our systems.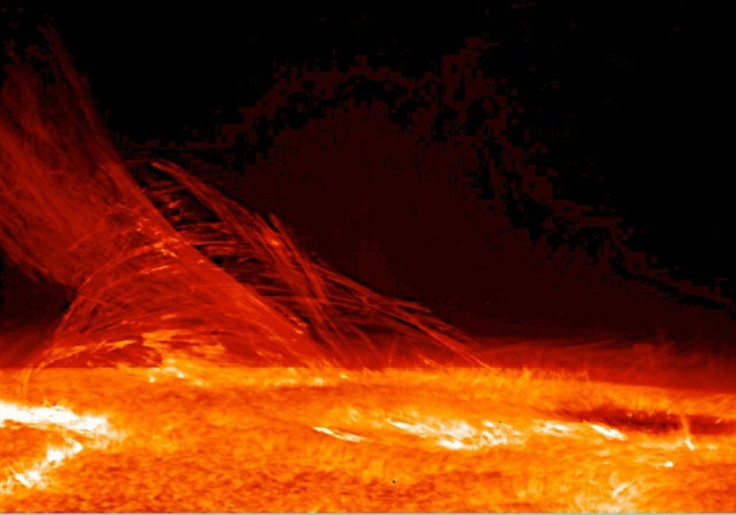 © Copyright IBTimes 2023. All rights reserved.
FOLLOW MORE IBT NEWS ON THE BELOW CHANNELS