Super Bowl 2012: Madonna, Nicki Minaj and M.I.A Headline Halftime Show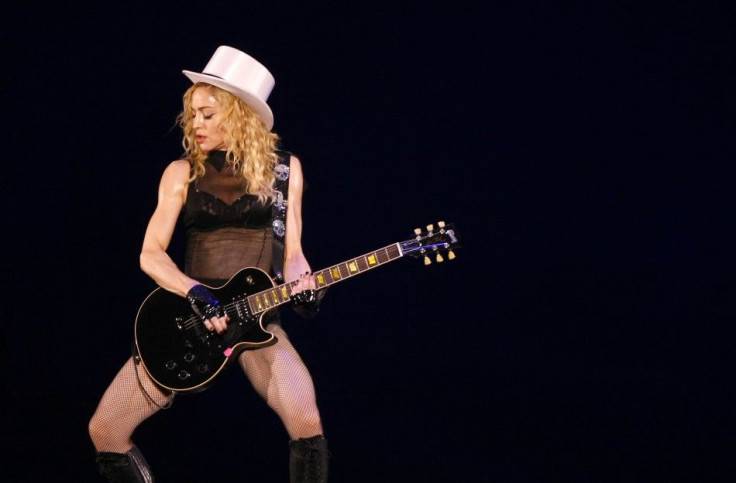 Continuing the NFL's recent tradition of getting washed up and irrelevant performers to headline their greatest spectacle, Madonna will perform at halftime of Super Bowl XLVI in Indianapolis this Sunday.
The Queen of Pop hasn't had a Top 10 single in the United States since her 2008 release 4 Minutes, which likely got a bump from her co-performer on the track, Justin Timberlake. The last time she had a solo, Top 10 single was 2005's Hung Up.
In the wake of the wardrobe malfunction, featuring Timberlake and Janet Jackson at Super Bowl XXXVIII in 2004, the NFL brought in performers like Paul McCartney, The Rolling Stones, Prince, and Tom Petty, who have not been controversial in decades.
The league finally started to break from tradition last year, when they brought in the Black Eyed Peas and Usher, but brought in Slash from Guns N' Roses to accompany them, keeping the performance firmly grounded in irrelevancy.
According to Vibe Magazine, the Material Girl will be joined by Nicki Minaj and M.I.A. with whom she has collaborated on a new single Gimme All Your Luvin. Will.i.am announced that LMFAO, best known for their huge hit Party Rock Anthem, and an act on his Will.i.am Music Group label will be performing as well.
There are also rumors from The Insider that Cee Lo Green has been secretly rehearsing with Madonna in New York City but they are unconfirmed as of today.
The halftime show wasn't always a big deal, in fact for the first three decades of the games existence it was designed exclusively to entertain the fans in the stadium not the television audience.
The first halftime shows featured college marching bands and local performers depending on the site of the game. That tradition continued unabated until 1993 when Michael Jackson was chosen to perform.
Jackson was touring on his multiplatinum Dangerous, album and closed the show with a performance of We Are the World, with children from all over the globe. The performance caused a sensation and made every halftime show that followed must see television.
© Copyright IBTimes 2023. All rights reserved.