Supreme Court Dodges Cases Testing Boundaries Of Taser Use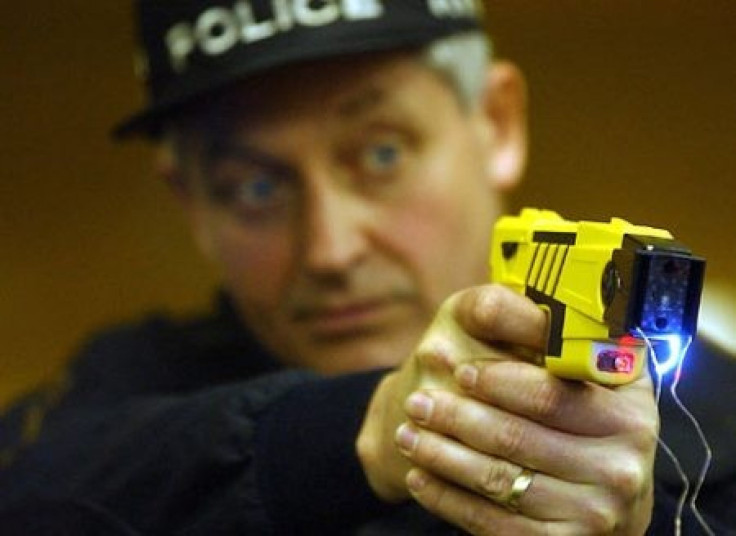 The U.S. Supreme Court Tuesday refused to wade into cases that tested the limits of Taser stun gun use by law enforcement officials, allowing a ruling to stand that said police had used excessive force when they used the weapon on two women.
The two cases involved incidents in which police used a Taser on a pregnant Seattle woman during a traffic stop and a Hawaiian woman involved in a domestic dispute with her husband.
In both instances, the Ninth Circuit Court of Appeals, based in California, said the police's use of stun guns on the two women was unconstitutionally excessive, yet let the officers off the hook because there was no way of knowing at the time that the amount of force would violate their rights.
The two cases at the Ninth Circuit were factually distinguishable from other Taser cases before appeals courts, which have yet to rule that the stun gun had been excessive. The Supreme Court's decision to let the Ninth Circuit ruling stand leaves in place a patchwork of case law over the appropriate use of stun guns.
For the Ninth Circuit cases, the appellate judges said neither woman hit with a Taser posed an immediate threat.
Seattle resident Malaika Brooks in 2004 was hit several times with a stun gun, in the mode that requires officers to use the Taser at close range. She was pulled over by police who said she was speeding.
Brooks objected and refused to sign her citation or get out of her car. Brooks told the officers she was pregnant and two months away from her due date. After the officers discussed the situation among themselves, one tased her three times in under a minute, providing no time for Brooks to recover from the extreme pain she experienced, gather herself and reconsider her refusal to comply, the Ninth Circuit said.
In Maui, Hawaii, Jayzel Mattos was tased during a domestic dispute involving her intoxicated husband, Troy, a 6-foot, 3-inch, 200-pound man, according to the court document. When one of the officers, Ryan Aikala, moved in to arrest Troy, he pushed up against Mattos, who defensively put her arm up to her chest. Aikala asked, Are you touching an officer? Without warning and while Mattos was speaking with another responding officer, she was tased.
In the two decades since stun guns were brought to the market, their use among law enforcement agencies has grown dramatically. Today, more than 15,000 U.S. law enforcement and military agencies use stun guns as part of their non-lethal arsenal, according to a May 2011 report from the National Institute of Justice, a Justice Department program.
In interviews with officers and trainers, the report's researchers said comments had hinted at a lazy cop syndrome.
They are rapidly overtaking other force alternatives, like pepper spray, the report said about stun guns. Although the injury findings suggest that substituting [stun guns] for physical control tactics may be useful, their ease of use and popularity among officers raise the specter of overuse.
Many of the deaths associated with stun guns -- mainly manufactured by Taser International -- involve repeated or continuous exposure, though there are unknown associated risks, the report said.
As Tasers become ubiquitous among law enforcement, there has been an increase in the casualness in which police use stun guns, critics allege.
That sentiment was perhaps best exemplified in 2007, when University of Florida student Andrew Meyer yelled out, Don't tase me, bro, while campus police hit him with a stun gun for refusing to leave a forum with U.S. Sen. John Kerry until he could ask a question. Meyer's remark made national headlines and sparked a debate about excessive use of police force.
© Copyright IBTimes 2022. All rights reserved.
FOLLOW MORE IBT NEWS ON THE BELOW CHANNELS