Swimmer Ricky Berens Unexpectedly Retires Hours After Winning Gold Medal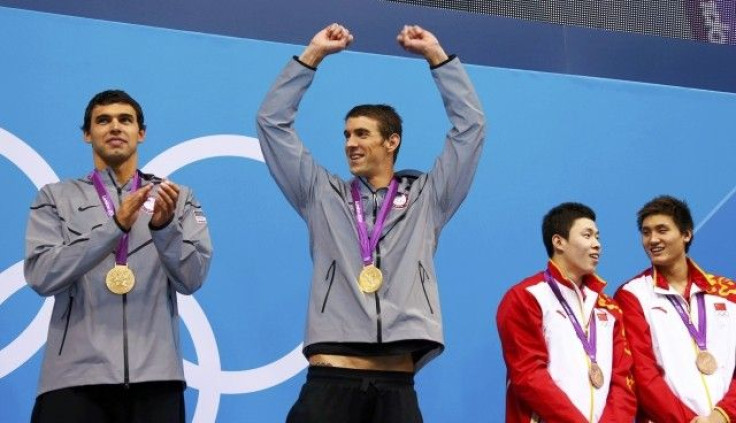 Ricky Berens shocked many by announcing his retirement from swimming Tuesday night, shortly after winning the gold medal in the men's 800 meter freestyle relay, according to Charlotte Observer columnist Scott Fowler.
The 24-year-old swimmer had just helped a 4x200 relay that included Ryan Lochte and Michael Phelps win a gold medal and post a time in under seven minutes. The quartet helped Phelps earn his 19th Olympic medal, surpassing Larisa Latynina as the most decorated Olympian of all time.
"I'm done. I couldn't have picked a better way to go out," Berens said unexpectedly, adding he hadn't missed more than two weeks of practice at any point since high school and wanted to see his options outside the pool.
"I've been swimming for so long," Berens said. "I'm very excited about the way my career has gone. I don't think I could get any more out of what I have and I'm ready to move on. I love swimming. I love what I do. But there's more to life than swimming. And going away with two Olympic gold medals and a silver - I'm going out on top."
Berens will walk away from the sport with three Olympic medals, which aside from Tuesday night's gold include a silver for the 400 freestyle relay. He is also a world record holder as a member of the 4x200 freestyle relay that set the mark at 6:58.55 at the 2009 world championships. Berens was also integral in the University of Texas' 2010 national title in swimming.
The swimmer holds a finance degree from the University of Texas, and told Fowler he could pursue a masters degree, possibly in sports management.
"I'd love to stay in athletics or swimming," he said.
© Copyright IBTimes 2023. All rights reserved.