Switzerland Named Most Innovative Country For 12th Straight Year - IBT Graphics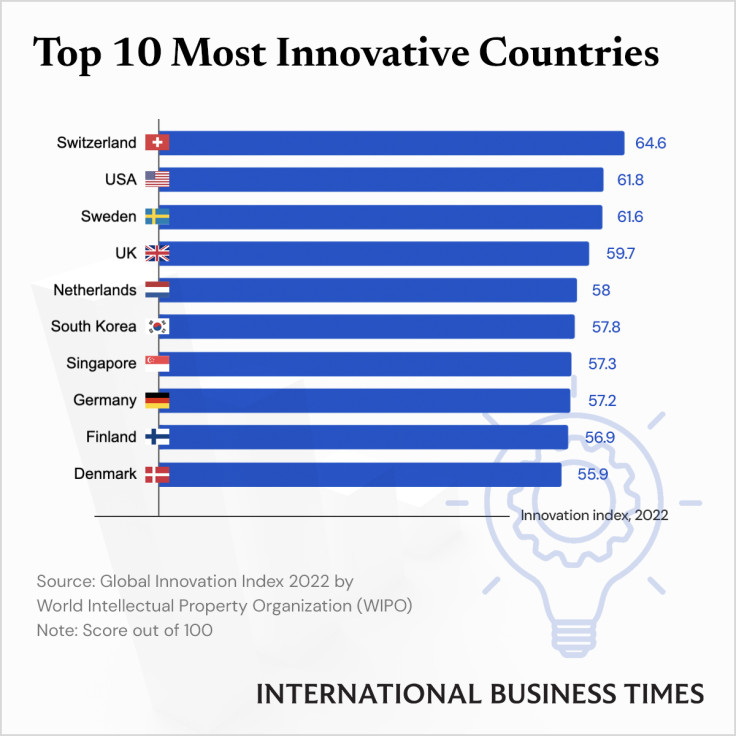 Switzerland has topped the 2022 Global Innovation Index, which evaluates innovation levels across 132 economies in terms of human capital, institutions, technology and creative output, for the 12th year in a row.
According to the 2022 index released by the World Intellectual Property Organization (WIPO), countries are flourishing with innovation in different sectors despite the impact of the COVID-19 pandemic and global economic slowdown.
Switzerland has been ranked first for more than a decade, owing to its Intellectual Property laws and regional economic strength.
While Switzerland topped the ranking as the world leader in innovation with the highest value of 64.6 out of 100, Guinea suffered the lowest score at 11.6 points. The U.S. and Sweden were a close second and third with 61.8 and 61.6 scores, respectively. A few countries, including the U.K. (4th) have maintained their hold on the top rankings for several years. The average score among the 128 countries last year was 32.09 points.
© Copyright IBTimes 2023. All rights reserved.