Switzerland Underestimated Effect Of Currency Move On Swiss Franc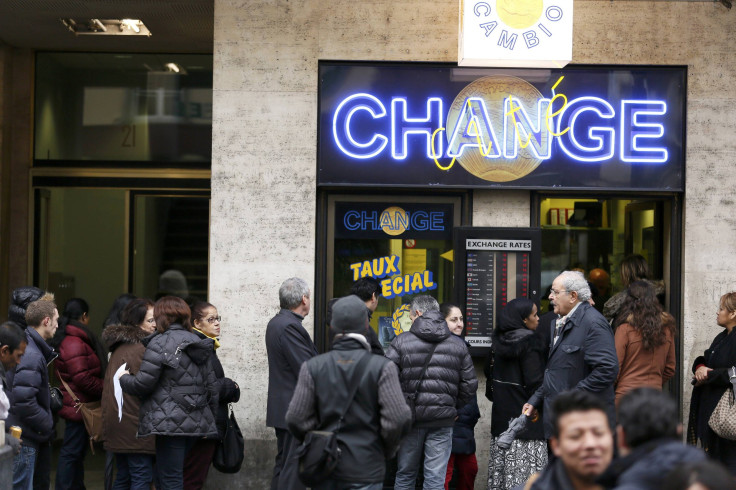 After Switzerland's central bank shocked global markets with a surprise currency move on Thursday, the global consensus a day later was: No more surprises, please. Currency brokers across the globe suffered deep losses, people in Geneva lined up at currency exchange offices, and corporate leaders in Switzerland panicked over the "tsunami" washing over the Swiss economy.
The Swiss National Bank confounded the world on Thursday by removing a three-year-old cap on the Swiss franc that has kept its rate pegged at around 1.20 to the euro since September 2011 -- the 2011 monetary move was made was in order to protect the Swiss economy from the European debt crisis. After Thursday's monetary measure, the Swiss franc shed 17 percent of its value against the euro, the biggest one-day drop for a developed nation's currency ever recorded, and the currency was still volatile on Friday, trading around 1-to-1 against the euro.
Gregory Daco, an economist at Oxford Economics, said the Swiss central bank miscalculated the immediate fallout from its decision by underestimating the effect on the Swiss franc. "Typically, a surprise decision by policymakers is to get a stronger reaction out of markets to get a bigger bang for the buck," Daco said Friday. "The Swiss bank thought that by removing the cap and activating a negative interest rate, the currency would weaken. In this case, the surprise is going to bite them back."
Last month, Switzerland began charging banks 0.25 percent interest on sight deposits (a mechanism that allows banks to move cash around quickly) of more than 10 million Swiss francs. The move was aimed at discouraging demand for the currency, lowering its value. On Thursday, the central bank increased that cost to 0.75 percent, but it wasn't enough to stave off an immediate rush to buy francs, sending the currency's value skyward.
A higher Swiss franc raises the price of Swiss exports and lowers returns on corporate profits earned in other currencies, especially the euro, since a lot of Swiss goods and services are consumed in the eurozone. Swiss stocks continued to plummet on Friday in Zurich due to fears of higher prices for Lindt chocolates and Rolex watches and lower returns from Swiss banks and industrial companies.
Both Swatch Group SA (VTX:UHR) and Nestle SA (VTX:NESN) were trading down over 5 percent on Friday in Zurich, and electrical engineering firm ABB Ltd (VTX:ABBN) and bank UBS AG (VTX:OUBS) were both down over 3 percent. Skittish investors fled to the safe harbor of German government bonds, pushing the 10-year yield down to an all-time low of 0.385 percent.
The Swiss National Bank's move came a week before the World Economic Forum in Davos, Switzerland, the annual get-together of business tycoons, economists and political leaders. Switzerland isn't a cheap country under any circumstances, but this year, even the one-percenters who dominate the forum's dialogue will notice higher costs of hotel tabs, cabs and cocktails.

"With the Davos meeting taking place next week, I'm sure the Swiss are going to get an earful from policymakers," said Daco.
© Copyright IBTimes 2023. All rights reserved.
FOLLOW MORE IBT NEWS ON THE BELOW CHANNELS