Switzerland To Vote In Referendum Calling For Expulsion Of Foreigners For Minor Crimes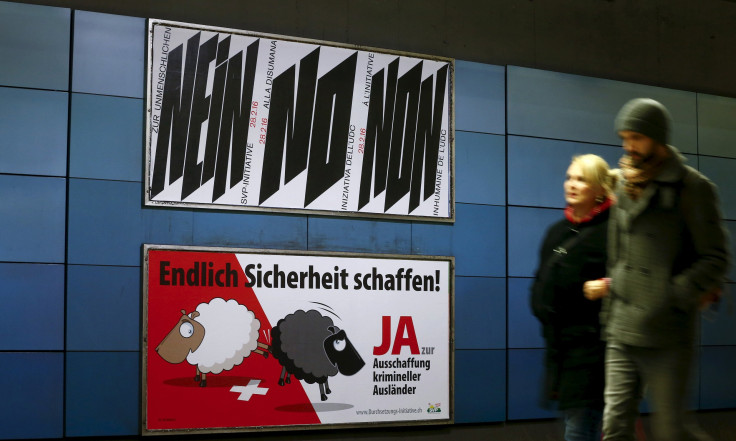 Switzerland will hold a binding referendum Sunday on a controversial proposal to expel foreign nationals who commit even minor offences. The vote on the "Enforcement Initiative" comes at a time when nations across Europe are hardening their stance against refugees after more than a million entered the continent in 2015.
Under the proposal, which was put forward by the right-wing Swiss People's Party (SVP), foreigners who commit two minor offences, such as traffic violations, in a span of 10 years, would be automatically deported. If adopted, the initiative would strengthen provisions adopted in 2010, when more than half of Swiss voters backed rules that called for automatic expulsion of foreign nationals convicted of violent or sexual crimes.
A quarter of the people living in Switzerland have a foreign passport — most of them from European countries. Over five million people are eligible to cast their vote in Sunday's referendum, while approximately two million foreign nationals living in the country are not allowed to do so.
"It treats in exactly the same manner a murderer and someone who breaks a gate to steal a bicycle," Swiss Justice Minister Simonetta Sommaruga, who belongs to the Social Democratic Party of Switzerland, reportedly said. "The result is that two million foreigners in Switzerland would be treated as second-class individuals because they would have to be deported even for trifling matters."
"The Swiss constitution says it is necessary to respect international law, and this initiative, if accepted, would demand the opposite," she added.
However, the SVP, which won the biggest share of the vote in parliamentary elections last October, said that the proposal would make Switzerland a much safer place, rejecting criticism by its opponents, many of whom described the Sunday vote as Switzerland's "Nazi moment."
The party has launched an emotional and divisive campaign in support of the proposal, using an infamous black sheep poster — criticized by many as racist — calling for "a real deportation of criminal foreigners."
The referendum comes just over a month after the Swiss government faced widespread condemnation for a law under which asylum seekers would be forced to declare their assets on arrival, allowing the government to confiscate anything above $1,000.
© Copyright IBTimes 2023. All rights reserved.