Sydney Siege May Have Been 'ISIS-Inspired,' But Lone-Wolf Attacks Are Not Militant Operations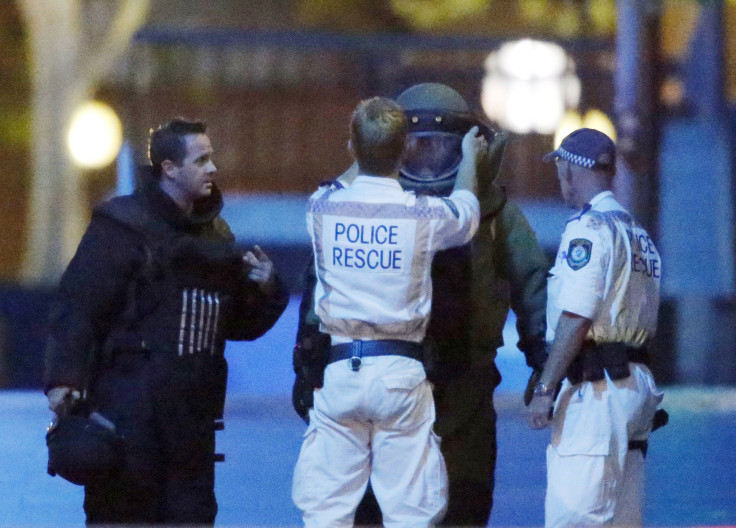 The deadly siege of a Sydney café that ended Monday night, by a Muslim man who said he had pledged allegiance to the "Khalifa," does not necessarily mean the Islamic State group has infiltrated Australia.
When Man Haron Monis took over the Lindt Café, he forced his hostages to hang a black flag inscribed with the Shahada, the Muslim creed. Though it was not the ISIS flag, the 37-year-old Iranian-born man wrote on his website that he had pledged allegiance to the "Khalifa," or caliph, and then reportedly asked for authorities to bring him the correct banner. His actions are being described as "ISIS-inspired," but the man had been known to law enforcement well before the militant group also known as ISIS was thrust onto the global stage.
ISIS militants have encouraged supporters to launch attacks in their home countries, but they are not known to have planned, funded or been a part of any attack outside the region where they declared their caliphate. Individuals in the West have used the ISIS banner as a megaphone to spread their personal ideology and attack their own enemies. But the Sydney attack, which ended with three deaths including Monis', could not be described as the first attack by ISIS outside the Middle East.
"ISIS doesn't directly give orders to people," said Peter Knoope, an associate fellow at International Center for Counter-Terrorism, an independent think tank at the Hague. "They do inspire or try to inspire the lone wolves that we refer to. But it's not as if they, in the military sense, have the command on people in Europe or in the U.S. or Australia. That's not what is taking place."
"This is a one-off random individual," Manny Conditsis, Monis' former lawyer, told the Australian Broadcast Corporation. "It's not a concerted terrorism event or act. It's a damaged goods individual who's done something outrageous."
Since the U.S. launched an anti-ISIS coalition in Iraq and Syria this summer, many Western officials have warned of lone-wolf terrorist attacks at home. The rise of ISIS has not actually increased the number of lone-wolf attacks, experts said, but the group has become an alluring way for such individuals to advertise their motives.
"So far we haven't seen a rise in lone-wolf attacks of late, on the contrary we've actually seen a reduction in lone-wolf attacks because of the measures the governments have taken," Knoope said, adding that many such individuals have a history of mental-health problems and are being monitored by their governments.
When a "damaged goods individual" plans an attack with political, religious, financial or social motives, he is often referred to as a lone wolf. Carrying out the attack on his (or rarely, her) own would carry less weight than attaching himself to some overarching organization to bolster the legitimacy of his agenda.
"The word lone wolf doesn't exist in the mind of the lone wolf," Knoope said. "They feel that they are part of an avant-garde group, as part of a school of thought. They have political motivations and feel that they are part of a movement."
Still, the "lone wolf doesn't have to make any pledges to a leader or make his or her desires align with that of a group," Jeffrey Simon wrote in his book "Lone Wolf Terrorism." Simon has researched terrorism and political violence for 25 years and is the president of the security consulting firm Political Risk Assessment Company Inc.
The two biggest radical Islamist groups that have called for individual attacks don't require allegiance from potential lone wolves, and in some cases never acknowledge those who do align themselves with them. After Osama bin Laden was killed, al Qaeda urged its followers to carry out "individual jihad" all over the world, mainly because migration to a "caliphate" was not possible since the group held no territory. Three years later, ISIS tore through Iraq and Syria and managed to recruit thousands of foreign fighters who wanted to live in the caliphate. It also received pledges of allegiance from militant groups all over the world, but until recently had not acknowledged them. ISIS has long pushed the narrative that a true supporter would join the battle on the front lines, in the "caliphate" itself.
"ISIS leaders have consistently framed emigration to the caliphate as the ultimate, best action a supporter can undertake," said Harleen Gambhir, a counterterrorism analyst at the Institute for the Study of War.
Nevertheless, the militant group's laissez-faire attitude towards international supporters means any individual who wants to commit an act of terror can do so in the name of ISIS. Though this does not directly help the militant group in any way but free PR, it also does not make the West any safer. The danger of an attack is not measured by the lone wolf's allegiance, but rather by an individual's commitment to his own crime.
"The diversity of lone wolf terrorism also means that, just like terrorism overall," Simon wrote. "It can never be ruled 'defeated.'"
FOR FREE to continue reading
✔️ Unlock the full content of International Business Times UK for free
offer available for a limited time only
✔️ Easily manage your Newsletters subscriptions and save your favourite articles
✔️ No payment method required
Already have an account?
Log in
© Copyright IBTimes 2023. All rights reserved.