Syrian Anti-ISIS Kurdish Fighters Claim Turkey Attacked Their Forces Near Turkish Border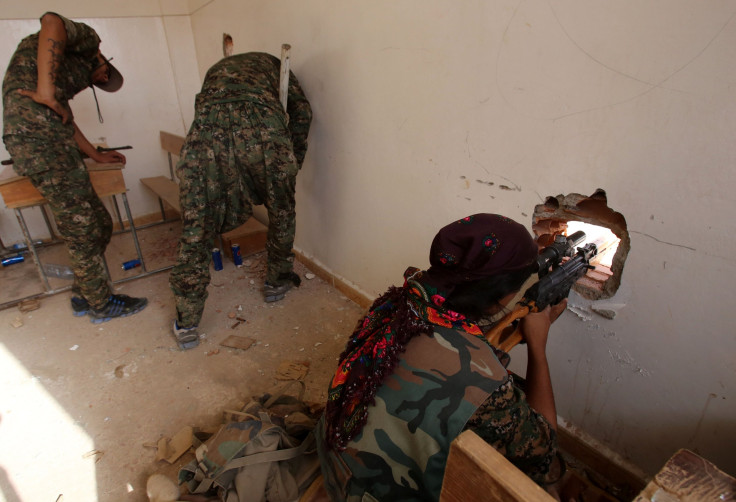 Kurdish militants fighting the Islamic State group (ISIS) in Syria have accused the Turkish military of launching airstrikes against their units. Turkish officials said it was not part of their policy to fight Kurds in Syria but that they would investigate the claims, Hurriyet Daily News reported Monday.
Turkey's government recently launched a series of air attacks on ISIS targets in Syria following a suicide bombing in a southern Turkish town which left at least 31 people dead. While the Turkish government has also carried out air raids against the outlawed Kurdistan Workers' Party (PKK) in Iraq, targeting Kurdish fighters in Syria would be seen as counterproductive to the fight against ISIS militants.
The Kurdish People's Protection Units (YPG), the major Kurdish armed wing fighting ISIS in Syria, said Turkish tanks shelled a Kurdish-held village inside Syria Sunday night. In a statement Monday, YPG officials accused Turkey of fighting their forces rather than ISIS.
"Instead of targeting [ISIS] terrorists' occupied positions, Turkish forces attack our defenders' positions," the statement read. "This is not the right attitude. We urge Turkish leadership to halt this aggression and to follow international guidelines. We are telling the Turkish Army to stop shooting at our fighters and their positions."
Turkey has received considerable criticism in recent days for launching a crackdown on Kurdish opposition in the country, following last Monday's bombing carried out by an ISIS supporter. In its immediate aftermath, Kurdish militants, who held Turkey responsible for allowing ISIS to grow strong, launched a series of attacks and assassinations in the country. As of Monday, Turkey had detained more than 900 Kurdish activists and ISIS affiliates in the country. The escalated tensions between the Turkish military and Kurdish fighters has derailed recent reconciliation efforts, as a two-year ceasefire was broken last week.
The Kurdish YPG has been an effective force in battling ISIS in Syria, but Turkey has been suspicious of supporting the group due to its links with the PKK, which has engaged in a decadeslong war with Turkey. Turkish Prime Minister Ahmet Davutoğlu has said Turkey would not target the group if they did not harm Turkey.
"But if they do not disturb Turkey, cut all relations with the Assad regime and cooperate with the opposition forces, they can have a place in the new Syria," Davutoğlu said, according to Hurriyet.
© Copyright IBTimes 2023. All rights reserved.