Syrian Civil War: Russian Navy Base Tartus In Syria Giving NATO Cause For Concern While Helping To Prop Up Assad Regime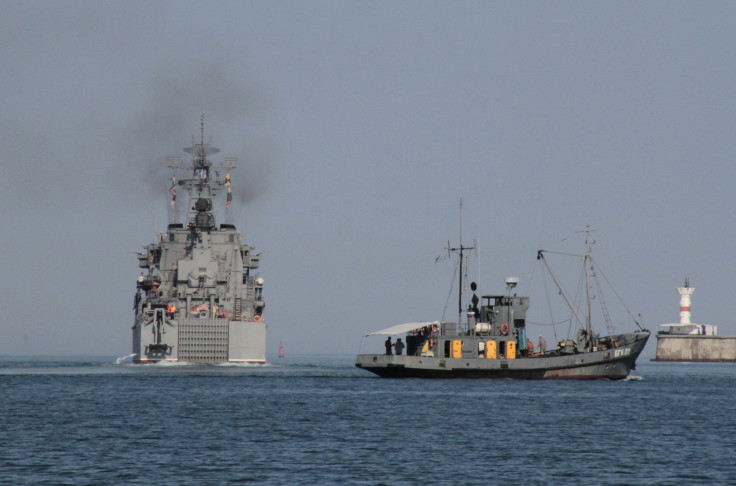 When the Russian navy re-established its presence in the Mediterranean Sea in 2012 after more than two decades, NATO generally did not view it as a hostile move. After all, the Russian ships' defense drills and patrols in the region were conducted just a few times annually. But after Russian forces began transporting military equipment on planes and ships into Syria last week, highlighted by the increased use of an old naval base at the eastern edge of the Mediterranean, a simmering animosity has started to heat up even more between Russia and the multicountry military alliance. It has added fuel to the fire fed by Moscow's real and perceived actions in Ukraine associated with its annexation of Crimea last year and the continuing war in eastern Ukraine.
The exact purpose of the newly transported military equipment was not immediately clear. Russia has insisted it would be used to fight the Islamic State group, the militant organization formerly known as either ISIL or ISIS that has taken over large, strategic swaths in Syria. However, the Pentagon has suggested it could be given to Syrian President Bashar Assad's military to help tighten his grip on the war-torn country, given the alliance between Russia and Syria.
One thing's for sure: If Russia were to restore the Tartus base on the Syrian coast to its former glory, it would mean not only that Moscow was providing its Mediterranean fleet clear logistical advantages but also that it was taking a significant step in once again projecting its military power across Europe and in the Middle East, posing serious implications for NATO in the Mediterranean, experts in international relations said.
"Russia's desire to keep this base, which on the one hand does have huge military benefits, is mainly political in nature," said Paul Schwartz, an authority on the Russian military at the Center for Strategic and International Studies, a Washington-based think tank. "Look at it like this: They have access to a base in the Mediterranean that gives them extended influence and presence that offers the ability to use the base as a means to prop up Assad and trouble NATO."
The base about 150 miles from Damascus has been used occasionally over the past few years by Russian ships looking to refuel and resupply. Because Russia's Mediterranean fleet is so far from its home ports in the Black Sea, Tartus plays a pivotal supporting role in keeping Moscow's ships operational in the region, while also offering Russia, and its military equipment, easy access to Syria. "It's killing two birds with one stone," said Schwartz, who noted it was not yet clear whether Russia would actually restore the base, but that such a move was a serious possibility.

While Russia's drills and patrols are completely legal under the United Nations Convention on the Law of the Sea, there are serious fears among NATO and U.S. leaders that introducing more armed forces, such as Russian ships and other military units, into an already highly militarized situation in Syria could destabilize the entire Middle East.
Russia's involvement in Syria "could lead to greater violence and are not helpful at all" to international efforts help end the civil war there, according to the White House. The U.S. "would welcome constructive Russian contributions to the counter-ISIL effort," but it would be "unconscionable for any party, including the Russians, to provide any support to the ... regime" headed by Assad, White House representative Eric Schultz told reporters.
Notwithstanding the dangers of operating in Syria, where the Islamic State group controls about 50 percent of the country, the strategic advantages of a Tartus base are clear, Schwartz said. Tartus is located close to the Aegean Sea and offers routes into the Black Sea and easy access to many of Russia's ports. It is also near the Suez Canal, should Russian ships need to pass through to the Red Sea and Gulf of Aden. Those geographical advantages would help Russia compete with NATO in the event the two sides ever went to war.
"It is a thorn in the side of NATO, and an increased presence of Russian ships based in the Mediterranean will pose a big threat to the alliance on the its southern flank," said Jim Phillips, a senior research fellow for Middle Eastern affairs at the Center for Foreign Policy Studies at the Heritage Foundation, a Washington-based think tank. "However, nothing Russia is doing is illegal, and there's very little NATO can do about it other than monitor ships passing in and out of the region."
Assad's turbulent time as leader of Syria during the past 15 years, which has seen him run uncontested elections, imprison hundreds of thousands of political opponents and use chemical weapons against his own people, could make Russia's rumored expansion of the Tartus base into a fully operational naval unit a poor long-term investment, Schwartz said.
"They are hedging their bets a little because it's not entirely certain that Assad is going to survive," said Schwartz, who noted that Russia forces began dredging the sea around the base in 2012 to enable bigger ships to dock there. "If he gets replaced by a new Sunni-only regime then, Russia could theoretically lose all their rights to the base. Any investment they make at this point could be lost."
Assad has traditionally discriminated against Sunnis, and any radical change in government that deposed Assad and elevated Sunni leadership would likely see his allies go, too.
Russian President Vladimir Putin defended his military's Middle East presence Tuesday, insisting it was about defeating the Islamic State group and ridding Syria of the militant organization -- and nothing more. "We are supporting the government of Syria in the fight against a terrorist aggression, are offering and will continue to offer it necessary military and technical assistance," Putin said, according to the New York Times.
Regardless of Russia's intentions, its recent move in Syria is sure to keep NATO on full alert in coming months, Schwartz indicated. "I think NATO will keep a very close eye on Russia, both at Tartus, with respect to this larger Mediterranean operations as whole, and what's going in inside Syria with Assad," he said.
© Copyright IBTimes 2023. All rights reserved.