Russian Mistrals: The Vladivostok Has Moved From Saint Nazaire To A Small French Town On The East Coast Of France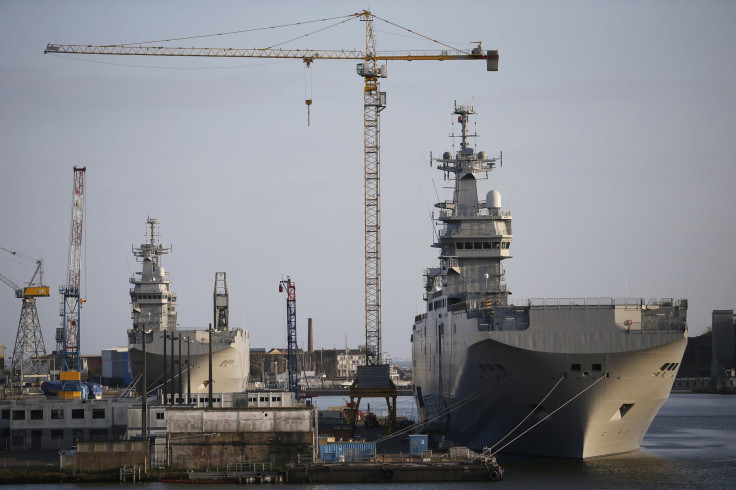 One of the two mistral helicopter landing ships built by France for Russia has sailed nearly 200 kilometers up the French coast sometime over the last 24 hours, according to data from the ship tracking service Marine Traffic. The Vladivostok moved from the port of Saint Nazaire in the south to the small town of Concarneau in the north between Wednesday and Thursday. The other ship, the Sevastopol, is still docked in Saint Nazaire.
The company responsible for the design, construction and current storage of both ships, DCNS, has denied that the Vladivostok has moved at all, according to a report from the Russian news site Sputnik. Both ships were supposed to be handed over to the Russian military earlier this year, but in November 2014 French President Francois Hollande canceled the deal citing Russia's involvement in the east Ukraine war.
Russian Military Expenditure Over Time | FindTheData
Hollande said that Russia would receive the ships if it abided by the Minsk II agreement and ensured peace in east Ukraine. Before that could happen, however, the final delivery date for $1.35 billion deal expired leaving France in breach of contract. Last month, Paris agreed to pay Moscow the full sum of the contract and more than a $1 billion in compensation. Adding to those costs, the French tax payer is also shelling out around $5 million a month to store both ships.
Once Russia removes sensitive computer and radar equipment from both ships, France will be able to sell them on to a new buyer. So far, India, Saudi Arabia, Malaysia and Egypt have expressed an interest in buying the ships. However, given that the designs of the two ship are specifically for the Russian navy, interested buyers are unlikely to pay full price given the considerable costs involved in redesign.
Both ships are designed to carry the Russian Ka-52K attack helicopter, which are built specifically for the Mistrals. It's thought that whichever navy buys the mistrals will also make a deal with Russia for the helicopters.
© Copyright IBTimes 2023. All rights reserved.