Syrian Rebels, Hezbollah Battle On Lebanese Border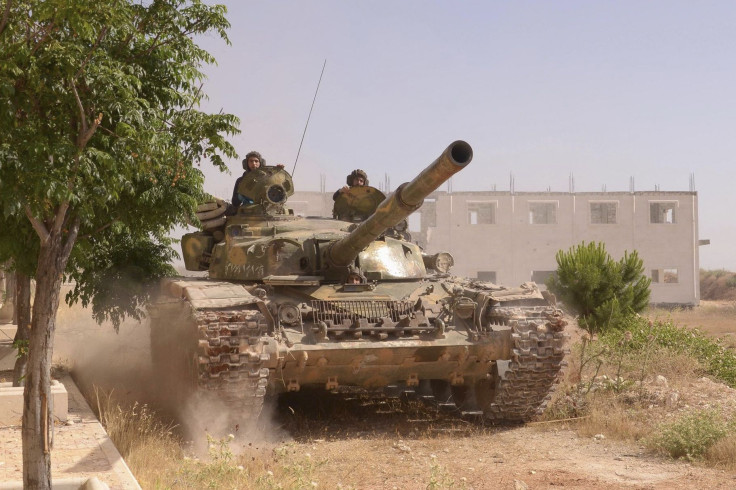 Lebanon was drawn further into Syria's civil war early Sunday when Hezbollah guerrillas fought a pitched battle with Syrian rebels in the eastern border region, security sources said.
Sources told Reuters at least 12 rebels were killed in the fighting east of the ancient Bekaa Valley town of Baalbek, but the toll would not be clear until bodies were retrieved from the remote and rugged border area. One Hezbollah fighter also died, they said.
But the Lebanese TV station Al-Mayadeen, seen as sympathetic to the Syrian regime, quoted Lebanese security officials as saying 17 fighters from Jabhat al-Nusra, a rebel group that the U.S. government considers al Qaeda-linked terrorists, were killed, the Associated Press reported.
The clash followed the firing of 18 rockets into the Baalbeck area Saturday, and Hezbollah may have attacked Syrian and Lebanese Sunni fighters it believed to be responsible, or who were setting up rockets to fire again.
Syria's spiraling conflict has increasingly sucked in its neighbor, with deadly fighting shaking the northern Lebanese city of Tripoli and rockets hitting the Bekaa Valley and southern Beirut.
The Shi'ite Hezbollah movement, which supports Syrian President Bashar al-Assad, is fighting alongside his army to drive rebels from the Syrian border town of Qusair, while Lebanese Sunni Muslim fighters have joined the anti-Assad revolt.
And on another front far to the north, Hezbollah fighters have amassed in and around Aleppo, Syria'a largest city, a senior commander told the Washington Post Sunday, stoking fears of an imminent assault on the city. The commander, who declined to be named because he is not authorized to speak to the media, said there were about 2,000 Hezbollah fighters in Aleppo province, largely stationed in Shiite towns north of the city. Rebels said Hezbollah forces had entered the city itself Sunday and were preparing for an attack.
"The Aleppo battle has started on a very small scale, we've only just entered the game," said the commander, who was on leave from fighting in Qusair, where he oversees five units. "We are going to go after strongholds where they think they are safe. They are going to fall like dominos."
He said that the militants were largely concentrated the Shi'ite towns of Zahra and Nubol, which have been under siege from largely Sunni rebel forces. Previously, the Hezbollah fighters largely had been concentrated in Qusair and the Damascus suburbs, where they are guarding the Shiite shrine of Sayyida Zaynab.
On Saturday, the International Committee of the Red Cross and U.N. humanitarian agencies expressed alarm over the fate of thousands of civilians believed to be trapped in Qusair, including many wounded.
They called on both sides to allow aid to reach civilians, including the wounded. The Red Cross said that "many of the wounded are not receiving the medical care they need desperately" and that food, water and medical supplies are scarce. The U.N. agencies called for an immediate cease-fire to allow civilians to leave the town.
On Sunday, U.N. chief Ban Ki-moon called Syrian Foreign Minister Walid al-Moallem to express concern over the situation in Qusair, according to Syria's state-run news agency SANA.
The Britain-based Syrian Observatory for Human Rights, which has a network of medical and security sources on the ground, said heavy fighting continued in the northern, eastern and southern outskirts of Qusair on Sunday.
Security Council diplomats said Russia, which along with China has shielded Assad diplomatically at the United Nations, blocked a council declaration of alarm on Saturday over the two-week siege of Qusair, Reuters reported. The draft statement urged both sides "to do their utmost to avoid civilian casualties and for the Syrian Government to exercise its responsibility to protect civilians." It appealed to Assad's government "to allow immediate, full and unimpeded access to impartial humanitarian actors, including U.N. agencies, to reach civilians trapped in al-Qusair."
© Copyright IBTimes 2023. All rights reserved.