Syrian Refugee Crisis 2015: How Canada Will Resettle 25,000 Refugees Over The Next Few Weeks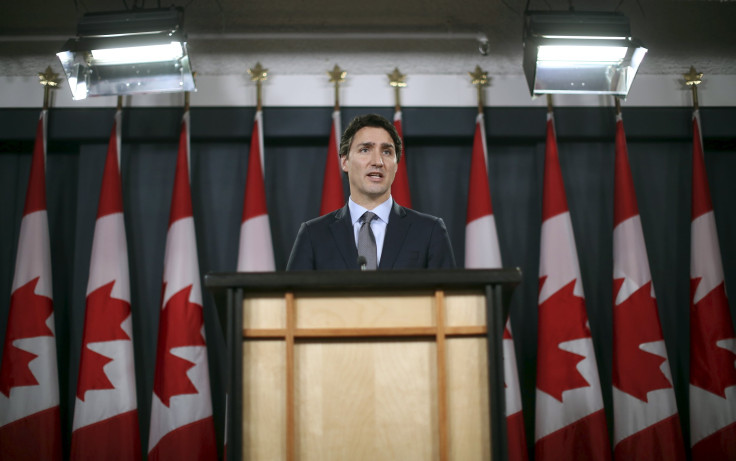 With a little more than seven weeks to go, the clock is running on the Canadian government's commitment to resettle 25,000 Syrian refugees by the end of the year. Newly elected Canadian Prime Minister Justin Trudeau promised in his Liberal Party's campaign to take in more than 10 times the amount of Syrian refugees currently in the country -- an amount deemed ambitious at best and unrealistic at worst by refugee advocacy organizations across the country.
But after a meeting in Ottawa on Thursday, Trudeau and his cabinet ministers confirmed the plan is still a go, despite the potential for logistical chaos in transporting, processing, housing and providing health services to the rough equivalent of 3,500 newcomers per week.
"It will be a tremendous challenge to welcome 25,000 Syrian refuges, but it's something I have a great deal of confidence in," said Trudeau, who was sworn into office last week. "It's important to show not how accepting refugees is a challenge, but an opportunity for communities, a way of helping, contributing to the economy."
The Liberal government assembled an ad hoc committee of cabinet ministers this week to sift through the details of how best to facilitate the arrival of the refugees fleeing Syria's ongoing civil war. Although Immigration Minister John McCallum said he won't reveal details for several days, preliminary plans the government has discussed so far have included airlifting the refugees from Lebanon, Jordan or Turkey -- or a mixture of the three -- using military planes, and temporarily housing them on Canadian military bases until longer-term housing can be arranged.
Asylum-Seekers from Syria in Canada by Month | FindTheData
The total cost of resettling the refugees is still up in the air, but McCallum said the government will honor its campaign commitment to devote at least $100 million to processing and resettlement services, and will also give $100 million in immediate aid to the United Nations High Commissioner for Refugees to support relief in Syria and the surrounding area.
"I am very proud as a Canadian that we as a country are going forward to provide quick and substantial help to some of the most distressed people on the planet," McCallum said Thursday. "We are in the same place as we were yesterday, that is to say that we are committed to bring 25,000 refugees into Canada by the end of the year."
While processing refugees usually takes place overseas before they arrive in Canada, lawyers and immigration advocates have also said the government may consider expediting the process by completing some of the application procedures in-house, likely on the military bases. Immigration lawyer Bashir Khan said the deadline to bring the refugees to the country is tight, but the government has several legal options it can utilize to have them there by the new year. In order to be processed as a refugee, Khan said, the claimants must undergo security and medical screenings to rule out anyone who poses risks to the Canadian population. The Canadian government can fly the refugees to Canada first and have them undergo the screenings within the country, or send droves of staff overseas immediately to conduct the processing on the ground, or it could use a mix of both strategies.
"What the government is doing is making a judgment call ... They're saying, 'We'll still do security checks and medical checks on them. Let's just bring them here because the situation is so imminent and the danger is so much greater,'" Khan said. "The way I see it, it's not impossible. If the government wants them here by Christmas, they'll have them here by Christmas."
The newcomers will first receive a temporary residence permit upon their arrival in Canada, which will be replaced by permanent status after they are processed in Canada. Then, the refugees will be eligible to apply for citizenship in four years.
Canada brought in just 2,347 Syrian refugees in the past three years, and the previous Conservative government led by former Prime Minister Stephen Harper garnered criticism throughout Canada's election season this year for initially committing to resettling just 10,000 Syrian refugees over the next three years. The 25,000-refugee pledge is meant to be for government-sponsored refugees, and the Liberals are encouraging Canadians to privately sponsor as many additional refugees as possible. In a statement this week, the United Nations praised the Trudeau government's bold commitment to refugee resettlement.
"This is a huge gesture of solidarity with the Syrian people and the countries neighboring Syria which together are hosting more than four million refugees and bearing the brunt of this crisis," the U.N.'s Antonio Guterres said in a statement. "I urge other countries to follow Canada's lead, galvanize their resources and dramatically increase the number of Syrians who are able to rebuild their lives in safe countries without having to take perilous journeys."
It would be a rare moment in Canadian immigration history to bring in such a large amount of people in so short a time frame. The last major influx of refugees came in 1999 when Canada airlifted 5,000 refugees from Kosovo and granted them automatic refugee status. The refugees were first brought to military bases in Greenwood, British Columbia; Nova Scotia; and Trenton, Ontario, for six to eight weeks before longer-term housing was found.
Refugee services workers and advocates across the country say the Liberals' plan will be difficult to execute, but it's within reality if some concessions are taken to the normal refugee processing procedure -- such as with security screenings and conducting medical examinations in Canada rather than overseas. Tom Denton, executive director at Winnipeg's Hospitality House Refugee Ministry, said it's unlikely the newcomers will undergo as thorough a screening as is customary, but a large proportion of those coming in will be women and children, who are already deemed low risk by the Canadian government.
"I think it's do-able, because Canada has the intention to do it," he said. "They'll have to shortcut a lot of their existing procedures for doing these kinds of things, because the process for processing refugees now is a very slow, laborious one."
More will have to be done once the refugees arrive and finish being processed, including securing long-term housing, arranging for English- or French-language instruction and overcoming cultural barriers like navigating city transportation, but Denton said those details aren't as urgent as ensuring the refugees arrive safe and quickly.
"The fundamental reason for doing this is to rescue people. That's the priority. The rest can follow later in good time. Canada is long used to receiving immigrants and refugees ... We have a lot of resettlement programs already in place," Denton said.
FOR FREE to continue reading
✔️ Unlock the full content of International Business Times UK for free
offer available for a limited time only
✔️ Easily manage your Newsletters subscriptions and save your favourite articles
✔️ No payment method required
Already have an account?
Log in
© Copyright IBTimes 2023. All rights reserved.