Is Russia's Syria Withdrawal Putin's Gamble? Economic, Geopolitical Consequences At Stake, Analysts Say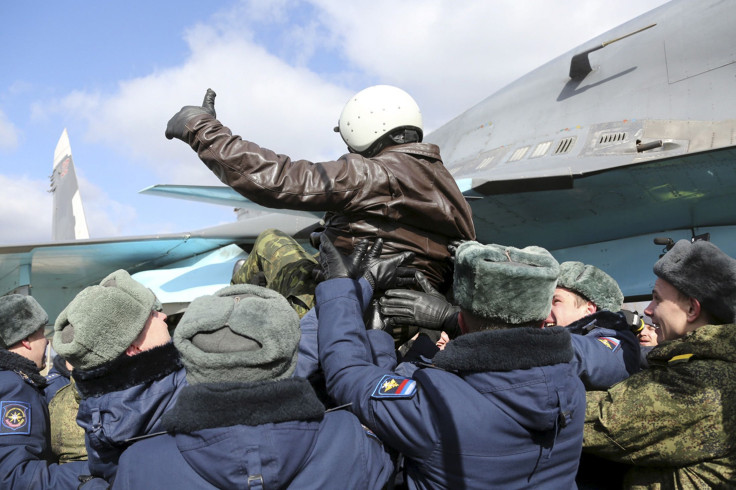 Against a backdrop of Syria's ruined cities and towns, razed by five years of constant civil war, the country's beleaguered civilians were given a rare glimpse of hope Tuesday when Russian military forces began to withdraw. For them, it was perhaps the beginning of the end of what has been classified as genocide.
But for Russian President Vladimir Putin, who dispatched his military to prop up Syrian President Bashar Assad's regime last year, the reduction of troops is a multi-faceted strategic leap of faith: Not only would Assad remain in power, leaving an important regional ally in place for Russia and its remaining military presence there, but Putin also could cut back on military spending to relieve a recession-ravaged economy back home, analysts said. The withdrawal might even spur the European Union to ease crippling economic sanctions stemming from Russian involvement in Ukraine. And while nothing is guaranteed, analysts say the move is well worth Putin's risk.
"Cutting short the Syria operation and cutting military expenses is not the principal [plan], but an important secondary consideration," said Ariel Cohen, a senior fellow at the Eurasia Center of the Atlantic Council, a Washington think tank. "Overall, Putin's gambit may still work."
The war has cost Russia $660 million since September, which is less than half of what the U.S. is spending and a fraction of Moscow's $50 billion military budget, but the expense is significant for a country crippled by a recession that has put 15 percent of the population below the poverty line. Earlier this month, the Kremlin also decided to cut its defense budget by 5 percent, according to a Reuters report.
"They could stay longer, it's not been that expensive, but this could be a nice story to tell at home," said Olga Oliker, a senior adviser and director of the Russia and Eurasia Program at the Center for Strategic & International Studies, another Washington think tank. "This was a short, successful and inexpensive war. They didn't get bogged down, they didn't end up in a quagmire. This spins very nicely about a brilliant Russian success, and it's always very nice to have a great success to point to."
Russians have been wary about overseas wars since the Soviet Union withdrew from Afghanistan in 1989 after a 10-year conflict. That war took the lives of around 15,000 Soviet troops and wounded more than 50,000, and came to be thought of the Soviet Union's Vietnam.
Russian Military Expenditure Over Time | FindTheData
In ordering a withdrawal, Putin also has the opportunity to reverse the domestic war-weariness while making a move that could soften sanctions imposed by the EU for Moscow annexing Crimea from Ukraine and its actions in the East Ukraine war. In order to truly drag Russia out of recession, the Atlantic Council's Cohen said Putin needs to get rid of the sanctions that prohibit Russia's access to international banking systems, where it would ordinarily be able to borrow its way out of financial problems.
"Russia desperately wants the Ukraine sanctions lifted so that its financial system gets access to cheap Western credits to refinance the existing corporate debt in tens of billions of dollars," Cohen said.
Russia's current financial setback came about after the collapse of the ruble in the second half of 2014. It was compounded by the drastic drop in crude oil prices — previously the mainstay of Russia's exports — and the heavy sanctions placed on it by the EU. But given that much of the power to stop the war in Syria rested with Russia, the EU has had to ponder lifting the sanctions in order to get Moscow to help end the war and slow down the refugee crisis that has seen more than a million people, primarily from Syria, flowing into the 28-nation bloc.
"Today's move and Putin's accompanying statements emphasizing Russia's support for diplomacy indicate the Kremlin seeks an improved image — particularly with its major trading partner, the EU," according to a statement from the Eurasia Group, a leading global political risk research and consulting firm in New York. "However, we still believe the EU is intent on renewing sector sanctions before they expire on 31 July. Today's move may affect European actions later this year or early in 2017."
The timing of Russia's announcement Monday that it would withdraw the core part of its military from Syria appeared to take the U.S., Europe and even Putin's ally Assad by surprise. The move coincided with the start of Syrian peace talks in Geneva and will be seen as a sign that Russia believes it has done enough to protect Assad's regime from collapse, while also allowing Russia to maintain strategic naval and air bases in the west of Syria. Assad's survival is important to Putin's long-term goal of having a Middle Eastern ally that enables the Kremlin to project military power outside of its traditional Eastern European sphere and gain some level of military parity with the U.S.
Despite the Russian withdrawal putting Assad under pressure and leaving his military vulnerable, a statement from the presidency in Damascus Monday denied that there had been a disagreement between the two countries. The Syrian presidency "confirms that the whole subject happened in complete coordination between the Russian and Syrian sides, and is a step that was carefully and accurately studied for some time," the statement said, according to a Reuters report.
But the withdrawal was also designed to show Assad that he could not take Russian military assistance for granted and force him to the negotiating table with rebels.
"They've been frustrated for months by the quality of Assad's leadership, and more recently by his reluctance to participate in the peace process," said William Courtney, a former U.S. ambassador to Georgia and Kazakhstan and former senior director for Russian and Ukrainian affairs under President Bill Clinton. "The withdrawal has been very much about publicly humiliating Assad and showing him that if he doesn't take part in the peace process he could face a similar fate as other dictators that have been overthrown in recent years."
Russia first became involved in the five-year-long civil war in September, initially providing the Syrian military with heavy weapons and advisers before committing to an aggressive bombing campaign that is thought to have flown more than 9,000 sorties and helped the Syrian government regain control of around 400 settlements from Syrian rebels and terrorists, according to Russian Defense Minister Sergei K. Shoigu, who spoke with reporters at the Kremlin Monday.
Putin's initial goals were to both beat back the Islamic State group and prop up Assad's regime. While U.S.-led coalition leaders had previously argued that Assad staying in power was non-negotiable, it now seems the dictator's future is no longer worth holding up peace in a war that has so far killed more than 250,000 people and displaced up to 11 million more.
But in attempting to gain peace, Putin's decision still has the potential to backfire and lead the one thing that he fears the most. "There's also a risk that withdrawing troops could backfire on Putin, the Assad regime could collapse without his support and enable a far greater degree of instability in Europe," said Oliker of CSIS.
FOR FREE to continue reading
✔️ Unlock the full content of International Business Times UK for free
offer available for a limited time only
✔️ Easily manage your Newsletters subscriptions and save your favourite articles
✔️ No payment method required
Already have an account?
Log in
© Copyright IBTimes 2023. All rights reserved.