Syrians Get Democracy - In Turkish Refugee Camps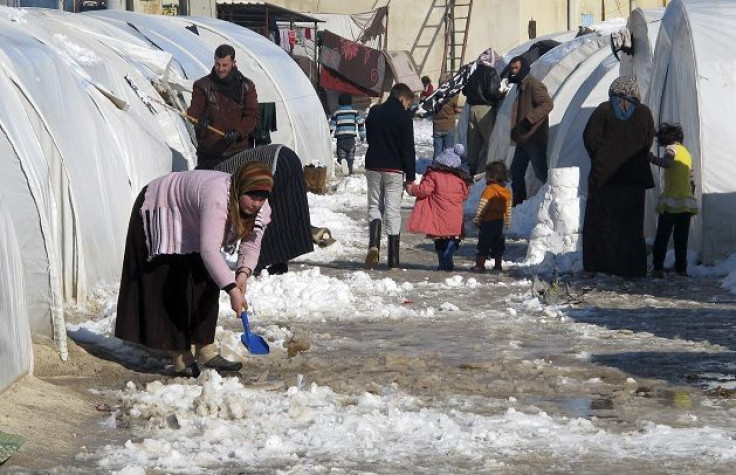 The Middle East is an area of paradoxes, and here is another one to add to the list: Syrians may be fighting to get a democracy in their country, but some of them already have it. Those who fled Syria, that is.
That's because last week thousands of Syrian refugees participated in a democratic election, for the first time in their lives, in a vote to select a headman and an administrative council within camps in neighboring Turkey, where they have been living for months.
The elections were open to over 14,000 people in refugee camps in Kilis, southeastern Turkey. Seventeen candidates, including three women, contested for the position of chief headman and for membership in the administrative council.
Syria does, in fact, have elections. But they are plebiscites for the regime of Bashar Assad, just like for the rule of his father, Hafez, before him. (The last referendum on another seven-year mandate for Bashar as president, in 2007, resulted in an internationally ridiculed 98 percent of Yes votes for the only candidate. His father routinely got more than 99.) An election for parliament in May of last year was boycotted by the opposition, and widely seen as a farce.
So, for the refugees, last week's free vote was a lifetime first. " Under Assad's regime voters do not have a choice, they are pressured into casting votes with bribes and force," said Bekir Adil, a translator who assisted with the elections.
According to Adil, many of the voters weren't even aware of how a real election worked. "Men lined up outside the ballot boxes with stacks of ID cards for their entire family, ready to cast votes in their name as well," he said. "They were told they could not vote on behalf of others and were made to turn back, which caused frustration and tension in some cases." Even though people voted individually, families often chose the same candidates and voted as a unit.
Despite such problems, the atmosphere at the voting booths was often enthusiastic, with candidates rallying and campaigning energetically, according to Turkish media reports. The governor of the Kilis province, Süleyman Tapsız, was optimistic.
"I'm thrilled to see such a festive atmosphere here today," he said in an address to the refugees on Thursday. "The elected commission will play a big role in overseeing matters of security, health, religion and the infrastructure of the camps." "This is the first democratic experience for our Syrian brothers and sisters, and we hope it will be the first step in paving the way to a democratic future," Tapsiz added.
Syria is among the more advanced Arab countries when it comes to women's rights, but the situation in the camps isn't rosy for female refugees. Partly to address those problems, three women ran in the elections, campaigning hard to improve conditions for women in the camps. One major issue is rape, which has become so prevalent in Syria's civil war that it has driven families into exile, according to a new study carried out by the International Rescue Committee. But rape cases within the camps are also being reported.
Despite the determination and drive demonstrated by the three female candidates, a conservative attitude in the camps set them back throughout the election process. Some even refused to vote because there were female candidates involved, according to the Anatolian News Agency. "It is difficult for women to make themselves heard in such a large community. Many men will not listen to them and therefore they will not be able to show leadership," Adil said, stressing the importance of having female leaders in the community to encourage other women to obtain vocational training and skill sets that they can use when they go back to Syria.
When the results of the elections were announced on Jan. 17, none of the three women were elected. While women in the camps were disappointed that none of the female candidates were elected, they were still grateful that they had members of their own people representing them, according to Adil.
The Oncupinar camp, where the elections were held, is one of the most sophisticated refugee camps in Turkey. The occupants are housed in containers with facilities such as heating, refrigeration and air conditioning. But in other border towns, thousands continue to reside in overcrowded tents under harsh winter conditions. The U.N. refugee agency has provided family tents for 83,500 persons, blankets and kitchen sets for more than 100,000, and orders have been placed for 18,500 winterized tents, but supply is not keeping up with demand.
More than 150,000 refugees are being hosted in Turkey, according to Turkish Deputy Prime Minister Beşir Atalay, and severe overcrowding caused two fires in a camp in December, which claimed the lives of five children. Nevertheless, Turkey continues to hold an "open door" policy for those fleeing war-torn Syria, and the government announced on Tuesday it would provide free health care for Syrian refugees, including free treatment in public hospitals for those who enter Turkey wounded.
As the conflict continues in Syria, Ankara is increasingly facing humanitarian and security challenges. The latter led Turkey to call on NATO to deploy Patriot missiles near the Syrian border to defend Turkish airspace. But the governor of Kilis is optimistic about the Syrian refugees. Not only are they beginning to take control of the administrative process in the camps; the governor has announced that they will now also be responsible for administering services related to security, in coordination with the governor's office. "The time has come to tackle these issues together," said Tapsız.
FOR FREE to continue reading
✔️ Unlock the full content of International Business Times UK for free
offer available for a limited time only
✔️ Easily manage your Newsletters subscriptions and save your favourite articles
✔️ No payment method required
Already have an account?
Log in
© Copyright IBTimes 2023. All rights reserved.