Syria's Coming Battle For Aleppo: It's Everybody Against Assad And ISIS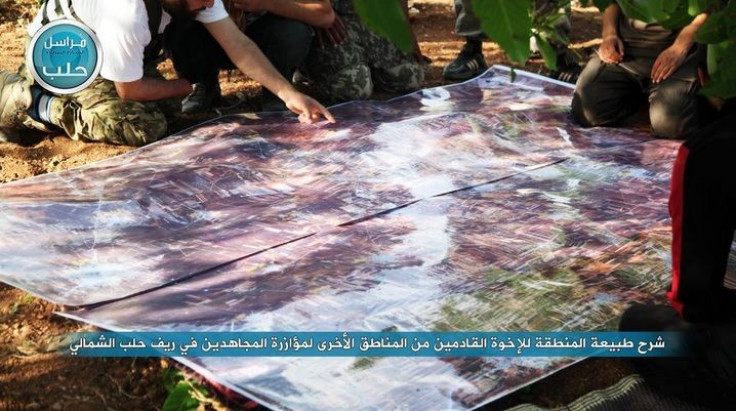 Almost every faction fighting in Syria has had its sights on Aleppo since the war began in 2011. No single faction has ever been able to take full control of Syria's largest city and economic hub. The same goes for the region bordering Turkey. In these areas, the Assad regime has always been firmly in control. But now, several of Syria's varied factions are once again racing reinforcements to Syria's northern provinces and are headed for a collision in Aleppo that is creating new alliances.
With no group strong enough to take on the regime on its own and have a credible shot at capturing Aleppo, aligning with partners -- sometimes unlikely ones -- is the only chance at breaking the stalemate. Right now, the de facto alliances, experts say, appear to be between al Qaeda's branch in Syria and a coalition of rebel brigades, against both the Islamic State group and forces loyal to president Bashar Assad. Syria's Kurds are also active in Aleppo, as well as Iranian-backed forces loyal to the Syrian regime, such as Hezbollah.
"I think the lines are pretty well drawn," said Jeff White, a defense fellow at the Washington Institute for Near East Policy. "Aleppo is just one of those places in Syria where it's very difficult to achieve any kind of decisive change on the battlefield."
After a string of strategic wins since the start of the year, rebel groups were in a very strong position to overrun regime forces in Aleppo and neighboring strongholds around the city of Idlib. But the Islamic State group entered the fray.
"It would have happened, but Daesh attacked," said Sharef Sarmada, a Syrian citizen journalist in Idlib, using the Arabic acronym for ISIS. "Now the battle is with Daesh."
But ISIS may be getting help from an unlikely source. Syrian President Bashar Assad's air force pounded Aleppo on Thursday with barrel bombs, while the Islamic State group battled opposition forces and Jabhat al Nusra -- al Qaeda's branch in Syria -- on the ground. This suggests that the two, if not actually allied, are at least not targeting each other, despite officially being mortal enemies.
Since their split in 2013, ISIS and Jabhat al Nusra have occupied territory in different parts of Syria, allowing them to focus their military efforts on other enemy factions. They have fought each other before, but were mostly targeting regime forces until ISIS began its offensive in northern Aleppo last week. That's uniting all the other rebel factions against them. And Jabhat al Nusra changed its strategy last year, readjusting its goals from simply taking down the regime to defeating ISIS as well.
"This initial onslaught by ISIS seems to have been contained or slowed or even pushed back in a few places," White said. "My sense is that ISIS is not going to have dramatic success" in Aleppo.
Anti-ISIS rhetoric has been increasingly common for groups affiliated with al Qaeda across the region. On Wednesday, nine Islamic scholars of jihad issued a fatwa, or Islamic ruling, declaring it the duty of all Muslims to fight ISIS. Among the signatory scholars was Abu Muhammad al Maqdisi, the alleged mentor of Abu Musab al Zarqawi, the leader of al Qaeda in Iraq who was killed in a U.S. airstrike in 2006.
"It is compulsory to repel their [ISIS'] aggression and defend the lands of the Muslims," according to the fatwa. "It is impermissible to hand over the land of Shaam (the Levant] to them, for it has become clear the corrupted beliefs they hold."
The emergence of a well-coordinated and heavily armed alliance led by Jabhat al Nusra, which is fighting ISIS as well as the regime, is putting muscle behind that proposition. That alliance is taking the form of so-called " operations rooms," or local coalitions of rebel forces that coordinate tactics on the ground. The most successful of those is Jaish al-Fatah, or Army of Conquest, a rebel coalition that has been instrumental in taking Idlib and includes some of the best-equipped Islamist opposition groups.
"The operations rooms have been around for a long time," White said. "What has gotten better is their willingness to cooperate more effectively ... and keep these fighting coalitions in existence over time."
The unprecedented gains in Idlib province last month left rebels with several avenues for continued expansion, including a route to Aleppo and to the coastal regime stronghold of Latakia, a city of vast symbolic and strategic importance.
The operations room in charge of the rebel push on Syria's economic hub bears a name that leaves little room for doubt about its objective: Fatah Halab, or "Conquest of Aleppo." Having set aside all feuds among rebel groups, it's now focused on the common enemies. "In regards to our operations, we are only against Daesh and the regime," said Capt. Islam Alloush, a spokesman for Jaish al-Islam, an Islamist rebel group that is part of at least two operations rooms in the region.
While ISIS and the rebel coalitions battle in northern Aleppo, pro-regime forces have ramped up their presence around the city and in neighboring regime-held areas. The government reportedly formed a unit called Shield of Coast Brigade to protect Latakia, but the move may be a sign of desperation by a regime that's losing its best fighters and foreign advisors.
"It's a unit of very uncertain capability," White said. "It's one of these many, many schemes the regime has for generating forces and filling in these gaps in manpower. If there is an injection of Iranian forces that could change things."
That manpower deficit has long been filled by Iran-backed forces, including Lebanese Hezbollah fighters. There have been various reports of an influx of these fighters to Syria in the past week, with numbers ranging from 1,000 to 15,000, many of whom would be deployed to Latakia.
In Aleppo, it is estimated that there are less than 150 Hezbollah fighters based in two major Shiite towns "who are in a position to assist ISIS but don't appear to be doing very much," White said.
According to the man who many say is the real force behind whatever military strength the Syrian regime is still displaying, those fighters may be getting ready for a counterattack.
"The world will be surprised by what we and the Syrian military leadership are preparing for the coming days," General Qassem Soleimani, the head of the Iranian Revolutionary Guard's elite Quds force, said in Syria earlier this week, according to Iran's official IRNA state news agency.
The Syrian army also launched an operation in Idlib to strip the opposition of its recent territorial gains. On Thursday, the regime launched three rocket attacks that hit a highly populated area in Idlib, wounding at least 130 people, according to Doctors Without Borders.
That counterattack in Idlib threatens to spread opposition forces thin, but their leaders are vowing to hold on.
"The battle for Aleppo is continuing," Hassam Abu Bakr, the commander of Ahrar al Sham, one of the largest groups in the Aleppo operations room, told Syria Direct. "As is the battle for Idlib."
© Copyright IBTimes 2023. All rights reserved.