Taiwan Economy An Aging Asian Tiger In Need Of Cubs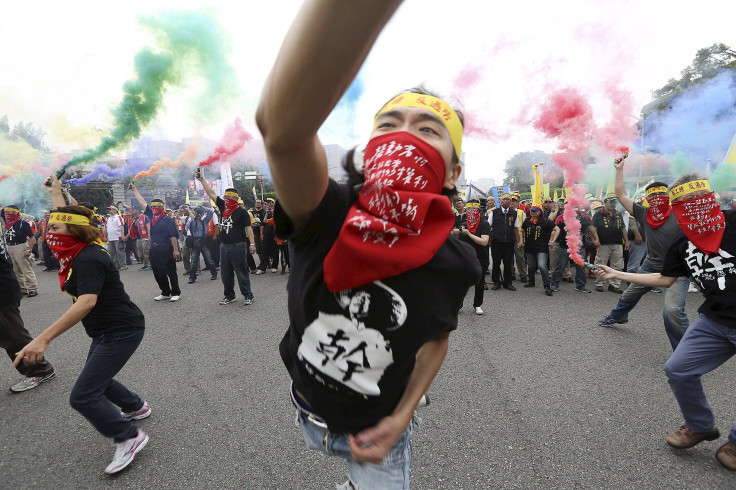 Jason Tsai is among the few in Taiwan with excellent English, but two years after he graduated from university, the highly sought language skill has failed to secure him a well-paying job. Tsai has been pulling in an average monthly pay of T$15,000 ($455) through part-time work, below the minimum wage of T$22,000 for college graduates and one-quarter of the retirement pension received by state employees.
"I cannot afford a place of my own with my low income ... All I have been able to find were part-time jobs," the 25-year-old said.
The plight of young workers such as Tsai highlights a serious problem for Taiwan, which has gone from a young and vibrant tiger economy to aging and unsteady in just two generations: the working-age population is neither growing fast enough nor earning nearly enough to pay for their parents' retirement.
As Tsai struggles to find a better-paying job in a recession-hit economy, a wave of barely middle-age mostly government employees are racing to retire on generous taxpayer-funded pensions before these are watered down.
To make matters worse, a government policy designed to protect young workers during the 2008-2009 global financial crisis has created a perverse incentive for employers to lock young workers into a minimum wage.
The dissatisfaction among the youth has boiled over into student protests and has become a hot-button issue for voters as Taiwan goes to the polls next month.
Tsai isn't waiting for politicians to come to the rescue, and is instead looking to move to Japan to secure a better job.
A flight of young people in search of greener pastures is the last thing Taiwan needs, especially as its rapidly graying population is diminishing the number of skilled workers required to propel the economy on its next growth phase.
Demographic Costs
In fact, the alarming drop in Taiwan's fertility rate to less than 1 per woman, among the lowest in the world, from around 1.7 in 2000, has created a major demographic challenge for policymakers.
As more of today's youth transfer the burden of caring for their parents to the state, government resources are getting stretched to the breaking point amid spiraling health-insurance and pension costs.
"Reforms need to be carried out soon or state employee pensions will collapse. The government cannot sustain it for long," Wu Chung-cheng, deputy minister of the civil service ministry, told Reuters.
But fears of a political backlash have discouraged lawmakers from watering down a generous taxpayer-funded average monthly retirement pension of T$60,000, even though a flagging economy can no longer sustain these costs.
A look at some of the numbers makes for glum reading. The public-debt burden is now at a record $550 billion, while pension costs are set to rise to an all-time high of 7.37 percent, or T$147.2 billion, of the total government budget in 2016.
Taipei Mayor Ko Wen-je has warned that 10 percent of the city's budget will go into paying city employee pensions in 2016.
And the pressure on finances continues to grow as state employees rush to lock in the generous pension. Between 2010 and 2013, the number of retired state employees jumped more than 50 percent to 32,000.
The lopsided pension plan is causing resentment among those like Tsai. "What the state employees have is like a dream that would never come true for our generation," he said.
Youth Burden
Still, the dramatic aging of the population means the government will be forced to act sooner rather than later. Official statistics show those 65 and older are growing faster than in most Asian countries, making up 12 percent of the total population of 23 million in 2014.
By some estimates, one in five Taiwanese will be 65 or older by 2025, an unenviable future for an aging tiger economy and its younger people.
"As Taiwan's population is aging at a fast rate, it is putting a burden on young people who are already pressured by their low wages," said Wu of the civil service ministry. "Everybody knows that these are big problems facing Taiwan."
© Copyright Thomson Reuters 2023. All rights reserved.