Takata Air Bag Recall 2015: My Car Is Part Of The Massive Air Bag Recall; Here's What Honda Told Me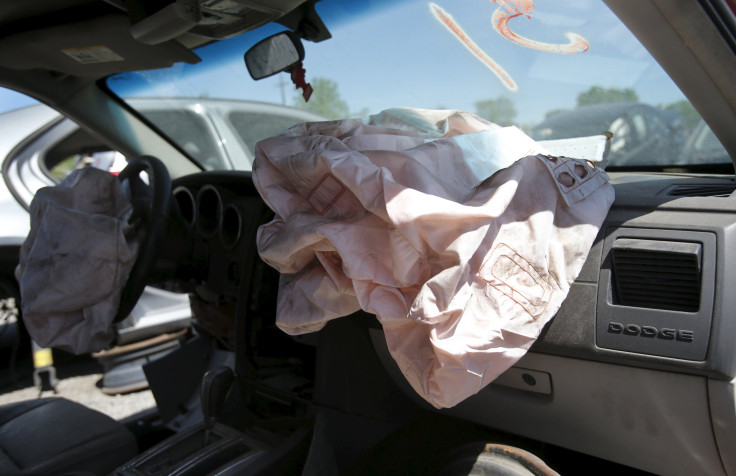 Just hours after Takata Corporation announced the largest product recall in U.S. history, I called a dealership in Queens, New York, to see how long it would take to get the faulty air bags in my 2004 Honda CR-V replaced.
"We don't have any parts available right now. We have to place a back-order," said a customer service representative at Paragon Honda. "If you make an appointment today you can bring your car in at the end of July."
Now that Takata has expanded its air bag recall, millions of Americans, like me, are stuck with cars that contain an alarming air bag flaw—the inflators could be tiny shrapnel-spewing explosive devices. Nearly a dozen automakers, led by Honda and Toyota, have found this flaw in cars and trucks made since 2000. What many owners are hearing is similar to what I heard Tuesday evening: Speedy repairs aren't likely any time soon.
Since demand for replacement parts is outstripping supply, service centers are telling customers this week that it could take up to two months after they make appointments before their vehicles can be repaired. A similar situation is playing out even in the warmer and more humid parts of the country where Takata says its inflators are more likely to be harmful and should be given priority.
"Some of the recalled parts are back-ordered to the end of the month," said a service representative from Holler Honda in Winter Park, Florida. "Some are back-ordered to the end of June. It just depends on the vehicle."
Honda USA spokesman Chris Martin said Honda, which has the highest number of affected vehicles, has improved its supply chain flow by tapping other suppliers besides Takata to increase the pace of repairs. "It's like filling a tub with the drain open," Martin said. "We're refilling the tub constantly."
Honda, he says, is still digesting Takata's announcement on Tuesday to expand the recall because the supplier didn't give the automaker advanced notice of its decision to abide by U.S. demands to expand the number of affected cars. Like other automakers, Honda has been offering loaner cars to customers who don't want to drive their affected vehicles until the repairs can be made.
The U.S. Department of Transportation said Tuesday the air bag recall now covers nearly 34 million vehicles in the U.S., up from roughly 17 million. Federal officials don't have a breakdown yet of the makes and models encompassed in the expanded recall, but they're urging owners of affected vehicles to have the repairs done as soon as possible.
"How long is this going to take? Nobody knows that yet," National Highway Traffic Safety Administration chief Mark Rosekind said Tuesday during a press conference, referring to how long it will take to fix all of the cars.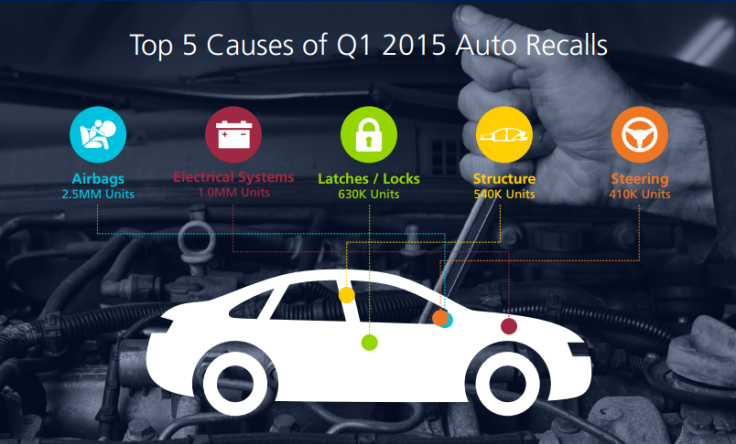 Hurry Up And Wait
The advice coming from automakers and regulators is to get the repairs done as soon as possible -- the flaw has killed at least six people and injured more than 100 worldwide, most of them in the United States. But right now, it's a hurry-up-and-wait situation: Get your appointment to have the car fixed today, and then wait for the part to be ordered, available and delivered.
Jackie Gillan, head of Washington D.C.-based Advocates for Highway Safety, says this delay could have been avoided if the U.S. National Highway Traffic Safety Administration (NHTSA) had acted more like a consumer watchdog and less like an industry lapdog over the years.
"We have a situation where, for years, NHTSA has been quick to accept the auto industry's explanations," she said. "And they've allowed these problems to go for so many years. This air bag problem was showing up in models dating back to 2000. And now you have a supplier like Takata that has to make air bags for current orders and on top of that provide replacement parts for cars dating back over a decade."
Honda was the first to identify the flaw in 2008 in nearly 4,000 Accords and Civics from the 2001 model year. It took eight months for the automaker to issue another recall, this time for 440,000 2001 and 2002 Accords and Civics. The numbers of affected vehicles, most made prior to 2009, continued to rise as other automakers began identifying the same flaw in their cars.
In 2013, a flurry of companies were issuing their own explosive-air-bag recalls, including Nissan, Mazda, BMW and Ford. In all, nearly a dozen carmakers identified the problem, yet NHTSA failed early on to compel the manufacturers to explain what we know today: that all of the recalls were linked to one supplier--Takata.
It took seven years from Honda's first explosive inflator recall in 2008 for Takata to finally annouce this week that all of the automakers' recalls over the years were essentially parts of one massive recall of its air bag inflator devices. The only punitive action NHTSA has imposed on Takata has been a $14,000-a-day fine since February over non-compliance with a recent investigation.
I first learned about my Honda CR-V's faulty air bag issue in 2013, when I received a recall notice not long after moving to New York City. Like many Big Apple car owners, my Honda spends most of its time parked, collecting bird droppings. I top-off my gas tank about every six weeks. The risk of delaying the air-bag repair, I rationalized, was slim.
The Recall Multiplier Effect
If there are lessons to draw from Takata's massive recall it's that automakers are increasingly reliant on a small number of large suppliers, which can lead to what Kevin Pollack calls the recall multiplier effect: When a single flawed part or ingredient ends up in a wide number of products made by several companies—affecting a vast number of consumers.
Pollack, vice president of recalls for Stericycle ExpertSOLUTIONS, a consultancy that helps companies manage risk, says the just-in-time manufacturing process – where suppliers and manufacturers make and store only the number of components they need at any given time to save costs – contributes to the problem.
"Just-in-time flow is certainly a contributing factor," Pollack said. "A lot of air bag manufacturers are ramping up well beyond the supply needs right now. They're trying to produce parts for new cars while trying to produce 30 million additional air bag inflators at the same time."
Pollack says there's no single solution to the multiplier effect in product recalls. He says one thing companies should do is increase quality checks of "mission critical" components. Diversifying where companies source their products would also help, he says, because it reduces the chances of one faulty component infecting a broad range of products across an industry.
Like many car owners, I put the recall of my Honda to the back of my mind. Only recently, after covering automotive recalls for more than a year, talking to advocates and car industry representatives, and seeing photos of people maimed by Takata shrapnel, did I decide it's time to get the issue fixed.
My car is scheduled for repair later this summer.
© Copyright IBTimes 2023. All rights reserved.