Talking About Egypt, Thinking About Iran: Clinton's Real Focus In Israel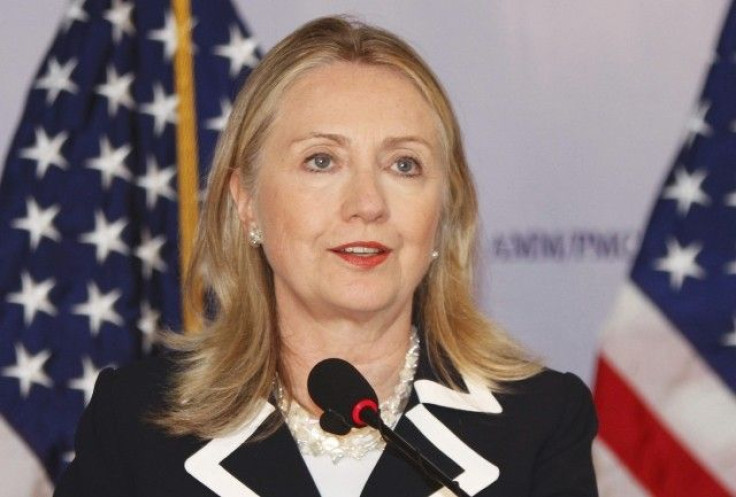 JERUSALEM -- U.S. Secretary of State Hillary Clinton capped off her 12-day foreign tour with a stop in Israel on Monday to confer with Israeli leaders on the latest developments in Egypt, Syria and Iran.
Her visit to Israel is one of several this month by top-level American officials. Clinton's arrival came just one day after National Security Advisor Tom Donilon flew in for a secret visit, confirmed by the White House only after he had concluded his talks, and ahead of Secretary of Defense Leon Panetta's expected arrival early next week.
While officially Clinton's trip, the first in nearly two years and her last as Secretary of State, was a quick one-day stop meant to relay her impressions from her visit with newly-elected Egyptian President Mohamed Morsi, media reports speculated on a variety of more subtle reasons for the stop, including domestic political considerations as well as the nuclear threat of Iran.
"She couldn't go to Egypt without following with a visit to Israel, because in the past there were many complaints about that with President Obama," said Shlomo Bromo, a senior research associate at the Institute for National Security Studies at Tel Aviv University, referring to the public backlash that erupted in Israel when, after visiting Cairo in 2009, Obama neglected to stop here.
Some have even suggested that the ostensible reason for trip, talking about Egypt, was actually not the most important item on Clinton's agenda. Rather, the threat of a nuclear Iran was the main reason for the visit, as Israeli officials have become increasingly impatient with Tehran's unwillingness to halt its nuclear enrichment program.
Former Israeli Ambassador to the United States Zalman Shoval said the reason Clinton didn't publicly announce talks on Iran to be the official purpose may be part of a larger American effort to keep a low profile on the issue ahead of the November presidential election.
"I think Iran was probably the number one issue on the agenda, the threat goes beyond Egypt and Palestine. But, I think she didn't want exacerbate the public focus on Iran."
However, during a press conference late Monday evening, along with urging Egyptian leaders to uphold their obligations under the Israeli-Egyptian peace agreement, Clinton issued a sharp warning to Tehran, even hinting again at the possible use of American force.
"Iran is under greater pressure now than ever before," she said. "We will use all elements of American power to prevent Iran from obtaining a nuclear weapon."
But despite the public warning, "the Americans are making aggressive efforts to placate the Israelis when it comes to the issue of Iran," said Joshua Teitelbaum, a professor in the Department of Middle Eastern Studies at Israel's Bar Ilan University. "The trip was an effort by the Americans to calm Israel down."
"There is an election coming up, and I don't see that they are interested in seeing any Israeli move on Iran before the election," Teitelbaum said.
Some media reports here described Clinton's visit to Israel as an effort to preempt Republican presidential candidate Mitt Romney's visit scheduled for later this month. But Teitelbaum doesn't believe that to be the case.
"I don't think the president works like that, he said. There are some serious changes in Egypt and a serious problem with Iran and I think that's the reason for the trip."
Ambassador Shoval concurred: "I don't think that secretary Clinton's visit to the Middle East was motivated by American electioneering or domestic politics."
"I think that Secretary Clinton wanted to make it clear to President Mohamed Morsi that the Israeli and Egyptian peace treaty is not just in Israeli-Egyptian interests. It is a major American strategic interest and geopolitical interest and (...) any aid they require will be related to the permanency and their continued support for the peace treaty with Israel," said Shoval.
While Clinton met with both Israeli and Palestinian leaders during the one-day visit, many Israelis are skeptical that her trip was meant to reignite talks between the two parties.
"The Palestinian issue is off the table," said Daniel Gordis, Senior Vice President and Senior Fellow at the Shalem Center, a Jerusalem-based research institute. "Syria, Jordan, the Arab Spring and its meltdown is the big story, and no one is seriously thinking there is going to be a peace agreement between the Israelis and the Palestinians before the election."
Indeed, Clinton acknowledged during her press conference in Jerusalem the failure of the Israeli-Palestinian talks, which broke down in 2010. The Palestinians have refused to restart negotiations until Israel stops all settlement construction. Israel says peace talks should resume without preconditions.
"My message to both Prime Minister [Benjamin] Netanyahu and [Palestinian] President Abbas was the same. That the international community can help, the United States, the quartet, and we stand ready to do so ... but it's up to the parties to do the hard work for peace. To those who say the timing isn't right, the other side has to move first, or the trust just isn't there, I say peace won't wait and the responsibility falls on all of us to keep pressing forward."
The Obama administration has faced repeated criticism from the Romney campaign for not being more supportive of Israel. Obama himself received an onslaught of criticism from Jewish groups after a speech last year in which he called on Israel to revert, with land swaps, to its borders before the 1967 war, commonly called in Israel the green line.
Clinton reiterated President Obama's position that Israel's continued building of housing in East Jerusalem was not helpful to the peace process. Netanyahu's office defiantly responded that Jerusalem is not a settlement; it is the capital of the State of Israel.
According to Kory Bardash, Co-Chairman of Republicans Abroad Israel, Clinton's once pro-Israel stance has dramatically changed since she became Obama's top diplomat, and many Israelis and American Jews are skeptical of his administration.
"When she was senator of New York, she had a strong voting record on Israel," Bardash said. "She was quite good at acknowledging Israel's right to defend herself. But under Obama she's marching to a different tune."
Gordis, of the Shalem Center, said Israeli public sentiment is mixed, with no definitive feelings about the American president.
"I think the proverbial taxi driver thinks Obama has been hard on Israel, that he has pressured Bibi [Benjamin Netanyahu] more then he has pressured [Mahmoud] Abbas. Throw into the mix that he has never been to Israel. But, I think the sophisticated Israeli understands that there are a lot of ways are on the same page and that certain military cooperative ventures are as closely linked as they have ever been."
© Copyright IBTimes 2023. All rights reserved.