Tax Debate Gets Personal: The Obamas Made $789,674 in 2011, Paid $162,074 in Federal Taxes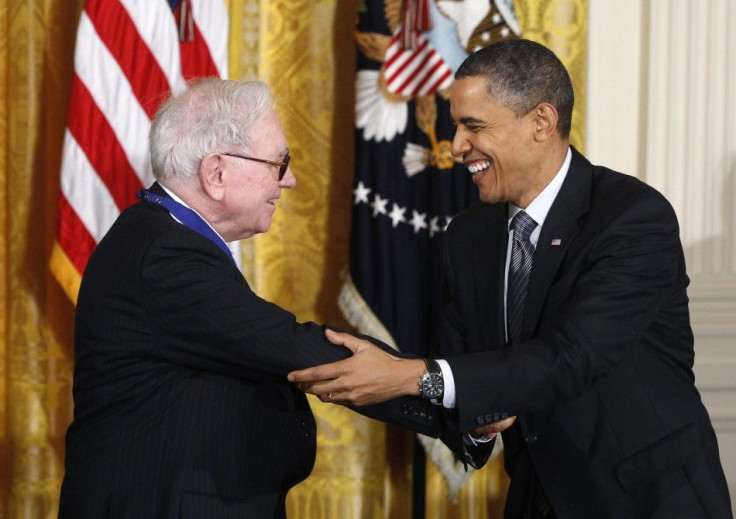 President Barack Obama and Vice President Joe Biden released their 2011 tax returns, a personal turn in the debate about tax policy.
The documents, which were published on the official White House website Friday morning, come as Obama continues to push for the so-called Buffett Rule, a policy that promises to increase taxes for Americans who make over $1 million a year and fix what he says is a broken tax system. The White House said it hopes the release of the tax returns encourages Republican presidential candidate Mitt Romney to do the same.
President Obama and first lady Michelle reported gross income of $789,674, about half of which is the president's salary and about half is from Obama's best-selling books. The Obamas paid $162,074 in federal tax, reflecting a 20.5 percent tax rate, as well as $31,941 in state income tax for their residence in Illinois. In 2010, he had reported about $1.7 million in gross income.
The Obamas also donated $172,130 to 39 different charities, most of which ($117,130) went to the Fisher House Foundation, which gives scholarships to children of fallen and disabled soldiers.
Biden and his wife Jill reported an adjusted gross income of $389,035. They paid $87,900 in total federal tax, $13,843 in Delaware income tax and $3,614 in Virginia income tax. The Bidens gave an additional $5,540 to charity in 2011.
Romney, who made his multi-million-dollar fortune at Bain Capital and in business, has released tax documents before. After tripping over his words during the South Carolina primary in a poor attempt to explain why he hadn't released his tax returns yet, he finally released his 2010 return in January. He made $21.7 million in 2010 and an estimated $20.9 million in 2011.
The documents show that Romney paid about $3 million in federal income taxes in 2010, about 13 percent of what he earned. Romney's campaign also published documents that reveal the estimated tax he will pay in 2011, $3.2 million or 15.4 percent of is income, but the White House still wants Obama's likely GOP rival to reveal the official numbers come Tax Day, the deadline for filing taxes, which falls this year on April 17.
Biden attacked Romney's tax policy in New Hampshire Thursday, coining the term Romney Rule and claiming that Romney's plan to cut taxes by $1 trillion over a decade would only benefit the wealthy.
The Buffett Rule says that multi-millionaires should pay at least the same percentage of their income in taxes as middle-class families do, Biden said, according to CNN. The Romney Rule says the very wealthy should keep the tax cuts and loopholes they have, and get an additional, new tax cut every year that is worth more than what the average middle class family makes in an entire year.
Romney has said Obama's tax policy would hurt the economy, claiming last February that he's actually raising taxes on business by hundreds of billions of dollars.
Below are Obama's tax returns for 2011:
President Obama Complete Return 2011
Biden's tax returns can be found here.
© Copyright IBTimes 2023. All rights reserved.