Teenager Swallows Strange Sea Creature At Beach; Hospitalized
A teenager's trip to a beach in Australia ended with him being hospitalized after he swallowed a bluebottle jellyfish.
The incident took place when the 18-year-old beachgoer was swimming at Bondi Beach in Sydney on Christmas Day. While swimming, the teenager reportedly swallowed a bluebottle, which often turns up on the shores of Australian beaches, according to 7NEWS.com.au.
It remained unclear how the teenager swallowed the stinger and whether it was dead or alive during the incident.
After ingesting the sea creature, the teenager managed to make his way back to the shore where lifeguards provided him with assistance. They further called an ambulance and the teen was rushed to the hospital where he received medical attention.
"NSW Ambulance paramedics were called to Bondi Beach SLSC at around 1:20 p.m. yesterday, to reports that a teenage male had swallowed a bluebottle," NSW Ambulance told the outlet. "There is not a record of his condition or how he came to ingest the jellyfish."
The teenager was discharged after treatment, the hospital said Monday.
"There is not a record of his condition or how he came to ingest the jellyfish," a statement by the hospital read.
Bluebottles generally float on the ocean's surface and do not actively swim. They are usually carried around by the wind or the ocean current.
It is a common sight to see the stingers along the coast of eastern Australia, where 30,000 stings are reported every year, according to Australian Geographic.
Around 1 in 6 Australians have been stung by a marine stinger, according to researchers from UNSW (University of New South Wales). Bluebottles contribute to most of these stings, the researchers added, according to news.com.au.
A bluebottle sting can be painful, but it is often not life-threatening. However, it can be dangerous or fatal for people who are allergic to bluebottle venom.
When a person is stung by a bluebottle, they are advised to immediately apply some heat on the skin. Immersing the stung area in hot water for about 20 minutes often sees the best results, according to the outlet. A cold compress can also be used to ease the pain in case hot water is not available.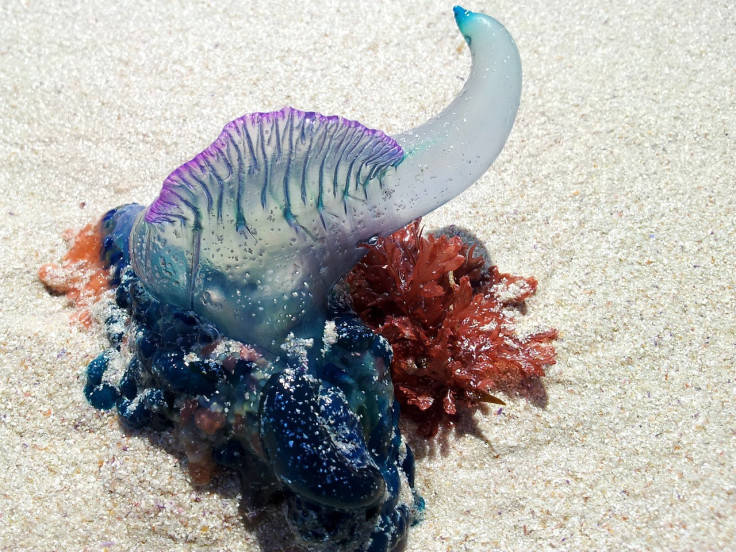 © Copyright IBTimes 2023. All rights reserved.
FOLLOW MORE IBT NEWS ON THE BELOW CHANNELS