Hippo Swallows 2-Year-Old Boy Playing Outside His Home, Vomits Him Alive
A 2-year-old boy in Uganda survived after being swallowed by a hippopotamus that strayed from a lake near the child's house. The animal eventually vomited the toddler out when he was still alive after a witness reportedly intervened.
The toddler, identified as Paul Yiga, was playing in Katwe Kabatoro town council in the Kasese district when the incident took place, Capital FM Uganda reported Tuesday.
The Uganda Police Force said the hippo wandered towards the child from a nearby lake while his parents left him unattended.
"The two-year-old boy was swallowed by hippopotamus when the parents had left him unattended to. The hippo found the two-year-old playing and it swallowed him," police spokesperson Fred Enanga said, as quoted by Nile Post News.
Locals who witnessed the incident became involved and began pelting stones at the animal as it made its way back to the lake.
The animal eventually regurgitated the child alive before returning to the lake.
"When people noticed, they started shouting and making all forms of noise as the hippo was finding its way back to the lake," Enanga continued. "On hearing the noise, the hippo miraculously vomited the boy."
The child was taken to a hospital for treatment and eventually regained consciousness. He was in stable condition and was allowed to return home with his parents, Nature World News reported.
Some reports claimed the hippo strayed from Lake Edward, which lies about half a mile away from where the boy's family lives. Uganda Police Force also reportedly said Monday that this was the first time a hippo wandered away from the lake and ambushed a child.
Police credited a witness named Chrispas Bagonza for saving the child, according to the Matooke Republic.
"It took the bravery of one Chrispas Bagonza, who was nearby, to save the victim after he stoned the hippo and scared it, causing it to release the victim from its mouth," the police reportedly said.
Enanga also warned parents who stay near lakes, rivers, animal parks and sanctuaries to be careful and always keep an eye out for animals that might stray and launch attacks on children.
"Basing on this incident, if you look at the teeth of the hippo, anything could have happened to the child," he was quoted as saying. "This should be an eye-opener to parents."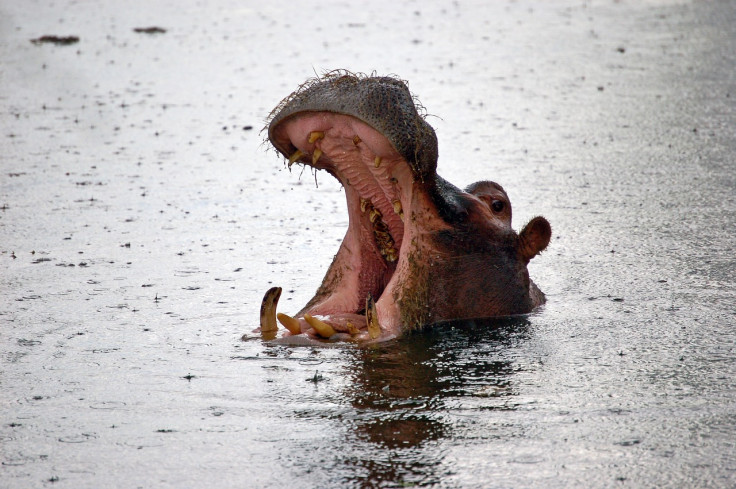 © Copyright IBTimes 2023. All rights reserved.